Trump advised May to sue EU over Brexit, prime minister reveals
President Trump's advice to Theresa May over the tense negotiations over Britain's exit from the European Union included suing the bloc, the prime minister revealed Sunday.
The U.S. president made reference to this suggestion on Friday during a joint press conference, saying May had ignored his advice as she found it too "brutal."
"He told me I should sue the EU. Not go into negotiation, sue them," May said on BBC's Andrew Marr Show on Sunday. "What the president also said at the press conference was 'Don't walk away. Don't walk away from the negotiations. Then you're stuck."
Trump is currently on his first official visit to Britain since becoming president in 2016. His visit was overshadowed by explosive remarks he made about May's leadership, especially on her handling of the Brexit negotiations.
TRUMP, MAY PLEDGE COOPERATION ON TRADE AFTER EXPLOSIVE INTERVIEW
In an interview with The Sun, published Thursday, the president doubled down on his criticism of May's approach to handling Britain's departure from the EU. He said it likely "killed" chances of a free-trade deal with the United States. He also suggested that the prime minister did not take his advice.
"I would have done it differently. I actually told Theresa May how to do it, but she didn't agree, she didn't listen to me," Trump said in the interview, noting that the negotiations had gone on "too long."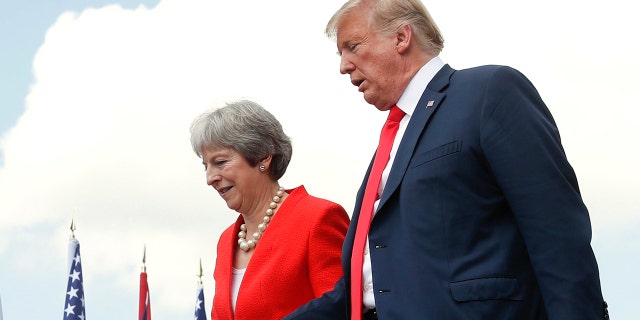 He denied he criticized May, saying the Sun interview did not focus on his complimentary remarks about the British leader, but the Sun released audio that proved otherwise.
At Friday's press conference, Trump sought to soften the blow of his remarks, telling reporters that May was an "incredible woman" who is "doing a fantastic job" as Britain's prime minister.
"Once the Brexit process is concluded—and perhaps the U.K. has left the EU, I don't know, whatever you're going to do is okay with us," Trump said on Friday. "Just make sure we can trade together. That's all that matters."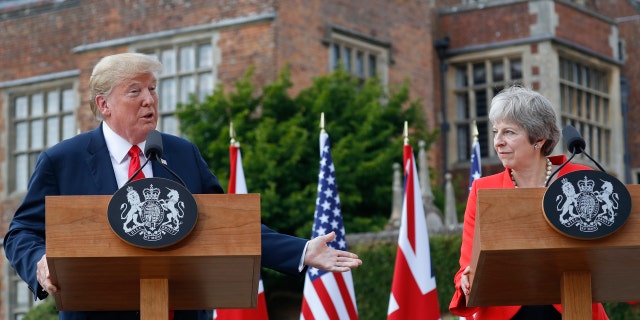 Trump's comments threatened to weaken May's already fragile hold on power. Her Conservative government is deeply split between supporters of a clean break with the EU and those who want to keep close ties with the bloc, Britain's biggest trading partner.
Brexit Secretary David Davis and Boris Johnson, the former foreign secretary, both quit last week to protest May's trade plan — and Trump even said that Johnson would make a good prime minister.
"I am not pitting one against the other," Trump said of Johnson and May. "I am just saying that he [Johnson] would be a great Prime Minister. I think he's got what it takes."
Asked to rate U.S.-U.K. relations, Trump gave them the "highest level of special." He added it was up to May how to handle Brexit, though he wants to ensure the U.S. "can trade and we don't have any restrictions" on commerce with the United Kingdom.
Britons voted to leave the EU in a referendum in June 2016 and the issue has dominated the political landscape since.
With less than nine months to go before the country is due to leave the EU next March, the political elite and business leaders remain deeply divided over what form Brexit should take.
Fox News' Brooke Singman and Adam Shaw and the Associated Press contributed to this report.