Today's Power Play: EXCLUSIVE: Chamber to Hit Dems at Ground Level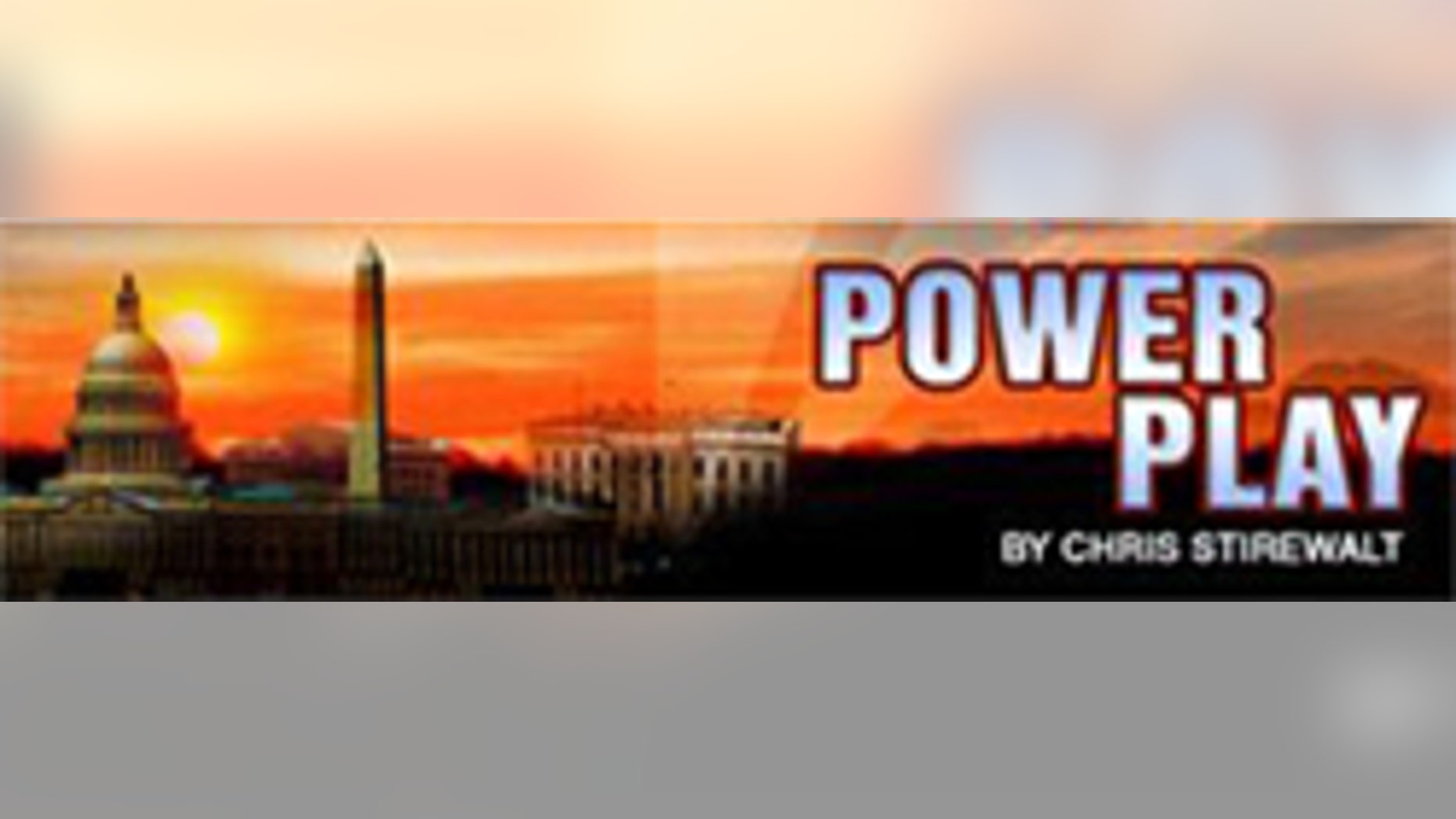 ((Be the first to get exclusive political content with Fox News' new iPhone app))
The U.S. Chamber of Commerce will use much of its remaining political war chest to get Republican voters to the polls, a source tells Power Play.
President Obama and his team went on the attack against the Chamber Thursday just as a barrage of new Chamber ads were hitting the airwaves.
The president, his fellow Democrats and allied liberal groups turned up the heat on the U.S. Chamber, claiming that because the business group accepts dues from foreign companies, they were allowing foreigners to influence U.S. elections.
The push to label the Chamber as unpatriotic came as Democratic media buyers across the country were sending some very bad news back to Washington - that the Chamber was dropping $10 million over the course of one week in competitive Senate and House races across the land.
The reaction was swift.
Speaking to a Democratic rally in Maryland, Obama cast himself and his party as the victims of foreign meddling and big business and Sen. Al Franken (D-MN) wants the Federal Election Commission to investigate the sources of Chamber funding.
The spots, which warn of job killing taxes and economic malaise, are aimed at Democrats in the Senate races in New Hampshire, Florida, Colorado, Illinois, Wisconsin, Pennsylvania, Connecticut and Missouri and two-dozen battleground House races.
In a year of big buys from outside groups, this one is the biggest one-week rollout yet.
But a Chamber source familiar with the group's election strategy tells Power Play that the group is just beginning its final election rollout, and that there's much more to come.
"If they didn't like this week, they're really going to hate the rest of October," said the Chamber insider.
The Chamber raised and set aside $75 million for the elections - that's less than the estimated $150 million that its foes in organized labor may spend this year, but arguably as effective because it is more tightly focused.
The group is quick to point out that the $75 million doesn't include any money from overseas dues.
The Chamber source wouldn't confirm any specific spending numbers, but the group has reportedly only spent or publicly committed $25 million of the $75 million total.
What about the rest of the money?
With the Republican National Committee in tough financial shape in a year that also sees remarkably high number of competitive races - a dozen in the Senate and perhaps 90 in the House - the Chamber is putting a lot more energy into ground game and getting voters to the polls.
"It's not new for [the Chamber] to do mail and calls, but I think you're going to see a lot more intensity on the ground this year," said the source. "You don't want to leave any votes on the table."
He also expects at least one more large-scale ad push, in addition to the ground game.
Obama hopes to blunt the impact of the Chamber's activities by questioning the group's patriotic allegiance and casting himself as an underdog, but he and his party have been raising questions of campaign funding since his unprecedented swipe at the Supreme Court during his State of the Union address and seem to have gotten little traction with voters.
It is an inside Washington issue all the way.
The Chamber, meanwhile, is going hyper-local with the rest of its strategy - focusing on turnout and targeting voters.
Thanks to today's Power Play crew, Kimberly Schwandt, April Girouard, L.A. Holmes, Whitney Ksiazek, Gretchen Gailey and Niki Gjoni.
---------------------
The Day in Quotes
"Don't make me look bad."
-- President Obama at a rally in Bowie, Md. telling the crowd to prove him right and the "pundits" wrong by turning out to vote."You're the dullest audience I've ever spoken to."
-- Vice President Joe Biden trying to goad the crowd at a Wisconsin fundraiser into enthusiasm.
"The reason we won [in 2008] is because young people, African-Americans, Latinos-people who traditionally don't vote in high numbers-voted in record numbers. We've got to have that same kind of turnout in this election."
--President Obama on the Michael Baisden radio show.
"That means that we are going to have just hand-to-hand combat up here on Capitol Hill."
--President Obama on the Michael Baisden radio show on the prospects of Republican gains in Congress.
"I am not going to vote for Nancy Pelosi as speaker of the House. Neither the leader of the minority party, John Boehner, nor the present speaker, will get my vote. I will vote for someone, a centrist, who is much more like me."
-- Rep. Bobby Bright (D-AL) in an interview on hometown TV station WSFA becoming the first incumbent Democrat to make a specific pledge to vote against Pelosi.
"Something tells me we won't get that lucky."
-- Obama campaign manager David Plouffe on the prospect of a Sarah Palin presidential candidacy.
"You'd be hard pressed to know that the Democrats have 59 in the Senate and the Republicans 41."
-- Sen. Bernie Sanders, an independent who caucuses with Democrats, on the lack of Democratic unity.
"It's an insult to Florida's environmental community and Sierra Club members that the organization would endorse a governor who, in the organization's own words, 'sold out to developers' by 'failing to veto even the worst bills.'"
-- Kendrick Meek, Democratic candidate for Senate in Florida, turning down a co-endorsement of him and independent Charlie Crist from the Sierra Club.
"All I would say to you is stay tuned. That would be my best answer to you,"
-- Richard Trumka, president of the AFL-CIO, when asked on a conference call with reporters about the possibility of "card check" legislation coming up during a lame duck session of Congress.
"They're burning a lot of jet fuel flying into Illinois."
-- Pat Brady, chairman of the Illinois Republican Party, on a conference call ahead of President Obama's visit to his home state, comparing it to a Republican President having to visit Alabama before an election.
"Some political people would tell you it's not smart politics to raise that issue. But we've already pissed off the conservative base anyway. We need to energize the people who have a conviction and this is one of those things."
-- Sig Rogich, media adviser to Harry Reid, explaining Reid's election-year support for an illegal immigrant amnesty program.
"I am Republican. I have been a Republican since I was 18. I will always be a Republican."
-- Sen. Lisa Murkowski, leading a write-in campaign in Alaska to defeat her party's candidate for Senate, during the first debate of the race.
"Is she running for president? Well again, hypotheticals--she does not advise our campaign, she gives me 'you go girl' advice."
--Christine O'Donnell, Delaware Republican Senate candidate, on CNN when asked about Sarah Palin and whether she's qualified to be president.
"By the way, have you seen my chief of staff? I was like looking around and was like, 'What happened?'"
-- President Obama at a Chicago fundraiser joking about Rahm Emanuel's departure from the White House to run for Chicago mayor.
Scandal Sheets - Brown in Hot Water Over Aides' "Whore" Remark; Probe Begins on Obama Adviser's Knowledge of Political Foes' Tax Status
Brown Aide Called Whitman a "Whore"
A recording of California Democratic gubernatorial candidate Jerry Brown discussing campaign strategy with an advisor who calls Republican Meg Whitman "a whore" is further roiling the already wild Golden State race.
The L.A. Times got the tape from a police union official on whose answering machine the conversation was inadvertently recorded. Brown thought he had hung up the phone after leaving a message for a union leader, but the machine was still recording his conversation with an adviser.
Brown is complaining about a reported deal Whitman cut with public safety unions to exempt their pensions from her fiscal overhaul plans. Here's the transcript from the LAT:
BROWN: "Do we want to put an ad out? ... That I have been warned if I crack down on pensions, I will be - that they'll go to Whitman, and that's where they'll go because they know Whitman will give 'em, will cut them a deal, but I won't."SECOND MALE VOICE: "What about saying she's a whore?"
BROWN: "Well, I'm going to use that. It proves you've cut a secret deal to protect the pensions."
The Brown campaign apologized for the "salty" language.
The Whitman campaign called Brown's tacit approval of the remark "an insult to both Meg Whitman and to the women of California" and "an appalling and unforgivable smear."
IG Will Probe Claims the White House Snooped in Foes' Tax Files
Austan Goolsbee, President Obama's top economic adviser, in a conference call in August held up Koch Industries as an example of a company that exploits tax laws to avoid paying full corporate tax rates.
Now, the inspector general of the Treasury, acting at the behest of Sen. Charles Grassley (R-IA) has begun an investigation into whether Goolsbee or anyone else in the administration illegally snooped into the files of some of the president's top political opponents.
The libertarian-leaning Koch family is one of the president's most ardent political opponents, funding campaigns and academic work that opposes the Obama agenda. A summertime New York Times profile of the Kochs' activism further inflamed liberal anger at the industrialists.
Goolsbee couldn't have known precisely what Koch Industries pays in taxes or even how they file without looking at confidential IRS records.
A White House official tells FOX News' colleague Mike Emanuel that Goolsbee's statements were "not based on any review of tax filings and we will not use this example in the future."
Obama's Day - POTUS Wrestles Jobless Claims While Biden Keeps Stumping
President Obama will tour a small manufacturer in the Maryland suburbs and then make remarks on the September jobs report. If forecasts are accurate and job growth slowed again, this is a good day for Obama to stay away from Democratic candidates.
The White House announced that the president and first lady will campaign together in Cleveland for Gov. Ted Strickland on Oct. 17 - the first double-Obama event of the campaign season.
Vice President Biden is staying on the campaign trail. He heads from Minnesota to Washington where he will speak at a rally for embattled Sen. Patty Murray. Murray's Republican opponent, Dino Rossi, just announced a huge $4.4 million fundraising haul for September.
Biden is also scheduled to join Obama this weekend at a campaign rally in Philadelphia.
Trail Riders - MTV Screens for Obama; Paladino/Cuomo: It's On Now; Angle Gives Reid Viagra
MTV Casting Call for Obama Town Hall Wants to Know Looks, Views
The audience for President Obama's MTV/BET youth town hall will be screened for appearances and political views. Here's the ad from the networks' parent company, Viacom:
PRESIDENT OBAMA TOWN HALL, MTV
MTV, BET and CMT are casting the audience for town hall meeting with President Obama Shooting Oct. 14, 4 p.m. in Washington, D.C.Seeking-Audience Members: males & females, 18+.To apply, email townhallaudience@mtvnmix.com and put "Town Hall" in the subject line. To ensure that the audience represents diverse interests and political views, include your name, phone number, hometown, school attending, your job and what issues, if any, you are interested in or passionate about. Also, provide a recent photo and short description of your political views. Submission deadline: Oct. 14. No pay.
Dizzy With Enthusiasm?
About three dozen attendees at President Obama's rally for Maryland Gov. Martin O'Malley fell ill at the event. Many in the crowd fainted or complained of dizziness. County rescue workers weren't sure of the cause.
Bubba Stumps in Kentucky
Former President Bill Clinton will campaign with Democratic Senate candidate Jack Conway in Kentucky on Monday ahead of Conway's debate that night with Republican nominee Rand Paul.
Follow the Money - RNC Stalled
The Republican National Committee took in $9.7 million in contributions, far less than the $16 million president Obama helped haul in for the Democratic National Committee and $4 million short of the party's fundraising goal. The news came in an email from the RNC's treasurer leaked to news outlets.
2012 Watch - Paul in Iowa
Rep. Ron Paul has scheduled a speech at the University of Iowa on Sept. 29. Paul hasn't yet announced his plans for 2012. The Iowa Press Citizen reports that this will be Paul's third visit to the state this year.
Ad Watch - Angle Gives Reid Viagra; NRSC Takes Dows Fakes West Virginians
Reid Ripped on Sex Offenders
Nevada Republican Senate candidate Sharron Angle is ripping Senate Majority Leader Harry Reid in a new ad for his vote against an amendment that would have precluded sex offenders from receiving government-bought Viagra under President Obama's national health-care law.
Reid, meanwhile, is touting the endorsement of Republican state Sen. Bill Raggio, the man who defeated Angle in a GOP primary two years ago.
GOP's 'Hicky' Ad Backfires
The National Republican Senatorial Committee is taking down a West Virginia ad aimed at Gov. Joe Manchin, a Democrat running for Senate, after Politico revealed that the production house used by the committee recorded the spot, which is supposed to be set in a West Virginia diner, in Philadelphia with actors recruited through an ad seeking players with a "'Hicky' blue collar look."
Allen Comeback?
Senate sources confirm to Power Play that former Virginia Republican Sen. George Allen has talked with National Republican Senatorial Committee Chairman John Cornyn (R-TX) about a possible 2012 comeback bid to avenge his 2006 loss to Sen. Jim Webb. The source, though, discounted the idea of any major moves or changes on Allen's part - "just a continuation."
Ultimate Fight Night - Paladino v. Cuomo
New York gubernatorial pugilists Andrew Cuomo and Carl Paladino will debate on Oct. 18 at Hofstra University but will also be joined by five minor party candidates -- including former madam to Eliot Spitzer Kristin Davis of the Anti-Prohibition Party, Charles Barronof the Freedom Party, Howie Hawkins of the Green Party, Warren Redlich of the Libertarian and Jimmy McMillan of the Rent Is Too Damn High Party.
Poll Check - The Kids Don't Stand a Chance
A new Pew poll finds that voter interest among Democrats ages 18 to 29 are far less enthusiastic than in 2006. At this point in 2006, 47 percent of young Democrats were "giving a lot of thought" to the upcoming midterm elections. This time, it's 27 percent. Young Republican interest is up 8 points.
Among older Democrats, interest has fallen since 2006 as well, dropping from 53 percent to 43 percent. Older Republicans' interest went up from 49 percent in 2006 to 67 percent this year.
The survey also found that the gap between the GOP and Democrats among young voters returned to a more typical 20-point advantage for Democrats after the 30-point spread before the 2008 elections.
Older and more conservative voters are more enthusiastic while young voters are tuning out, even compared to 2006, to say nothing of the faded euphoria of 2008.
Other Polls:
CBS: GOP +8 in Generic Ballot; Obama Approval 44 Percent
Rasmussen: Angle 50, Reid 46 for Nevada Senate
Mason Dixon: Rubio 42, Crist 27, Meek 21 for Florida Senate