Tired of Iron-Fisted Leader, Youth May Swing Venezuelan Election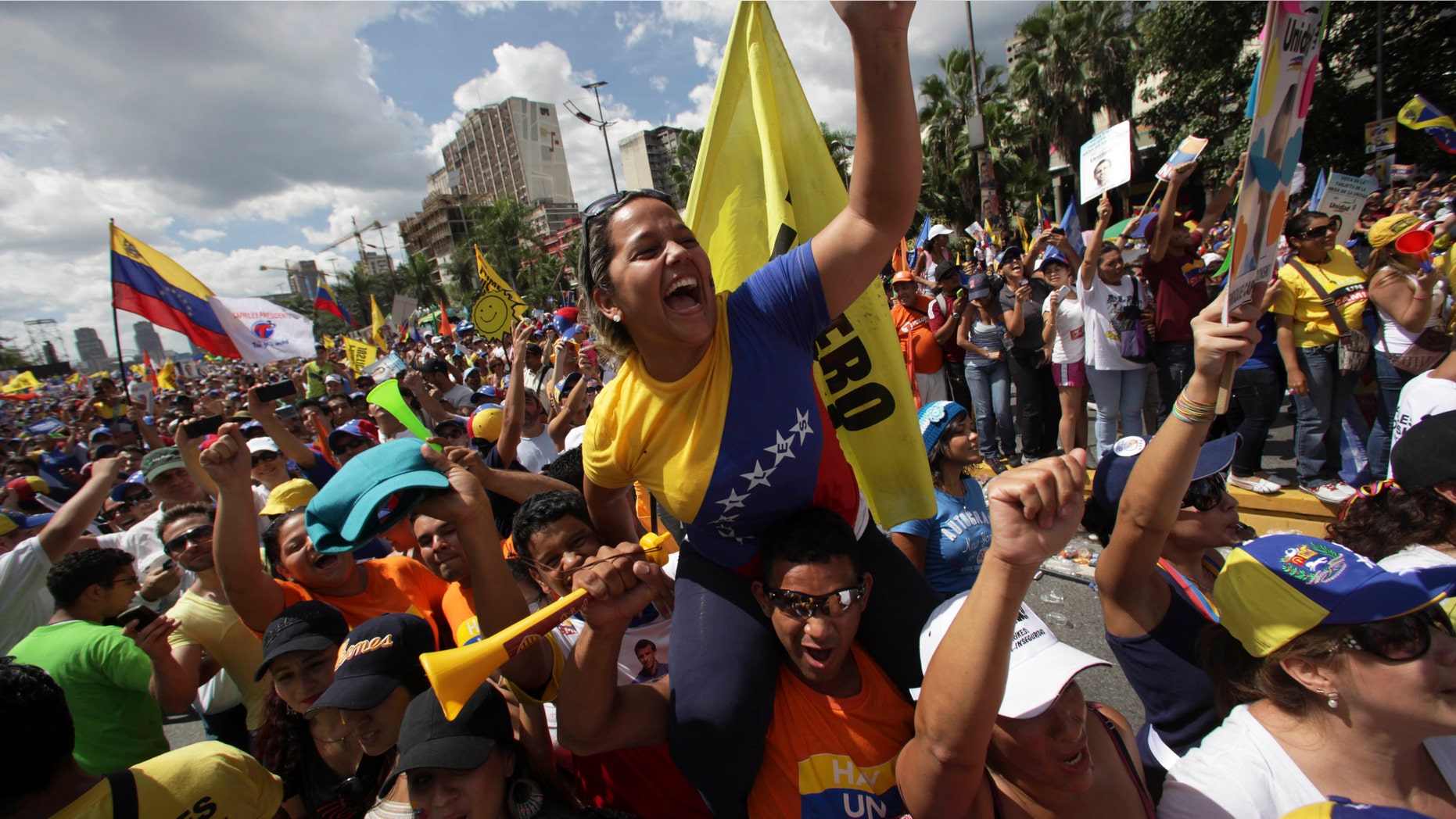 They have not been quiet on their opposition to the president, even if their parents were hard-core "Chavistas" who admired Venezuelan President Hugo Chavez.
Many youth in Venezuela have held rallies in their country, and even organized opposition groups in the United States, from Miami to New York City.
Now the young in Venezuela, some who say they have grown tired of their iron-fisted leader and the country's spiraling economy, are so vocal and organized that they may help swing the presidential election.
Chavez and Henrique Capriles are in a close match up for president – the first time the Venezuelan president has faced a serious challenger since he swept into office in 1998. Recent polls show they are virtually tied.
Political observers say the young people –much like in the U.S., when they rallied around President Obama– could make a difference in Sunday's election.
"Young people, undoubtedly, may hold the key that decides this election," Juan Mijares, a Capriles campaign coordinator who tracks polling data, told The Washington Post.
Chavez has always tried to rally the young people in his country. In a controversial instance, kids at an elementary school held guns and showed their support for their president – a move that was widely criticized but showed how his government values the support of even those not old enough to vote.
"From the fight for independence until now, the best generation has been you, the young people of Venezuela of today!" Chávez said in a rally last week. "And so I say, fight hard to assure the future that will be in your hands."
Chavez has tried to erase doubts about his health after more than a year of cancer treatment. He's shown up on television singing and dancing, even at times slinging an electric bass guitar over his shoulder and pretending to play to the beat. Nonetheless, he's appeared at fewer rallies and has at times looked noticeably bloated and aged.
He's also gone to great lengths to freshen up his image for younger voters. Instead of his military fatigues, he's been wearing casual blue jackets and occasionally a yellow scarf.
"Who's the candidate of the future?" the president shouted to thousands of supporters during a speech outside Caracas. "Chavez!"
Singing with a band, the president then belted out the lyrics to his campaign jingle: "Chavez, heart of the people!"
Capriles, on the other hand, is betting on his youthful appeal. He's campaigned vigorously in more than 200 towns nationwide, pumping hands and sweating among the crowds. The opposition-aligned organization Voto Joven, or Youth Vote, estimates that more than a third of registered voters are between the ages of 18 and 25, making them a key target for both camps.
On the stump, Capriles has argued that he would inject a fresh voice into politics and replace a bloated administration that's run out of ideas. He also tries to reassure Venezuelans that he won't take away the social programs started by Chavez and will manage a peaceful transition of power.
"I ask each Venezuelan to reflect deeply, put your hand on your heart and think if it can be better, and think if after 14 years, whether the one who didn't come through is going to do it in the next six years," Capriles told supporters at a rally on Monday. "Think about it, young people, women."
"He's our president," Delgado said, on the verge of tears. "Look at me. I'm overcome with emotion."
Chavez has responded by trying to tie Capriles to the past, recently asking at a campaign rally, "Who's the candidate of the coup plotters of April?" referring to the 2002 putsch that briefly ousted Chavez. He followed with "Who's the candidate of the people? Who's the candidate of the homeland?"
With a slower Chavez, however, Capriles' house-to-house campaigning can't help but conjure memories of another young, charismatic politician who crisscrossed the nation before he first won the presidency in 1998.
This year, the president has had to campaign against that very image of himself.
"To win there has to be a deep emotional connection," Capriles said in an interview on his campaign bus. "I think what Chavez had to give he's given, and so I'm going to vote for progress," supporter Angie Rivas told the Post. "A young person dreaming of the future with Chavez sees a future in another country. I think the Venezuelans deserve to dream about a future here in Venezuela."
This story contains material from The Associated Press.
Follow us on twitter.com/foxnewslatino
Like us at facebook.com/foxnewslatino