Tim Kaine to deliver all-Spanish speech in Arizona on Thursday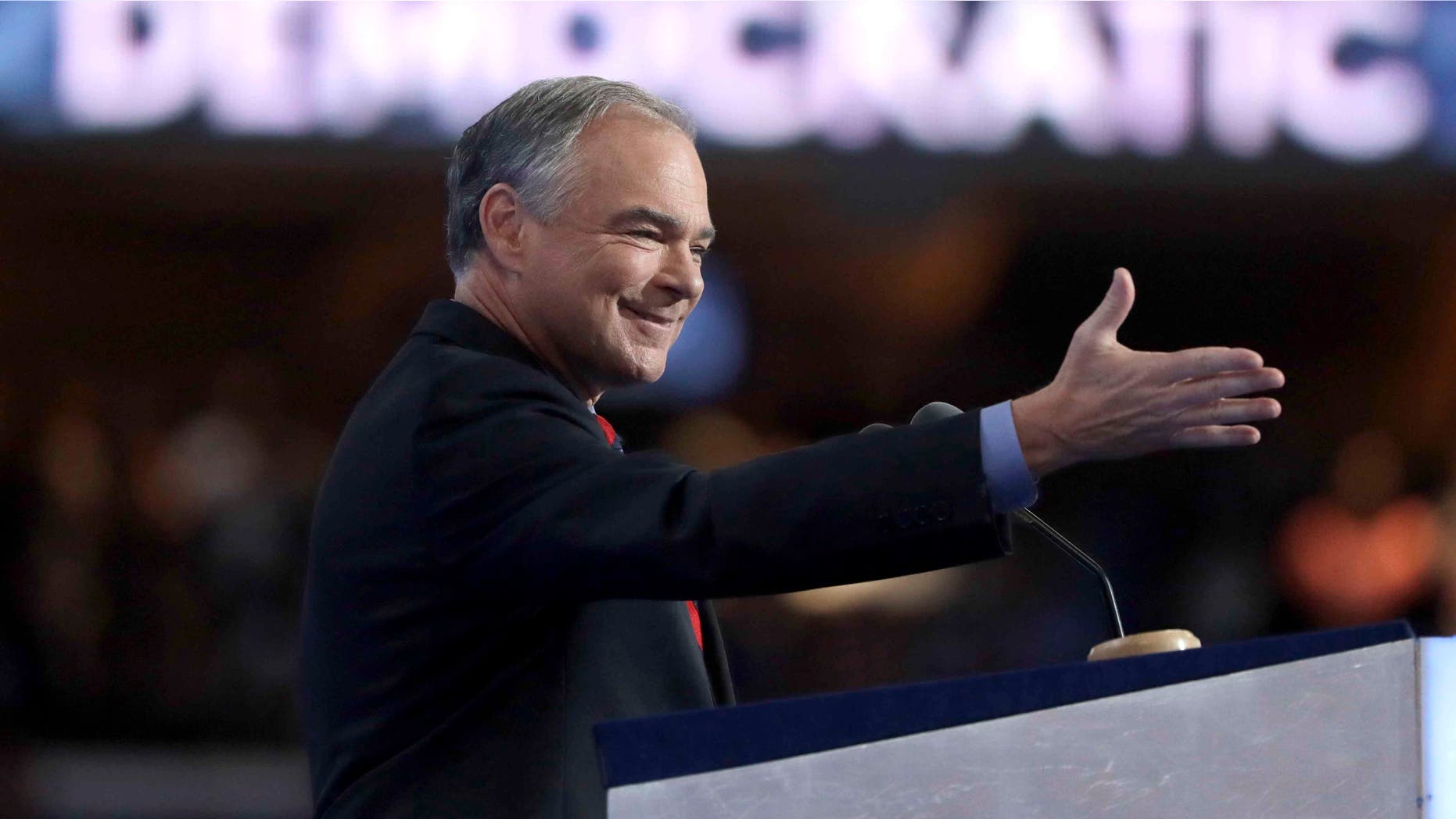 Democratic vice presidential candidate Sen. Tim Kaine is going to give one of his last campaign speeches before the Nov. 8 election entirely in Spanish, the Clinton camp announced Monday.
Kaine will deliver his speech, billed as the first all-Spanish speech by a nominee in a U.S. presidential election, in Phoenix on Thursday.
He will draw contrasts between Democratic presidential nominee Hillary Clinton and GOP nominee Donald Trump, portraying his party's ticket as inclusive and respectful of Latinos, and Trump and the GOP as hostile to the ethnic community, according to the Clinton camp.
Does a speech in Spanish make a difference? Experts vary in their views.
When a candidate enjoys strong support for policy positions, fluency in the language can be seen as an added value.
"All voters like to have the sense that candidates know their community and its concerns," said Cal Jillson, political science professor at Southern Methodist University in Texas, to Fox News Latino.
"Candidates communicate that familiarity and concern by the presence, their policies, and how they present them. Candidates that can communicate in Spanish with Hispanic voters, even those like George W. Bush that do so haltingly, receive an appreciative hearing."
"Many candidates, like Hillary Clinton, will offer an Hispanic phrase, some like Jeb Bush can do better," Jillson said, "but Kaine's ability to deliver an entire speech in Spanish will be distinctive at the presidential level."
Others, however, feel such gestures have limited impact.
GOP analyst, Alfonso Aguilar, said Latinos do not view a candidate's use of Spanish as deeply significant, and ultimately decide whom to support based on a broader range of policy positions and other factors.
"This is about focusing on superficial things and not issues," said Aguilar, the executive director of the Latino Partnership for Conservative Principles, a Washington, D.C.-based advocacy group that promotes conservative values and ideals within the Latino community.
"They're overblowing it," Aguilar said of the Clinton campaign. "This shows the problems that Democrats have understanding the Latino community. They say 'We speak Spanish, here's Jennifer Lopez and Mark Anthony with Hillary.' Well, Latinos see beyond that."
In the upcoming speech, Kaine also will bring up former Arizona Gov. Jan Brewer, best known nationally for being a force behind the controversial state-level immigration measure, SB 1070, that required police to check the legal status of people they encountered while on duty and whom they had reason to believe were in the country illegally. Brewer, who is supporting Trump, recently said that Latinos typically don't go out to vote.
She addressed the issue of turnout again, however, shortly after, sounding more positive about Latinos voting in more significant numbers.
Trump has found himself in an unusually tight battle in Arizona, which nearly always favors Republican presidential candidates. The Clinton campaign has devoted more resources and attention than Democratic candidates tend to because the state is seen as a battleground.
One of the strategies for Arizona for Democrats has been to aim for a large Latino voter turnout, with registration drives and Spanish-language television advertising.
Trump recently made a stop in Arizona, focusing on Clinton's email controversy. In many of his visits to Arizona, he has spoken about illegal immigration and depicted Clinton as someone who would not control the U.S.-Mexico border.
The Democratic vice presidential candidate developed his Spanish decades ago as a young missionary in Honduras. Now he's putting it to use in a way no other candidate on a major party ticket has done before.
Clinton is using Kaine's Spanish skills to help cement Hispanic support.
Kaine has been a near constant presence on Spanish-language media, speaking directly to their audience of millions in battleground states like Florida and Nevada. One in 5 of the nearly 50 interviews he's done since joining the ticket has been in Spanish. Clinton, Trump and his running mate, Mike Pence, don't have that skill.
"That's been one of the most fun parts of the campaign, to be able to do Spanish-language radio, TV, newspapers and also just to go to places and just interact with people that way," Kaine said.
As of 2012, nearly 1 out of 5 Hispanic adults in the U.S. got news exclusively from Spanish-language outlets, according to the Pew Research Center. Pew projected the number of Hispanic eligible voters to be 40 percent greater in 2016 than eight years ago.
The Associated Press contributed to this report.