Thousands Turn Out to Decide on Puerto Rico's New Amendments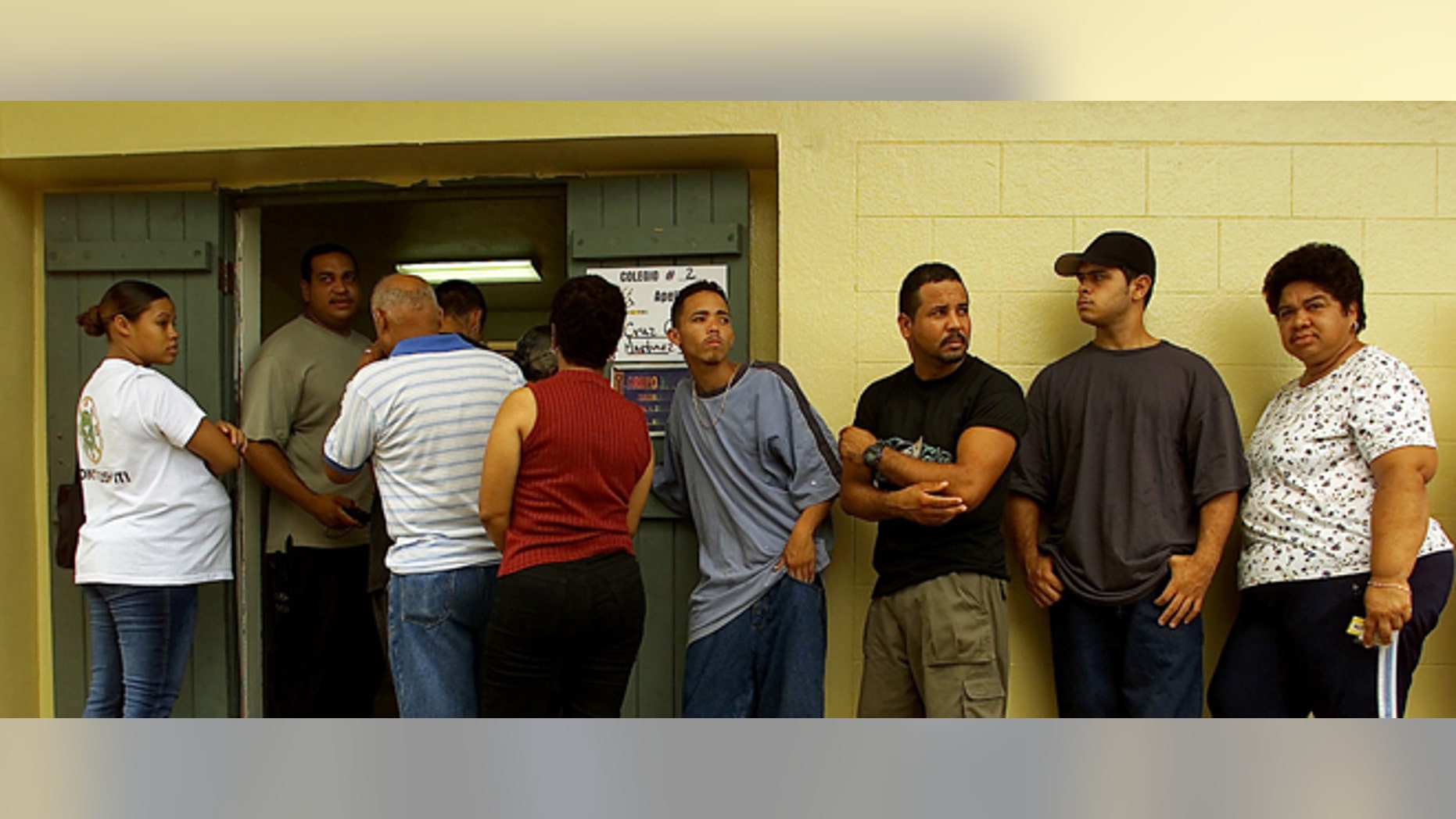 SAN JUAN, Puerto Rico – Hundreds of thousands of people headed to the polls Sunday in Puerto Rico to decide on two new amendments to the U.S. territory's constitution via a two-part referendum that has sharply divided the island.
The referendum would shrink the local legislature by almost 30 percent as part of a cost-saving measure and allow judges the right to deny bail in certain murder cases. Puerto Rico is currently the only place in the Western Hemisphere where everyone is entitled to bail regardless of the crime.
People walked, drove, cycled, skateboarded and arrived by wheelchair at polling stations and stood in line, sometimes under a brutal sun.
"This is one of the most important referendums in many years," said Alexandra Beltran, a San Juan resident who voted in the upscale neighborhood of Ocean Park accompanied by her husband and young daughter. "I believe it's time we do something to intimidate criminals."
The island of nearly 4 million people reported a record 1,117 homicides last year, and the drug-fueled violence continues unabated, with an increasing number of innocent bystanders being killed.
At polling stations in the impoverished seaside town of Loiza, some voters decried the wave of violence that has hit their town especially hard.
"I came to vote because they killed my only son six months ago," said Aurea Elicea as she wiped away tears.
Limiting bail would prevent suspects from intimidating witnesses and killing again while out on bail, she said, adding that her son's killer hasn't been arrested.
"That is why people don't testify," she said.
But the referendum comes just weeks after federal prosecutors charged a man with murder and held him for two weeks without bail only to release him after saying they had the wrong person. It's a case still fresh in the minds of voters such as Daisa Rivera, 30, who said there should always be a presumption of innocence.
Other voters such as 56-year-old Efrain Santos Clemente remained unswayed.
"Given the current situation in Puerto Rico, I think we need to find a solution to the increase in crime," he said, adding that he supports shrinking the legislature so that money can be used to reduce crime as several politicians have pledged.
If approved, the referendum would grant judges the right to deny bail to those accused of premeditated murder, killing a police officer or killing someone in a public space or during a home invasion, sexual assault or drive-by shooting. The referendum also would reduce the number of Senate seats from 27 to 17 and the number of House seats from 51 to 39.
Outside a polling station, Gloria Saldana, 67, was still pondering the first proposal as a neighbor of hers drove away and yelled at her to vote against both proposals.
She said she hadn't decided whether to support the bail proposal, but that she was definitely voting against reducing the size of the legislature.
"There are 73 right now, and they don't do anything," she said. "If there are less of them, they will do even less work."
Puerto Rico's legislature also is among the highest paid of any U.S. jurisdiction, a fact that riles many islanders already angry about the number of corruption cases that have surfaced in recent years.
"Everyone knows they are stealing a lot and they are making a lot of money," said 59-year-old Jose Calderon, who voted in support of the referendum.
If approved, the bail amendment would go into effect by month's end, while the reduction of the legislature's size would become effective January 2017.
The elections commission has said it expects a high turnout among Puerto Rico's 2.3 million registered voters. Inmates and those hospitalized or under house arrest have already voted.
Based on reporting by the Associated Press.
Follow us on twitter.com/foxnewslatino
Like us at facebook.com/foxnewslatino