The Radicalization of Obama's 'Green Czar'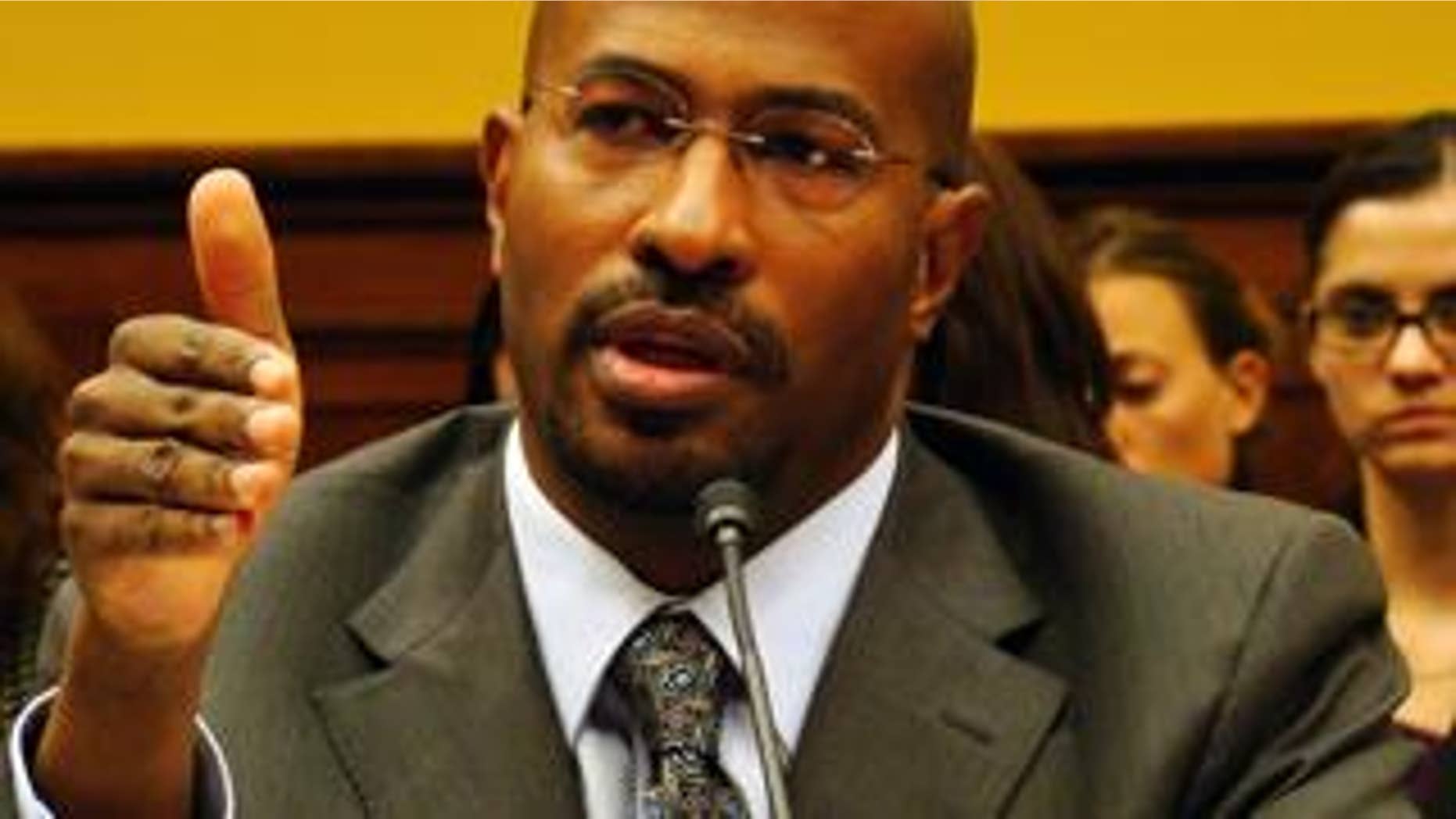 The political radicalization of Van Jones, President Obama's "green jobs" adviser, dates back to 1992, when he and hundreds of others took their anger to the streets of San Francisco in the infamous Rodney King protests.
Jones, a Yale Law School student who was working in the Bay Area as an intern, was part of a mob that stormed the city following the acquittal in Los Angeles of four white police officers who had been charged with beating King, who is black, after a car chase.
In an essay he wrote soon after the rioting and republished in The Huffington Post in May 2007, Jones said he "just marched around and chanted slogans" as other protesters set trash cans afire, smashed car windows and threw rocks at passing motorists. But he clearly reveled in the protest.
"Our moment had finally come! We were righteous, fired up, weren't takin' no more!" Jones wrote. "We were one thousand strong on Market Street, with the Bay Bridge shut down in rush hour traffic and the grounds around the state building swarming with angry mobs! Our rallying cry was for justice; our demand was that the System be changed!"
Jones continued, "Yes, the Great Revolutionary Moment had at long last come. And the time, clearly, was ours! So we stole stuff. Y'know, stole stuff. Radios, tennis shoes. Well, not everybody, of course."
Days after he wrote the essay, Jones was arrested along with hundreds of participants in a "peaceful protest" march.
Charges against him ultimately were dropped, and he says he received a "small" settlement.
"I was arrested simply for being a police observer," he later said.
Jones, in the piece he wrote for The Huffington Post, said his essay "captures the pain, frustration and aspirations of a much younger person. But I think it speaks well to the thought process of many young activists at the time."
"But the incident deepened my disaffection with the system and accelerated my political radicalization," he wrote. "The political agenda I articulated for myself and my generation in this essay remains largely undone and incomplete."
Indeed, Jones' "disaffection with the system" appeared to continue. In a June 2008 speech to the National Conference for Media Reform, Jones blasted a proposed prison in Memphis that he compared to a "huge slave ship on dry land."
"You don't have to call somebody the n-word if you can call them a felon," Jones said in the speech, which can be seen on YouTube . "The fight against this new Jim Crow, this punishment industry, where for-profit prison companies are now being traded on the stock exchange ... that struggle is being met as it was 40 years ago."
In his 2007 reflection on the aftermath of King's beating, Jones said he was among those who chanted "no justice, no peace" during the "understandable, unavoidable, even necessary" riots.
"These riots were not revolution; without revolutionary values and revolutionary organization, they were merely sharp outcroppings of the systemic chaos that social injustice breeds," Jones wrote. "But flashpoints of rage can never substitute for radical social vision or grassroots coordination."
Jones, the founder of Green for All, which focuses on creating environmentally friendly jobs in poor areas, continues to be a focus of President Obama's critics after video surfaced of him referring to Republicans as "assholes" and it was revealed that he once joined the "9/11 truther" movement, which contended that the Sept. 11, 2001, terror attacks might have been an inside job by the Bush administration.
In 2004 Jones signed a statement calling for then-New York Attorney General Eliot Spitzer and others to launch an investigation into evidence that suggests "people within the current administration may indeed have deliberately allowed 9/11 to happen, perhaps as a pretext for war."
The statement asked a series of critical questions hinting at Bush administration involvement in the attacks and called for "deeper inquiry." It was also signed by former Georgia Rep. Cynthia McKinney and Code Pink co-founder Jodie Evans.
Jones distanced himself from the position on Thursday, saying, "In recent days some in the news media have reported on past statements I made before I joined the administration -- some of which were made years ago. If I have offended anyone with statements I made in the past, I apologize. As for the petition [9/11 statement] that was circulated today, I do not agree with this statement and it certainly does not reflect my views now or ever."
An aide to Jones told FOX News he "did not carefully review the language in the petition." The aide did not say when Jones signed the petition or when he became aware of the controversy.
Thursday's apology followed Jones' mea culpa on Wednesday, when he expressed his remorse for "offensive words" he uttered in February, when he called Republicans "assholes." He said those remarks "do not reflect the views of this administration" and its bipartisan aims.
White House Press Secretary Robert Gibbs limited his remarks about Jones on Friday, saying only that he "continues to work in this administration." As to the Sept. 11 conspiracy theorists, Gibbs said, "It's not something the president agrees with."
At least one congressman, U.S. Rep. Mike Pence, R-Ind., has called for Jones' resignation.
Democratic strategist and FOX News contributor Bob Beckel predicted that Jones would be out of a job by Labor Day, and he wondered how Jones got the "czar" post in the first place.
"He's got every right in the world to be a self-avowed communist, but the Secret Service would no more allow a self-avowed communist into the White House as they would Charlie Manson, so that's what I don't get," Beckel said.
"There's something more in here about the breakdown of the system. Yes, it broke down with the Obama administration, but it also broke down with those people who are responsible for doing the background check," he added.