The dating swamp: How finding love in DC may be impossible for young Trump and GOP staffers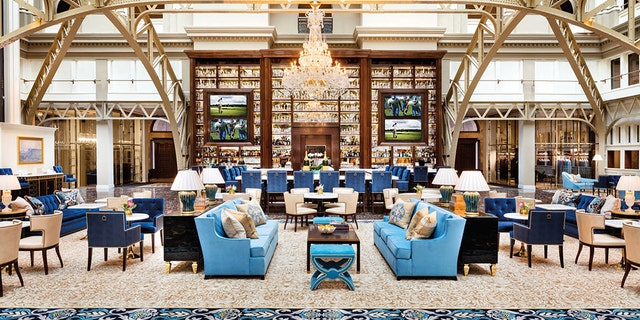 NEWYou can now listen to Fox News articles!
Trying to find love in D.C. can be tricky. If you're a young Trump administration staffer, it might be near impossible.
GOP employees and other right-wingers have been complaining that dating in one of the most Democratic cities in America is a political minefield.
They've been called out, flipped off and told they are personally responsible for the death of democracy.
One 29-year-old lobbyist told Fox News that learning to date in a Trump world is "absolutely insane."
"It's getting so bad," the lobbyist, who asked to remain anonymous because she works with the administration, said.
She, like several people Fox News spoke to, says they're often raked over hot coals by prospective dates online or simply denied when someone finds out they work – or even voted – for President Trump.
WHATABURGER PATRON, BULLIED FOR WEARING 'MAGA' HAT, GETS NEW CAP SIGNED BY TRUMP: REPORT
Another person who works for the Trump administration said she has endured insults for simply posing with the American flag.
"Guys say, 'Are you one of those Trumpies?' It's ridiculous," she laments. "How did posing with the American flag turn me into a country-hating loser?"
Capitol Hill staffer Daniel Jativa said he got the brush off when a girl he was dating found out he accepted a job with a Republican congressman who aligned closely with the House Freedom Caucus.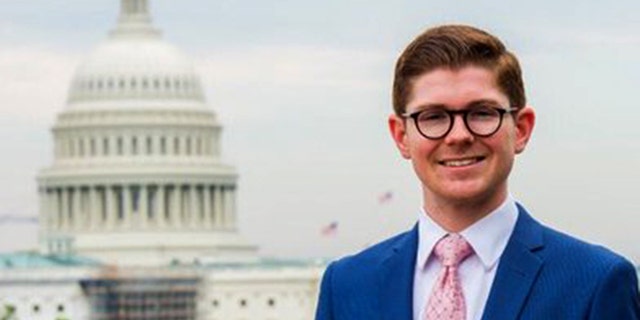 "I always considered myself a more moderate Republican so some of the things we did talk about, I generally agreed with – things like frustration over partisanship, gridlock, how the discourse against certain groups of people have become unfortunately darker," he said.
GOP INTERNS: UBER DRIVER REFUSED US SERVICE BECAUSE OF MAGA HATS
He says when the girl found out his boss leaned conservative, Jativa "was immediately called 'disgusting' and an 'enabler' of racism… of misogyny."
Suffice it to say, they called it quits.
Another senior Hill staffer told Fox News that she's been harassed on dating sites so much that she and her friends "stick to our own" these days.
"It's disheartening," she said. "Basically, we now all date one another. It's safer that way. I have a group of friends who are all pretty conservative and we end up dating in the same circle. I didn't think coming to the heart of the nation's capital would be like this, but it's a reality these days."
I try to steer the conversation away from politics as much as humanly possible. It doesn't help in the long run but it gets me out of a lengthy lecture about how I am ruining the country.
Ted Dooley, executive director of the college Republican National Committee, says he's heard numerous horror stories of conservatives being berated for their beliefs.
"It reflects the larger tone of our environment that extremists like (Rep.) Maxine Waters, (D-Calif.), are encouraging fringe extremists on the political left to verbally and physically berate those with differing opinions," he told Fox News. "It's no surprise that her encouragement has seeped into the personal interactions young people have in all aspects of their lives."
Relationship expert Christine Bacon said she isn't surprised by the open hostility from the left.
"It saddens me," she said.
Bacon, an evangelical Catholic who met her husband in a nightclub 35 years ago, adds that "opposites attract but not in terms of politics because it's typically based on personality – introverts versus extroverts type of thing."
One 31-year-old woman Politico interviewed laid out a typical date: "You do the small-talk thing, and you have a very good conversation, and then they might say, 'You didn't vote for Trump, right?'"
She adds, "As soon as I say, 'Of course I did,' it just devolves into all-caps 'HOW COULD YOU BE SUCH A RACIST AND A BIGOT?' And 'You're going to take away your own birth control.'"
Given the backlash, some pro-Trump supporters looking for love say they aren't above bending the truth.
"I try to steer the conversation away from politics as much as humanly possible," conservative lobbyist Janine Olsen told Fox News. "It doesn't help in the long run but it gets me out of a lengthy lecture about how I am ruining the country. I'm not lying. I'm just not offering up my political positions on the first date anymore."
Part of the problem Olsen admits is there aren't as many Trump-friendly watering holes as there were during the Obama and Bush administrations. Just four percent of the District's votes in 2016 went to Trump.
While the Benjamin Bar & Lounge at the Trump International Hotel in D.C. is widely considered a "safe space" for Republicans, basic Bellinis start at $15 with other signature cocktails going as high as $100 a pop. Such prices are not financially feasible for the average Washington worker.
"I'm more of a Guinness gal anyway," Olsen said with a laugh.
Dooley, who met his wife while campaigning for Charlie Baker in 2014 in Cape Cod, Mass., suggests Republicans look to the party for love.
"The number of friends I have who have met their significant others through their involvement in campaigns of CRs is significant," he said. "Get out there, elect Republicans, and enjoy the people you meet doing it. Who knows who they might become!"