The best sound bites from the first two presidential debates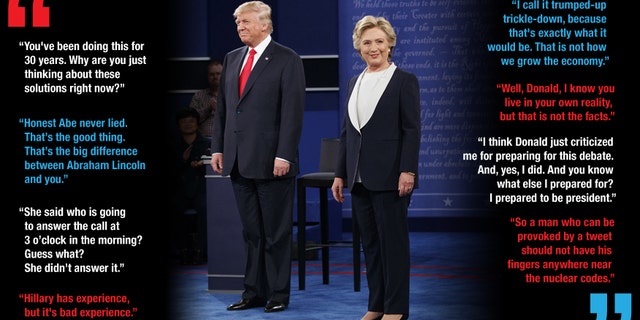 She tried to make it sound off-the-cuff, a spur of the moment quip that would elicit a giggle.
But as soon as Hillary Clinton uttered "Trumped-up trickle-down economics," most of America joined together in a collective eye roll. "Saturday Night Live" mocked the Democrat presidential nominee's overly scripted moment during the show's debate spoof a few days later.
"It sounded made for a sound bite," said Todd Graham, director of debate at Southern Illinois University.
Graham has coached five debate teams to national championships and advanced his squads to the "final-four" of the national tournament for nine consecutive years, so he knows a bit about what it takes to claim victory in a debate. With cable news channels providing extensive pre and post-debate coverage, Graham told FoxNews.com that canned sound bites aren't as important as they used to be. News shows have more time to devote to extended highlights, and fewer people get their news solely from the more tightly-packaged network news broadcasts.
Plus, viewers have become savvier at discerning what is and isn't rehearsed.
"In the VP debate, [Democrat] Tim Kaine had a bunch of sound bite-ready things to go," Graham said. "But they sounded too rehearsed, and I think people can tell now."
Still, a good, original line has value and staying power. Take Clinton's "I prepared to be president" rebuke to Republican presidential nominee Donald Trump during the first debate.
"Everybody was talking about it," Graham said. "It was a good line. It played well for her."
Part of the trick, Graham said, is not just striking the right chord with a debate line, but avoiding a gaffe.
"With Twitter, it's not 140 characters of what you do right anymore," Graham said. "It's 140 characters of what you do wrong. I coach my teams to avoid the bad sound bite."
With those tips in mind, here are the top five moments for Clinton and Trump from the first two debates:
Hillary Clinton
1. "I prepared to be president"
During a discussion about being prepared for the debate, Trump criticized Clinton for taking time off of the campaign trail to practice. She responded: "I think Donald just criticized me for preparing for this debate. And, yes, I did. And you know what else I prepared for? I prepared to be president. And I think that's a good thing."
2. Can't talk "to me about stamina"
Trump criticized Clinton for not having the stamina to be president. Her response not only fought off the accusation but cited her prior experience as a diplomat: "Well, as soon as he travels to 112 countries and negotiates a peace deal, a cease-fire, a release of dissidents, an opening of new opportunities in nations around the world, or even spends 11 hours testifying in front of a congressional committee, he can talk to me about stamina."
3. "Provoked by a tweet"
Clinton wanted to hammer home the point that Trump was not a serious candidate and was too impulsive. "So a man who can be provoked by a tweet should not have his fingers anywhere near the nuclear codes, as far as I think anyone with any sense about this should be concerned."
4. "America already is great"
Trump's candidacy is synonymous with his slogan "Make America Great Again." Clinton turned that line around on him. "I want to send a message – we all should – to every boy and girl and, indeed, to the entire world that America already is great, but we are great because we are good, and we will respect one another, and we will work with one another, and we will celebrate our diversity."
5. "He owes the president an apology"
Clinton rarely got defensive when Trump directly criticized her, but she was quick to stand up for others Trump took to task. "He owes the president an apology, he owes our country an apology and he needs to take responsibility for his actions and his words."
Donald Trump
1. "Why are you just thinking about these solutions right now?"
Trump's campaign is built on the premise that career politicians can't fix the country's problems. He branded Clinton as a creature of the establishment early in the debate: "And, Hillary, I'd just ask you this: You've been doing this for 30 years – why are you just thinking about these solutions right now?"
2. MacArthur wouldn't like it
Trump has said he would be an excellent military president and has criticized others for being too open about their plans to defeat ISIS and other external enemies. "She tells you how to fight ISIS on her website. I don't think General Douglas MacArthur would like that too much."
3. "Bad experience"
Clinton's pitch to voters is that she has the experience to be president. Trump had no problem granting her that – but with a twist: "Hillary has experience, but it's bad experience."
4. "You'd be in jail"
Clinton struck at Trump saying she was glad he wasn't in charge of the country, to which Trump replied "Yea, because you'd be in jail." Hitting the former secretary of state for her secret server scandal, Trump pulled out all the stops: "If I win, I am going to instruct my attorney general to get a special prosecutor to look into your situation, because there has never been so many lies, so much deception."
5. "Honest Abe never lied"
Asked about a particular quote in a previous speech she gave, Clinton said she was drawing on the example of President Abraham Lincoln. Trump saw an opening: "Honest Abe never lied. That's the good thing. That's the big difference between Abraham Lincoln and you. That's a big, big difference."