Texas Senate seat competitive battle between Cruz, O'Rourke: A look at the candidates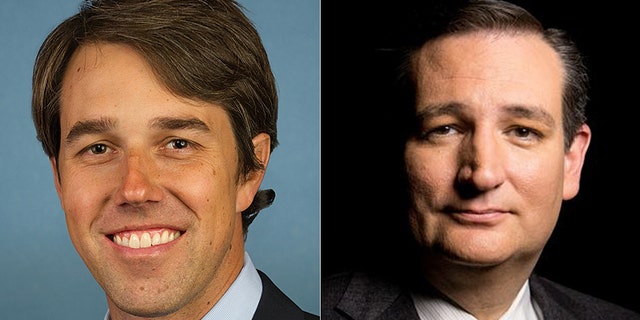 With Sen. Ted Cruz leading Rep. Beto O'Rourke for Senate in Texas, President Trump is heading to Houston Monday to lend his support for the Republican incumbent.
Trump has boasted of the "major rally" in Houston, promising a "big night" in Texas. His own re-election campaign has bragged that more than 100,000 people have requested tickets to a tailgate planned before the rally.
Cruz, who has served in the U.S. Senate since 2013, hasn't easily cruised through his re-election campaign against O'Rourke, a popular progressive in the deep-red state. Still, Fox News has ranked the race as remaining likely Republican and most polls have Cruz just in the lead.
While O'Rourke has gotten the support of a bevy of celebrities, including actress Connie Britton and NBA star LeBron James, Vice President Mike Pence and Donald Trump Jr., the president's eldest son, have traveled to the Lone Star state to aid the Cruz campaign.
But the president's vocal support for Cruz is in stark contrast to the rhetoric both embraced during the 2016 presidential election as they vied for the GOP nomination. Then, bitter enemies, Cruz called Trump a "sniveling coward"; Trump dubbed Cruz a "wacko" and "Lyin' Ted," a nickname he hasn't seemed to shake.
But now, Trump has thrown his endorsement to Cruz – something Cruz held back from doing for Trump until the last minute in the presidential election. Trump said his once-rival "has done so much for Texas, including massive cuts in taxes and regulations – which has brought Texas to the best jobs numbers in the history of the state."
"Ted has long had my Strong Endorsement!" Trump wrote on Twitter.
Despite their policy differences, Cruz and O'Rourke have a commonality on the campaign trail: the two candidates are staying true to their loyalists, focusing on their base as the key to victory, even if it means slighting moderates and undecided voters.
Read on for a look at Cruz and O'Rourke ahead of the closely-watched election.
Ted Cruz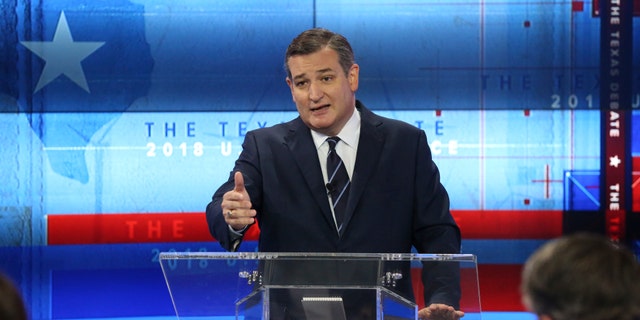 Before he was sworn into office in 2013 as a U.S. senator, Cruz served as the solicitor general of Texas.
He also ran unsuccessfully for the GOP nomination for president in 2016, holding out until just two months before the Republican National Convention. There, Cruz was granted an opportunity to give a primetime address – where he defiantly refused to endorse Trump. (He would later offer his support just a little more than a month before the election.)
FOX NEWS MIDTERM ELECTIONS HEADQUARTERS
Cruz, 47, knows his re-election race is one Democrats have their eyes on, previously telling Fox News: "If you're a wealthy liberal sitting in New York City or Massachusetts or San Francisco right now, and you could defeat one Republican in the country, it'd be me; that's why the money is flowing in here."
"With the election of Donald Trump, the far left has lost their minds," Cruz said. "The extreme left, they are energized, they're angry and they have a lot of hatred for President Trump."
A vociferous conservative, Cruz has campaigned on his promise to protect gun rights and secure the border. With his party currently controlling the White House and Congress, Cruz touts a Republican status quo he once attempted to torch as a tea party firebrand.
In addition to the Trump administration's top brass, fellow Texas Sen. John Cornyn, the Senate's No. 2 Republican, hosted a Washington fundraiser for Cruz despite their past policy clashes. But former President George W. Bush, who lives in Dallas, hasn't hit the trail on Cruz's behalf.
TED CRUZ SAYS HIS TEXAS SENATE RACE IS COMPETITIVE BECAUSE 'THE FAR LEFT HAS LOST THEIR MINDS'
As for his past beef with Trump, Cruz said he's worked with the president "in delivering on our promises."
"I could have not worked with the president if I put my feelings ahead of Texas," Cruz said. "That wouldn't be my responsibility."
In the Senate, Cruz sits on the Armed Service, Judiciary and Commerce, Science & Transportation committees.
Beto O'Rourke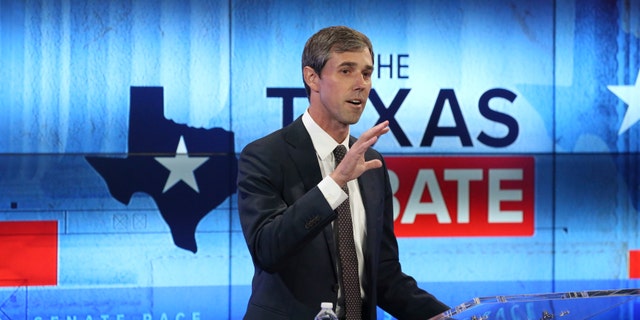 Rep. Beto O'Rourke has represented Texas' 16th congressional district, which includes El Paso, since 2013. And as he has stayed within striking distance despite Democrats not winning any of Texas' nearly 30 statewide offices for nearly 25 years, his crunch-time focus has been on mobilizing the 5.5 million people who "are likely to vote for Beto if they vote, but who might not vote unless we contact them."
The 46-year-old has garnered much media attention throughout the campaign and has been likened to "The next Obama," by Esquire and "Kennedyesque" by Vanity Fair.
But O'Rourke has been seemingly snubbed by former President Barack Obama, who endorsed 11 Texas Democrats earlier this month – leaving out O'Rourke. The congressman said he's "not interested" in an endorsement from Obama.
Other liberal powerhouses – such as Alexandria Ocasio-Cortez, Sen. Bernie Sanders and Sen. Elizabeth Warren – also haven't stumped for O'Rourke.
O'ROURKE USES TRUMP-LIKE INSULTS IN FINAL DEBATE, CALLS CRUZ 'LYIN' TED' AS POLLS SHOW CRUZ PULLING AHEAD
O'Rourke has gotten the attention of multiple celebrities and athletes, especially after he appeared in a Now This News video talking about professional athletes kneeling in protest during the national anthem.
"I can think of nothing more American than to peacefully stand up or take a knee for your rights anytime, anywhere, any place," O'Rourke said.
NBA great LeBron James shared the video on social media, calling it a "must watch" because of his "candid thoughtful words." And former Super Bowl champion Kurt Warner said O'Rourke "hit the nail on the head" and praised him for not "dividing the [two] sides but … joining them together in realizing the freedoms of this country have been forged by soldiers but also by many others who have fought in [different] ways."
He's campaigned at college campuses, a Willie Nelson concert in Austin, a Houston show featuring rapper Bun B and a Dallas sunrise jog. R&B star Khalid gave a "shout-out to Beto" when he won an American Music Award earlier this month.
During the campaign, O'Rourke has faced questions over allegations he tried to flee the scene of a 1998 drunken car crash. O'Rourke has said he did not leave but has apologized for the "terrible mistake" of driving while under the influence.
O'Rourke has said he supports an "earned path to citizenship" and has advocated for more gun control. "Thoughts and prayers are just not going to cut it," he said during a September debate.
In the House, O'Rourke sits on the Armed Services and Veterans' Affairs committees. Before becoming a congressman, he served on the El Paso City Council.
Fox News' Peter Doocy, Lukas Mikelionis and The Associated Press contributed to this report.