Texas judge's immigration ruling brings mix of applause and outrage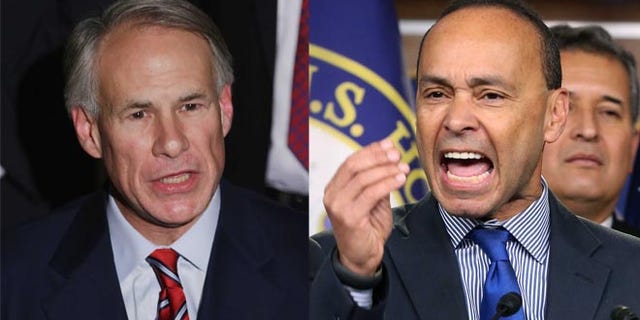 NEWYou can now listen to Fox News articles!
Just hours after a federal judge in South Texas temporarily blocked President Barack Obama's executive action on immigration, groups on opposing sides of the debate about what to do about undocumented immigrants reacted, with immigrant advocates decrying the decision, and others expressing feelings of vindication.
"President Obama's executive overreach on immigration poses a clear and present danger to our Constitution," said House Judiciary Committee Chairman Bob Goodlatte, R-Va. "By acting unilaterally to rewrite our nation's immigration laws, President Obama has disregarded the will of the American people and violated the Constitution. We cannot allow one man to nullify the law of the land with either a stroke of his pen or a phone call."
U.S. District Judge Andrew Hanen's temporary block on the implementation of Obama's executive order gives a coalition of 26 states, led by Texas, time to pursue a lawsuit that aims to permanently stop the president's unilateral action on immigration. The plaintiffs argued that Obama had overstepped his bounds by suspending deportation for an estimated 5 million, and that states would bear the brunt of the executive action.
Obama's executive action could spare from deportation as many as five million people who are in the U.S. illegally. By extension, it allows those receiving the three-year reprieve to obtain work permits, a Social Security number, some government benefits and, in many states, driver's licenses.
Groups and community leaders who had pushed for undocumented immigrants to get relief from deportation amid a stalled effort in Congress to pass comprehensive immigration reform vowed to fight the injunction and urged the millions living in the shadows to come out and move forward with plans to apply for the deportation deferral.
"Despite yesterday's decision, the National Council of La Raza is confident that this ruling will not stand and encourages all eligible candidates…to continue preparing to submit their applications," NCLR president Janet Murguía said in a statement.
Murguía called the effort to reverse Obama's executive action an "attack on American families."
"They are attacks on U.S. citizen spouses and children who are seeing their families torn apart because some of our lawmakers refuse to do what is necessary to fix our immigration system," she said.
The Department of Justice has indicated that it will appeal Hanen's decision.
In Congress, the president's executive action is the focus of a bitter fight over the Homeland Security funding bill, which includes GOP-led amendments to block the immigration orders by defunding them.
The House passed the bill, but it has stalled in the Senate, where Democrats have blocked debate on the measure, thus keeping it from going to a vote. If Congress fails to pass a Homeland Security spending bill by Feb. 27, many of the agency's employees will not get a paycheck while the standoff lasts.
Goodlatte and other Republicans say that following Hanen's decision, the Democrats should drop their fight over the DHS spending bill's inclusion of the immigration amendments and allow a vote on the measure.
Democratic lawmakers, however, said they're not backing down.
"There is no good legal case to be made by the President's opponents and legislation the hardliners are putting forward in Washington is going nowhere," said Rep. Luis Gutierrez, an Illinois Democrat who is among the leading advocates in Congress of more lenient immigration policies. "Politically and practically the idea of deporting or driving out 11 million people and their families is absurd."
"But a group of Republicans have not gotten the message that mass deportation and criminalization do not work and that getting people into the system and on-the-books is a more sensible approach. And to attach this to shutting down the Border Patrol, TSA, and Homeland Security when the threats are so real around the world is going to backfire big-time on Republican hardliners."
The two programs that were the focus of the states' lawsuit are Deferred Action for Childhood Arrivals (DACA) and Deferred Action for Parents of Americans (DAPA).
DACA broadens the eligibility for a 2012 initiative by the Obama administration that suspended deportation for undocumented immigrants who were brought to the United States as minors and meet a strict set of criteria. DAPA extends relief of deportation to immigrants who have children who are U.S. citizens or legal permanent residents.
Supporters of DACA and DAPA announced plans for 75 rallies and other events around the country in the next two weeks to show opposition to Hanen's ruling.
"President Obama abdicated his responsibility to uphold the United States Constitution when he attempted to circumvent the laws passed by Congress via executive fiat, and Judge Hanen's decision rightly stops the president's overreach in its tracks," said Texas Gov. Greg Abbott in a statement. "We live in a nation governed by a system of checks and balances, and the president's attempt to by-pass the will of the American people was successfully checked today. The district court's ruling is very clear – it prevents the president from implementing the policies in any and all aspects.'"