Ted Cruz ups his Super Tuesday win total to 3 after claiming Alaska caucus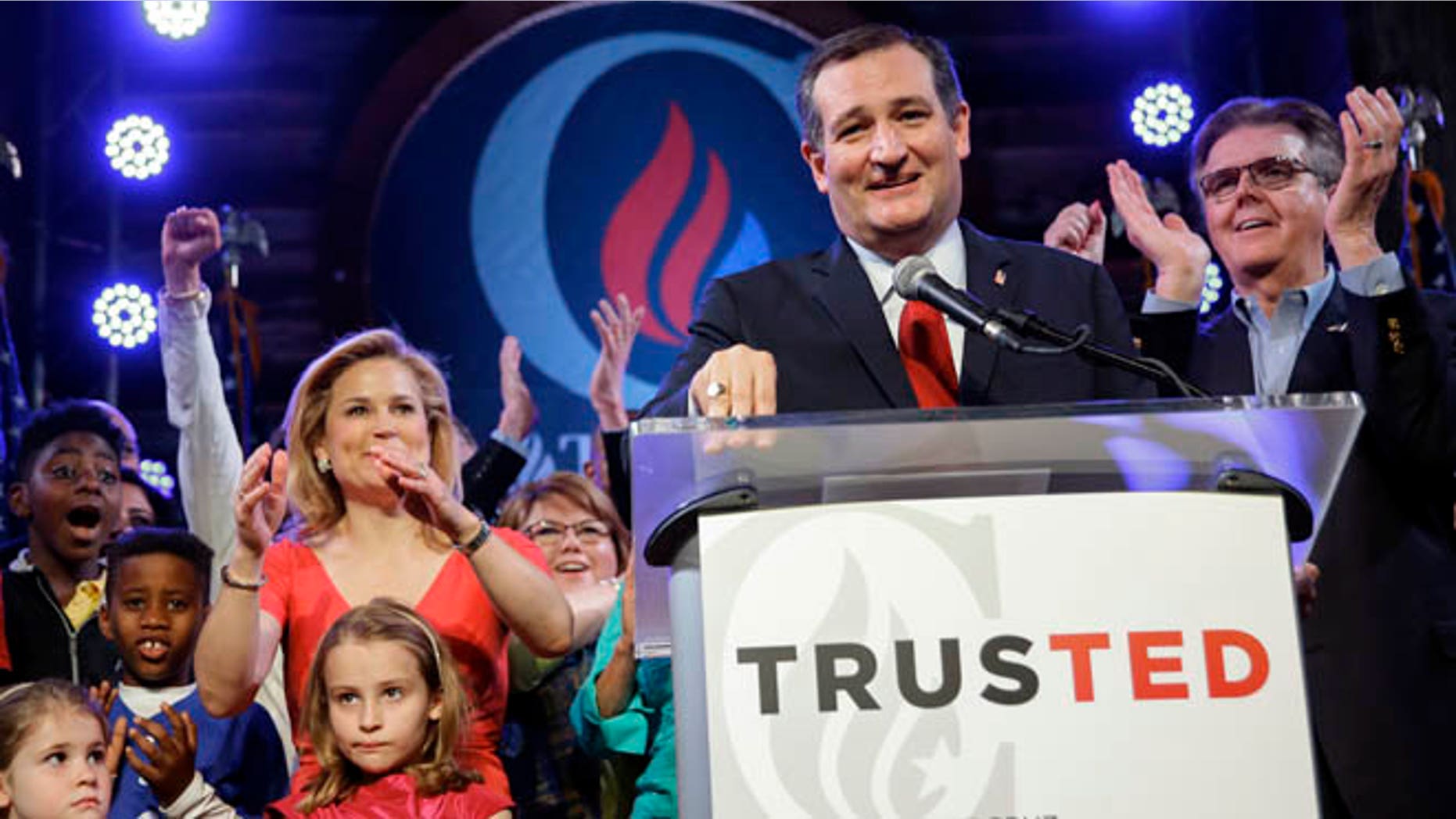 While Donald Trump may have been the big winner on Tuesday night, Texas Sen. Ted Cruz finished the day strong with a victory in the Alaska caucus.
Cruz added 12 delegates to his total with the win in Alaska. Donald Trump will take home 11 delegates from the state, and Florida Sen. Marco Rubio gets five delegates.
In two other crucial wins, Cruz also won his home state of Texas in the Super Tuesday contest, with 39.1 percent of the vote, and topped his rivals in Oklahoma, where he received 34 percent of the vote.
Cruz got about 30 percent of the Texas Latino vote when he ran for the U.S. Senate in 2012; Gov. Greg Abbot won 44 percent of the Latino vote in 2014.
With 12 states awarding delegates Tuesday, the delegate totals is as follows:
Trump has amassed 285 delegates, Ted Cruz 161, and Marco Rubio, 87. It takes 1,237 delegates to win the GOP nomination.
On the Democratic side, Clinton had at least 1,005 delegates, Sanders 373. It takes 2,383 Democratic delegates to win.
At a press conference in Texas, Cruz expressed pride in his victories and urged his GOP rivals, without naming them to drop out. If they did not drop out, Cruz said, it would help Trump clinch the GOP nomination.
"Tonight this campaign enters a new phase," Cruz said to the raucous crowd at his speech. "We began with 17 Republican candidates, through the first four states, the race narrowed considerably … And after tonight we have seen that our campaign is the only campaign that has beat, than can beat, and that will beat Donald Trump."
He urged "the candidates who have not yet won a state" or won enough delegates to drop out and "consider … coming together" behind his candidacy.
Cruz, 45, also urged supporters of other GOP candidates to get behind him and help him beat Donald Trump.
Cruz supporters felt energized by his strong performance.
"Ted Cruz's strong performance on Super Tuesday, anchored by his victory in his home state of Texas, proves he is the trusted conservative who is ready to defeat Donald Trump and Hillary Clinton," said Tea Party Patriots Citizens Fund Chair Jenny Beth Martin in a statement.
"Grassroots conservatives and Tea Party supporters trust that Ted is the person to balance our budget and lead us to a debt-free future, repeal Obamacare and secure our borders. His knowledge of the Constitution and his willingness to defend it, no matter the political cost, proves he would be the best president to replace the great Justice Antonin Scalia on the Supreme Court."
To be sure, it remains an uphill battle for Cruz in his pursuit of the GOP nomination. Trump has won most of the primaries or come in second, and recent polls show that some 49 percent of GOP voters support him.
The billionaire Trump is getting support from a cross-section of GOP voters. In recent days, he won the endorsement of Sen. Jeff Sessions of Alabama, an immigration hard liner whose endorsement Cruz had sought.
In a press conference from Florida, Trump congratulated Cruz, a one-time ally earlier in their campaigns, before they found themselves in fierce competition for the nomination.
Cruz's win in Alaska is the final Super Tuesday contest. The 2016 presidential race will resume on Saturday, with primary elections and caucuses in Kansas, Kentucky, Louisiana, Maine and Nebraska.
The Associated Press contributed to this report.