Tea Party Group Looking to Maintain Pressure on New Members of Congress After Elections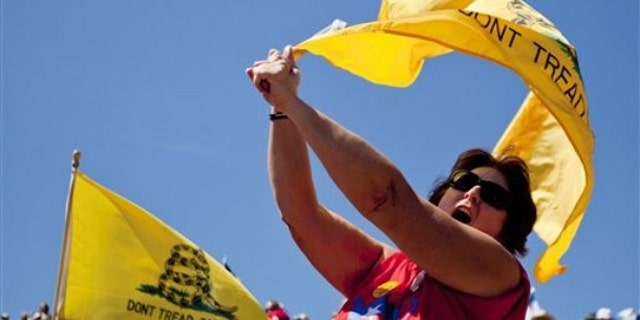 A leading national Tea Party group, anticipating big electoral gains for conservative Republicans, is laying plans to maintain pressure on new members of Congress after the Nov. 2 vote.
According to an internal memorandum reviewed by The Wall Street Journal, Tea Party Patriots, an umbrella group that says it works with nearly 3,000 local groups around the U.S., is planning a multipronged campaign that includes advertising, polling, hundreds of rallies, and a summit of newly elected members of Congress early in 2011.
Tea Party Patriot leaders say they are gearing up both to fight Democratic efforts to pass legislation during the lame-duck congressional session and for a struggle with conventional Republican leaders over the loyalties of new members of Congress.
They are seeking to raise $2.8 million to promote 2,000 tea parties on April 15, 2011—ahead of the tax-filing deadline— and at least four regional conventions during the year, as well as annual polling, nationwide leadership summits, college-campus clubs and more.
Tea Party Patriots is run by a committee of leaders scattered around the country and doesn't endorse or give money to specific candidates. But it has been instrumental in organizing national rallies that have attracted hundreds of thousands of participants. It also regularly coordinates efforts among hundreds of local tea-party groups.
The meeting of newly elected officials, the date of which hasn't been set, is designed to keep new representatives connected to "what we expect from them," according to the memo. Incumbent Republican members of Congress and the party's national leadership won't be invited, said Mark Meckler, co-founder of the Tea Party Patriots, in an interview.
"The incumbents have allowed us to get into the problems we are in now," he said. "We hope to get to the freshmen before the incumbents get to them, and start twisting their arms."
The memo cites comments regarding tea-party candidates by the former Senate majority leader for the Republicans, Trent Lott, to the Washington Post in July, when he was quoted as saying: "As soon as they get here, we need to co-opt them."
Click here for more on this story from the Wall Street Journal.