Tea Party Darling Michele Bachmann Seeks to Broaden Appeal in Presidential Race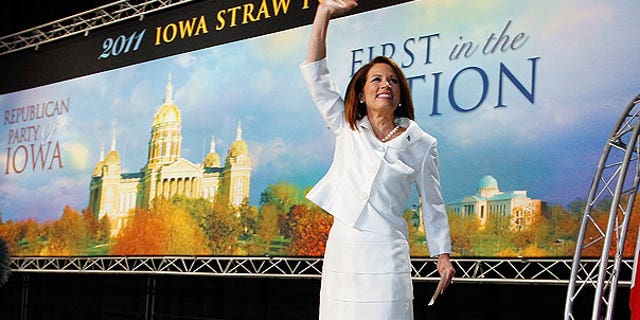 Pigeonholed as a right-wing disciple, Michele Bachmann is offering herself as a presidential candidate who can unite the GOP's disparate base and appeal to Republicans of all ideological stripes.
"Fiscal conservatives -- I'm one of those. National security conservatives -- I'm one of those. Social conservatives -- I'm one of those. And the tea party -- I'm one of those," the Minnesota congresswoman said repeatedly in South Carolina this past week.
The line, now standard fare as she visits early primary states, provides a window into her strategy of selling herself as more than just a social conservative crusader.
Bachmann's ability to overtake rivals Mitt Romney and Rick Perry in the GOP nomination contest may depend on whether she can attract support beyond her core evangelical and tea party constituencies, which gravitate toward her strong stances on cultural issues.
But this year, economic concerns clearly rate above most others with most voters. If she wins the party nod, she will have to court moderates and independents as well as conservatives.
Throughout her political career, Bachmann has fiercely guarded and worked to bolster her social conservative reputation.
She has had a 100 percent rating from the influential American Conservative Union during her nearly five years in Congress, based on her voting record. Over the past few years, she rode the wave of the rising tea party and used her frequent TV appearances to stoke a national image of as a favorite of the right.
As a candidate, Bachmann isn't eager to revisit her past controversial statements even though Democratic and Republican rivals alike use them to paint her as a fringe Republican in the race to challenge President Barack Obama.
During a recent debate, she deftly handled a question about a past remark cited the Bible as instructing wives to be "submissive to your husbands." In a measured tone, she explained it was about showing mutual respect.
A few days later, Bachmann faced tough questions on the Sunday national news shows about previous statements, including a comment about the gay lifestyle being one of "personal bondage, personal despair and personal enslavement." Not addressing such issues directly, she relied on answers such as "I'm running for the presidency of the United States. I'm not running to be anyone's judge."
Bachmann's typical campaign speech illustrates her efforts to broaden her appeal. Or as she put it in Florence this past week: "We are going to make the case that we're the unifying candidate who can beat Obama."
She opened her remarks to conservative South Carolina audiences with a quick rundown of her stances on cultural issues. But she quickly pivoted to jobs, filling a white board with numbers about tax collections and the nation's swelling deficit.
"You cannot spend more money than what you take in. It's a simple fact of life, right?" Bachmann told a receptive crowd at the Greenville convention center. She promised to submit only balanced budgets as president even though critics say that's impossible.
To national security conservatives, she said: "I won't step one toe out of this country and apologize for the United States of America," the rap that Obama's foreign policy approach gets from conservatives.
She also plays up her role on the House Intelligence Committee, stressing how she's trusted with the nation's secrets and apprised of the most pressing threats.
The broader pitch is a necessity given the times.
Gail Randall, 54, is among those who showed up this past week to hear Bachmann and who think social issues are fading.
Said Randall: "It's all about the economy this year, I think, and job creation."
Lois Ross, 42, said she appreciated hearing from Bachmann about foreign affairs, including illegal immigration and the economy because "they are the only issues I'm voting on."
Bachmann's outreach also comes across more subtly.
No matter where she travels, she emphasizes her birthplace of Waterloo, Iowa.
She says it drives home her heartland sensibilities and bedrock values. She shares stories of growing up in a broken home after her parents divorced, sending a message that she can relate to people's personal and economic struggles.
Wherever Bachmann goes, she blares Elvis Presley tunes from her campaign bus.
It's not the first time Bachmann has tried to make such a pivot.
She built a following in Minnesota as a state senator championing social causes such as a proposed constitutional ban on gay marriage. But after dispatching GOP challengers in her first bid for Congress, she focused her fall campaign on financial issues.
She hired a presidential campaign team that knows well the danger of being narrowly defined in a primary.
Several top advisers, including campaign manager Ed Rollins, oversaw Mike Huckabee's 2008 campaign. The ex-Arkansas governor is a former minister and a social conservative who harnessed the organizing ability of pastors, evangelicals and home-school advocates to win the Iowa caucuses. But he never grew his base of support before dropping out.
His campaign had wanted to stress his economic record and sportsman background, too, but never was able to get beyond the caricature that was stamped into voters' minds.
"There's this temptation always -- and we're certainly seeing that with Congresswoman Bachmann -- to try to make her into a one-dimensional candidate or a one-dimensional person," said Eric Woolson, who was Huckabee's Iowa campaign chief. "That clearly doesn't tell the whole story."
Even if she wins Iowa, Bachmann could flame out in New Hampshire, where there already are doubts about whether her track record and excitable rhetoric are a good fit in the opening primary state.
"I see very little oxygen left for Michele Bachmann in New Hampshire. Though she has some appeal, it is not very broad," said GOP strategist Jamie Burnett, a former Romney backer unaligned with a candidate this time. "To win here, she is going to need to attract support from beyond the tea party in order to compete."