Supreme Court rejects Brewer's emergency appeal, says 'Dreamers' can drive in Arizona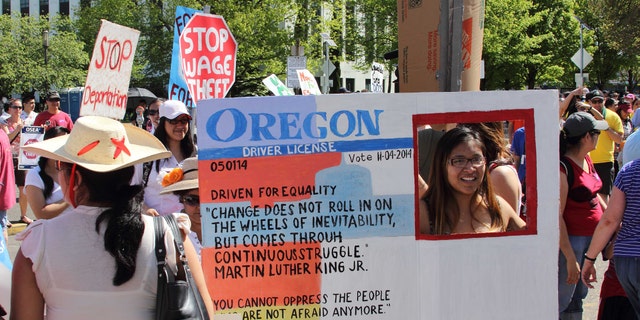 NEWYou can now listen to Fox News articles!
The state of Arizona must issue driver's licenses to undocumented immigrants who came into the US as children, known as "Dreamers," the U.S. Supreme Court ruled Wednesday.
The 6-3 ruling blocks an emergency appeal by Gov. Jan Brewer to stop the Motor Vehicle Division (MVD) from issuing licenses.
The decision is the final nail in the coffin for Brewer's long fight to deny the Dreamers' the right to drive.
That fight began in August 2012, when Brewer directed the MVD to deny driver's licenses to those who got deferred deportation status under Obama's executive order. She made that decision within hours of the Deferred Action for Childhood Arrivals (DACA) program kicking in.
Several immigrant rights activists filed a class action lawsuit challenging Brewer's actions. The lawsuit argued that the state let immigrants with work permits get licenses, and should apply the same rules to young immigrants protected under DACA.
In July, the U.S. 9th Circuit Court of Appeals ruled in favor of the Arizona Dream Act Coalition and said the state must give driver's licenses to the young immigrants.
Governor Brewer then asked the court to reconsider its ruling that blocked her policy. She stood firm in her belief that the decision to grant driver's licenses should be left to the state and filed an emergency appeal to delay the issuing of licenses.
In their dissent opinion, Justices Alito, Scalia and Thomas indicated they would have granted Gov. Brewer's request.
The ruling will affects an estimated 20,000 young immigrants in Arizona.
Nicholas Espiritu, a staff attorney with the National Immigration Law Center, told Fox News Latino that driver's licenses are crucial for the Dreamers' development.
"The young immigrants who have been granted deferred action and work authorization under the DACA program are students and young adults who are trying to pursue an education, advance their careers, support their families, and fully contribute to their communities," he said.
Espiritu said he sees progress on the issue of immigration reform, but believes Arizona is still not where it needs to be.
"We know that while the country is moving forward to find solutions that fix our dysfunctional immigration system, Arizona is firmly in reverse. We will continue to fight against any attempt to discriminate against young immigrants who the federal government has authorized to be here," said Espiritu.
Governor-elect Doug Ducey's press aide said he will adhere to the law "once a final rendering has been reached" when he enters office.
"This should serve as a wake-up call for the new governor: Do what's best for your state by allowing everyone who should be able to get a license to do so, so they can drive to school and work and participate fully in their communities," said Marielena Hincapié, executive director of the National Immigration Law Center.
Nebraska is now the only state denying driver's licenses to 'Dreamers'.
Governor Brewer could not be reached for immediate comment.