Still undecided? A look at where Clinton and Trump stand on the issues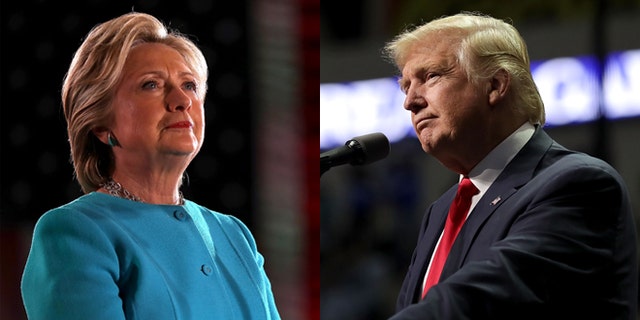 NEWYou can now listen to Fox News articles!
As Fox News Channel's Chris Wallace pointed out during the final presidential debate between Democrat Hillary Clinton and Republican Donald Trump, "There are a lot of issues that separate the two of you."
From immigration and national security to healthcare and racial issues, the differences between the Democratic and Republican nominees couldn't be more pronounced. But if you're still undecided about whom to vote for – yes, there are a few of you out there – here's quick rundown of where the major party candidates stand on the issues.
IMMIGRATION
The future of millions of people living in the U.S. without documentation will be shaped by the election results. The stakes are also high, too, for those who fight the scourge of illegal drugs like heroin and crystal meth in the U.S.
From the moment that Trump announced his candidacy for the presidency, he has prioritized getting control of the U.S. border with Mexico to limit the amount of drugs and undocumented migrants who enter the country.
The real estate tycoon pledged to build a wall along the border and get the Mexican government to pay for it. He also vowed to form an army to deport the estimated 11 million immigrants in the U.S. illegally, although he has lately been talking about focusing deportation efforts on people who have committed crimes beyond their immigration offenses.
Clinton, in contrast, intends to overhaul immigration laws to include a path to citizenship, not just legal status.
During the campaign, she has vowed to press forward with the immigration executive actions that President Barack Obama began, but which got stalled out in a 4-4 Supreme Court deadlock. Those actions promised to give deportation protection to millions of undocumented people who came to the country when young or who have children who are U.S. citizens or have legal status here.
TRADE
In this angry election year, many American voters are skeptical about free trade — or hostile to it.
The backlash threatens a pillar of U.S. policy: The United States has long sought global trade.
Economists say imports cut prices for consumers and make the U.S. more efficient.
But unease has simmered, especially as American workers faced competition from low-wage Chinese labor. Last year, the U.S. ran a $334 billion trade deficit with China — $500 billion with the entire world.
The Democratic and Republican presidential candidates are both playing to public suspicions about trade deals. Clinton broke with Obama by opposing an Asia-Pacific trade agreement that she had supported as secretary of state.
Trump vows to tear up existing trade deals and to slap huge tariffs on Chinese imports.
But trade deals have far less impact on jobs than forces such as automation and wage differences between countries. Trump's plans to impose tariffs could start a trade war and raise prices.
EDUCATION
The U.S. has some 50 million K-12 students. Teaching them, preparing them for college and careers, costs taxpayers more than $580 billion a year, or about $11,670 per pupil per year. A better education usually translates into higher earnings.
And while high school graduations are up sharply and dropout rates down, the nation has a ways to go to match the educational outcomes elsewhere. American schoolchildren trail their counterparts in Japan, Korea, Germany, France and elsewhere.
Clinton wants to make preschool universal for all 4-year-old children within 10 years by providing new federal dollars to states. Trump proposes to spend $20 billion during his first year in office to help states expand school choice programs. He wants states to divert an additional $110 billion of their own education money to help parents who want their children to go to other schools.
EXECUTIVE AUTHORITY
"Your Majesty" isn't in the American political lexicon. But when a president sets a major policy by edict, skirting Congress, it sets off a debate that traces back to the time of kings and queens — and the Founding Fathers, who rejected the authority of the crown. Lawmakers cry foul when a president, especially of the other party, usurps their authority through executive action. Defenders say it can be the only way to get something done when Congress is gridlocked.
President Barack Obama has used executive authority expansively, most notably on immigration.
Trump says he'd make sure Obama's "unconstitutional actions" never come back. But some Republicans worry Trump, too, might pursue an "imperial presidency." Clinton supported Obama's unilateral move to curb deportation of millions of immigrants in the U.S. country illegally. The Supreme Court deadlocked in June over the major portion of the immigration executive actions, effectively killing the plan for the rest of Obama's presidency.
FOREIGN POLICY
How the U.S. uses its influence as the world's sole superpower is a central feature of presidential power.
It can mean taking the country to war — to protect the homeland or to defend an ally. Or it can mean using diplomacy to prevent war. It can affect U.S. jobs, too, as choices arise either to expand trade deals or to erect barriers to protect U.S. markets.
In the contest between Clinton and Trump, America's role in the world is a point of sharp differences. Each says the U.S. must be the predominant power, but they would exercise leadership differently. Trump calls his approach "America first," meaning alliances and coalitions would not pass muster unless they produced a net benefit to the U.S. Clinton sees international partnerships as essential tools for using U.S. influence and lessening the chances of war.
These divergent views could mean very different approaches to the military fight and ideological struggle against the Islamic State, the future of Afghanistan and Iraq, the contest with China for influence in Asia and the Pacific, and growing nervousness in Europe over Russian aggression.
HEALTH CARE
About 9 in 10 Americans now have health insurance, more than at any time in history. But progress is incomplete, and the future far from certain. Rising costs could bedevil the next occupant of the White House.
Millions of people previously shut out have been covered by President Barack Obama's health care law. No one can be denied coverage anymore because of a pre-existing condition. But "Obamacare" remains divisive, and premiums for next year are rising sharply in many communities. As well, some major insurers are leaving the program.
Whether Americans would be better off trading for a GOP plan is another question. Recent studies found Trump's proposal would make 18 million to 20 million people uninsured. GOP congressional leaders have a more comprehensive approach, but key details are still missing.
Overall health care spending is trending higher again, and prices for prescription drugs — new and old — are a major worry.
Medicare's insolvency date has moved up by two years — to 2028.
Clinton would stay the course, adjusting as needed. Republicans are united on repealing Obama's law, but it's unclear how they would replace it.
JOBS
Tepid income growth and a smaller share of the population at work have kept many Americans anxious about jobs and the economy, seven years after the Great Recession ended.
And most jobs that pay decent wages require more education than in the past, leaving many workers feeling left behind.
Trump says he would cut regulations and taxes to spur more hiring, and renegotiate or withdraw from trade agreements to bring jobs back to the U.S.
Clinton says she would spend more on roads, tunnels, and other infrastructure and make state colleges and universities tuition free to most students.
Even though hiring has been healthy for the past six years, incomes have lagged. A typical household didn't see its income recover to pre-recession levels until just this past July. And the proportion of Americans working or looking for work remains below pre-recession levels, as some of the unemployed have given up searching for jobs.
RACE and POLICING
The continued deaths of unarmed African-Americans at the hands of police are turning into one of the most consequential civil rights issues of the new millennium. Since the death in 2014 of Michael Brown in Ferguson, Missouri, the sharing of video-recorded deaths of African-Americans at the hands of law enforcement has sparked unrest in many cities around the country, and prompted calls for additional training and more monitoring of police forces.
Clinton has offered specific proposals, including legislation that would help end racial profiling, providing federal matching funds for more police body cameras and overhauling mandatory minimum sentencing.
Trump has described himself as the "law and order" candidate, and has not specifically addressed plans on race and policing. He endorsed a former New York City police policy called "stop and frisk" after unrest in Charlotte, North Carolina, over the police shooting of Keith Lamont Scott.
VOTING RIGHTS
Voting rights in America are in flux. Republican-controlled legislatures are tightening voter laws, placing limits on early voting and same-day registration, and imposing new requirements for IDs at polling places. In 2013, the Supreme Court invalidated a key provision of the 1965 Voting Rights Act. That provision had required states with a history of racial discrimination to get federal preclearance to change election laws.
The issue has become highly partisan with the rapid growth of minority populations, which in recent presidential elections have tilted heavily Democratic. And it has become overlaid with Trump's statements that the election is rigged against him and that he might not accept defeat at the polls.
The Obama Justice Department has challenged voter ID and other laws, saying they could restrict access for minorities and young people. Federal court rulings softened some of the toughest restrictions, but litigation remains knotted up with Supreme Court appeals underway. Bills in Congress to restore the Voting Rights Act are stalled.
Trump opposes same-day voter registration. Clinton wants Congress to restore the Voting Rights Act and seeks a national standard of at least 20 days of early in-person voting.
Based on reporting by the Associated Press.
Like us on Facebook
Follow us on Twitter & Instagram