Steve Bannon subpoenaed during House Intel meeting for information the White House instructed him not to give
Fallen former President Trump confidante Steve Bannon was served immediate subpoenas during his closed-door meeting with lawmakers Tuesday to provide testimony on information the White House instructed him not to share, according to sources with knowledge of the conversations.
In the now hours-long, ongoing interview conducted by investigators for the House Intelligence Committee, Bannon's attorney told lawmakers that the White House directed his client not to answer questions about his time in the White House or during the transition.
Sources told Fox News Bannon did not invoke any sort of legal "privilege," including executive privilege, to support this refusal.
The sources told Fox News that lawmakers grilled Bannon and his attorney over their refusal to answer. At that point, some members of the committee recommended subpoenas for Bannon, and documents related to the issues.
Bannon was also subpoenaed by Robert Mueller as part of the special counsel investigation into Russian meddling and potential collusion with Trump campaign associates during the 2016 presidential election. Bannon could be forced to testify before a grand jury.
Bannon's testimony behind closed doors is his first appearance on Capitol Hill since he ran afoul of the administration over quotes attributed to him in a bombshell book.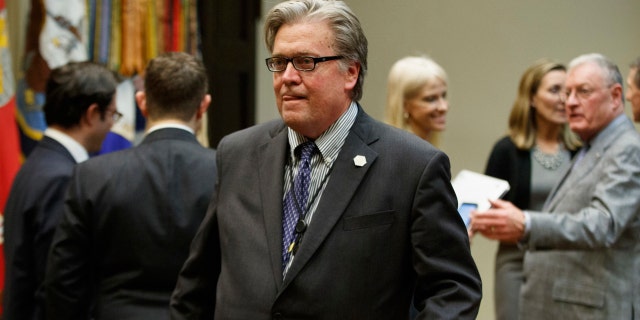 A source close to the comittee told Fox News that the former White House chief strategist and Trump campaign manager will likely be questioned over information in Michael Wolff's book: "Fire and Fury: Inside the Trump White House."
In the book, Bannon slammed the president's eldest son, Donald Trump Jr., son-in-law Jared Kushner and ex-campaign chairman Paul Manafort. Bannon called their infamous June 2016 meeting in Trump Tower with the Russian attorney Natalia Veselnitskaya during the campaign "treasonous" and "unpatriotic."
RUSSIAN LAWYER WHO MET TRUMP JR.: 'I WOULD HAVE' CONTACTED CLINTON, TOO, IF SHE COULD HELP
"Even if you thought that was not treasonous, or unpatriotic, or bad s**t, and I happen to think it's all of that, you should have called the FBI immediately," Bannon said in the book.
Bannon also said Trump Jr. would be cracked "like an egg on live TV" in any possible public testimony about the situation.
Bannon, who stepped down as executive chairman of Breitbart News last week following a dramatic falling out with President Trump over the Wolff book, and who left his White House post in August, is also likely to be questioned over his role on the campaign, as opposed to his time working in the Trump administration.
STEVE BANNON STEPS DOWN AS EXECUTIVE CHAIRMAN OF BREITBART NEWS
Bannon has a prominent role in Wolff's book, which enraged the president enough to have his personal attorneys demand the publisher halt the book's release—a request that was quickly rejected. The lawyers also sent a "cease and desist" notice to Bannon, arguing that he violated a non-disclosure agreement signed during the campaign, by disclosing confidential information in speaking to the media about campaign and disparaging members of the Trump family.
The president issued a multi-paragraph blistering takedown of "Sloppy Steve" Bannon, after the first excerpts of Wolff's book were released, seeking to distance himself from his former chief strategist.
TRUMP SLAMS BANNON AFTER CRITICISM, SAYING EX-CHIEF STRATEGIST 'LOST HIS MIND'
"Steve Bannon has nothing to do with me or my presidency," Trump said in the statement. "When he was fired, he not only lost his job, he lost his mind."
When he left the White House, Bannon said he would work to help Trump and wage a populist campaign from the outside.
"If there's any confusion out there, let me clear it up: I'm leaving the White House and going to war for Trump against his opponents -- on Capitol Hill, in the media and in corporate America," Bannon said in August upon leaving his post.
Later this week, other Trump campaign officials, former campaign manager Corey Lewandowski and former campaign spokeswoman now-White House Communications Director Hope Hicks, will testify before the same committee as part of its probe into Russian meddling and potential collusion with Trump campaign associates during the 2016 presidential election.
Fox News' Chad Pergram contributed to this report.