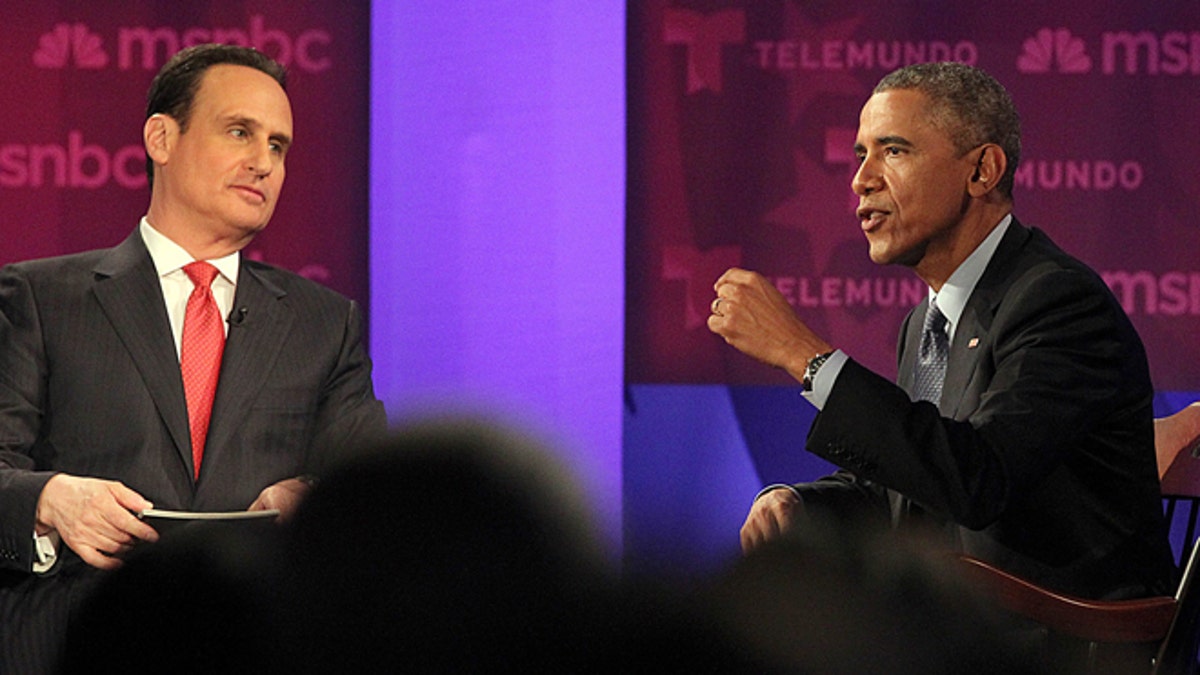 President Barack Obama urged former Florida governor and presumed 2016 presidential candidate Jeb Bush to intercede with fellow-Republicans to move forward with immigration reform.
In a town hall meeting held at Florida International University Wednesday hosted by the Telemundo and MSNBC television networks, Obama said that he did not consider himself defeated on the matter of immigration reform and will continue to fight "aggressively" GOP stonewalling on the issue.
The president said that while he appreciates Bush's "concern" about immigration, he urged him to talk with Boehner and other Republican lawmakers about approving a law that alleviates the immigration situation of millions of undocumented foreigners living in this country.
"I would suggest he talk to the Speaker of the House and the members of his party," Obama said.
When asked what advice he would give to his successor in the White House, Obama recommended that potential candidates think about immigration in the long run.
"Over the long term, this is going to get solved because at some point there's going to be a President Rodriguez, or there's going to be a President Chen," Obama said to applause from the audience.
"The country is a nation of immigrants, and ultimately it will reflect who we are and its politics are going to reflect who we are."
Members of the immigrant community took advantage of the town hall meeting, held in English, to express to Obama their concern about immigration reform and the future of his executive action measures, which have been put on hold by the decision of Texas Judge Andrew Hanen.
The president reiterated his opinion that both the law and history are on his side when it comes to the unilateral measures he took to grant deportation relief to millions of undocumented immigrants already in the country, and he invited Republican lawmakers to approve immigration reform while the legal battle is still being resolved.
The broadening of deportation protection was scheduled to begin on Feb. 18.
A 26-state coalition led by Texas is suing Obama, alleging he overstepped his legal authority with the executive action, and Judge Hanen ruled in favor of a motion put forth by the states requesting an injunction against starting the process.
"This is just one federal judge," Obama said of Hanen. "We have appealed [his decision] very aggressively. We're going to be as aggressive as we can."
Obama said he expected to win when a U.S. circuit court hears his appeal, but added that his administration will "take it up from there" if the appeal fails—the next step would be the U.S. Supreme Court.
Dismissing those hoping for a presidential about-face, Obama insisted he was "absolutely committed" to the new policy, which he described as focusing deportation efforts on felons.
"People should be gathering up their papers, make sure you can show you are a long-standing resident of the United States," Obama said at the town hall meeting. He said that immigrants should make sure that by the time the legal fight is sorted out, "you are ready to go."
As Obama spoke in Miami, another immigration drama was playing out in the U.S. Congress, where Republicans have sought to use a Department of Homeland Security funding bill to repeal Obama's directives.
But with a partial agency shutdown looming at the end of the week, the Senate is now looking to vote separately on funding and the president's immigration measures.
Obama said he would veto a stand-alone bill to repeal his actions that is being contemplated in the Senate.
The immigration dispute has taken on political overtones as focus shifts to the campaign for Obama's successor, raising questions about whether Republicans can appeal to the fast-growing number of Hispanic voters.
Obama said the first question for all 2016 presidential candidates should be whether they really intend to deport 11 million people living here illegally. If not, he said, voters should demand to know their alternative plan.
Obama says instead of holding national security funding hostage, lawmakers should fund the agency and then pass a comprehensive immigration fix.
The Associated Press and EFE contributed to this report.
Like us on Facebook