Speaking in Florida, Trump says Obama has 'abandoned our friends in Latin America'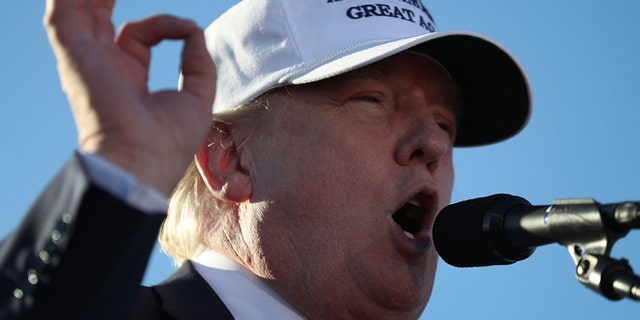 NEWYou can now listen to Fox News articles!
Throughout the presidential campaign, when Republican nominee Donald J. Trump has mentioned foreign policy issues during his stump speeches, he mostly has limited his comments to keeping American's borders safe or defending his comments about Russian President Vladimir Putin.
But Sunday night, at a rally in Naples, Florida, the GOP candidate went off his usual talking points, accusing the Barack Obama administration – and by extension his Democratic rival, former Secretary of State Hillary Clinton – of "abandoning our friends" across Latin America.
Appealing to the Sunshine State's large number of Latino immigrants, Trump said that he believes the U.S. should be "standing up against the oppression of the Castro regime in Cuba and standing in solidarity with freedom-loving people in Venezuela."
It is a criticism more frequently heard from Trump's Republican primary opponent, Sen. Marco Rubio, who has opposed steadfastly the administration's efforts to normalize relations with both nations, instead of protesting the human rights abuses of both socialist regimes.
Trump, on the other hand, has previously expressed support over the re-establishment of diplomatic relations with Cuba.
But in Naples, the real estate tycoon said, "All across Latin America people are living in oppression … The Obama-Clinton administration has abandoned our friends in Latin America and delivered only poverty and joblessness for Hispanic Americans right here at home."
Meanwhile, in Orlando, Democratic vice presidential nominee, Tim Kaine told supporters that Puerto Rico would have a strong ally in the White House if Clinton wins on Election Day.
Kaine said Sunday he and Clinton take seriously Puerto Rico's financial problems and difficulties dealing with the Zika virus.
Tens of thousands of Puerto Ricans have moved from the island to Central Florida, and the Clinton campaign has made a concerted effort to shore up support among them.
Kaine has been a key part of the Clinton campaign's outreach to Hispanic Americans and delivered part of his remarks Sunday in Spanish.
Polls show Trump far behind Clinton among Hispanic voters, although the margin is somewhat smaller in Florida.
Based on reporting by the Associated Press.
Like us on Facebook
Follow us on Twitter & Instagram