Six States Hold Primaries, Latinos Are Small Part Of Electorate With A Lot At Stake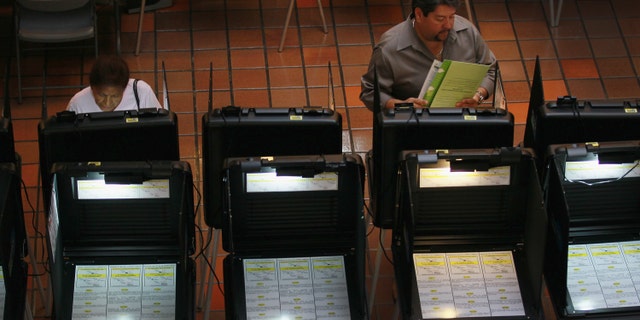 NEWYou can now listen to Fox News articles!
Six states are having primaries Tuesday, and both parties are hoping that the results will give them an edge in having control of the U.S. Senate after the November elections.
Republicans around the country are pleading with voters to turn out in high-profile races and help them gain the six Senate seats they need to take control of the chamber from the Democrats.
Republicans already have a majority in the House of Representatives.
The six states having primaries Tuesday are Georgia, Kentucky and Oregon, which have closely watched Republican contests for Senate; Pennsylvania and Arkansas, which have feisty gubernatorial primaries; and Idaho, where tea party-backed lawyer Bryan Smith is trying to oust Republican Rep. Mike Simpson, who's seeking a ninth House term.
Hispanic voters do not make up a significant part of the electorate in any of these states.
They comprise less than 2 percent of the registered voters in Georgia, Kentucky, and Arkansas, 4 percent of eligible voters in Pennsylvania, 5 percent in Oregon and 6 percent in Idaho.
But any change on party control would ultimately have an impact on Latinos, of course, especially regarding certain issues, such as immigration.
Tuesday's primary elections will give establishment Republicans another chance to defeat tea party-backed candidates, but some political activists are asking if it makes much difference.
They see tea partyers losing individual races but winning the larger ideological war by tugging the Republican Party rightward, and as far as the heated battle over comprehensive immigration reform goes, that would mean that any effort to push for a path to legal status for undocumented immigrants would almost definitely fail.
Several tea party-endorsed candidates are also struggling Tuesday in Georgia and Kentucky. In each state, however, the "establishment" Republican candidates have emphasized their conservative credentials, which narrows the party's philosophical differences.
Brent Bozell, a sharp critic of Republican moderation, said: "With virtually no exception, everyone is running as a conservative. No one is running as a moderate, no one is running as an anti-tea-partyer."
In an interview with NBC News leading up to her expected primary victory Tuesday, Georgia's Michelle Nunn refused to say how she would have voted on the Affordable Care Act if she were a senator in 2010. She later tried to clarify her remarks, but still didn't answer the question.
Nunn and Kentucky Secretary of State Alison Lundergan Grimes — also expected to win her party's nomination Tuesday — are Democrats' best, and perhaps only, shots at picking up Republican-held seats. A Democratic victory in either state would seriously dent Republican hopes of picking up a net of six seats and regaining a Senate majority.
But Nunn will certainly hear about her health care answer once Republicans pick one of seven candidates as their nominee to succeed retiring Sen. Saxby Chambliss. Tuesday's primary should send the top two finishers on to a July 22 runoff.
Kentucky voters are poised to set up a long-awaited battle between Grimes and Senate Minority Leader Mitch McConnell, who's favored to dispatch GOP challenger Matt Bevin in an anticlimactic end to what once looked like a threat to the GOP's top senator.
Senate races also are on the ballot in Arkansas, Idaho and Oregon on Tuesday, and there are primary contests for governor and some congressional seats in Pennsylvania, Arkansas, Idaho, Georgia and Oregon.
The Kentucky and Georgia Senate races have attracted international attention and impressive sums of money. Candidates already have spent more than $32 million, with $26 million by Republicans.
Yet both contests are likely to be settled by a small share of the electorate in a midterm year marked by antipathy toward the president and both parties in Congress.
In her official capacity as secretary of state, Grimes predicted a 30 percent turnout across Kentucky's two party primaries Tuesday. Only the 1.2 million registered Republicans can vote in the McConnell-Bevin primary.
In Georgia, several of the top Senate candidates said they expected 600,000 or fewer ballots cast, at least 80,000 less than a crowded primary for governor four years ago. Georgia has about 5 million active registered voters who can choose either major party's ballot in Tuesday's open primary.
Polls suggest former Secretary of State Karen Handel, Rep. Jack Kingston and businessman David Perdue will battle for two runoff posts. Reps. Paul Broun and Phil Gingrey are also running.
"Voters feel very distrustful right now, and voters are frustrated and angry right now," Handel said.
Still, she and her fellow Republicans made clear that they want that frustration — particularly with Obama and Senate Majority Leader Harry Reid— to bring loyal Republicans to the polls.
"Voters want a fighter," Handel said.
Kingston, an 11-term congressman, said, "Voters want a proven conservative."
In Kentucky, McConnell summoned the same themes to look past the primary. "There's nothing the president and his allies would like better than to defeat the guy you are looking at," he said, casting Grimes as a stand-in for Obama.
"She's able to raise money because she is running against me," McConnell said. "I'm able to raise money because I am me."
Grimes and Nunn have tried to frame themselves as centrists and capitalize on voters' obvious frustrations: Obama's job approval rating is in the low 40s nationally, and approval for Congress in recent years has consistently been less than half that figure.
Nunn continued those tactics Monday amid a rhetorical dance on Obama's health care law.
After her awkward exchange with NBC News on a hypothetical 2010 vote on health care, her campaign spokesman released a statement that still avoided the question.
The candidate later told The Associated Press that she plans on "continuing to answer the question by talking about where we need to go in the future and how we need to move forward."
Nunn previously has criticized her potential Republican rivals for a "run to extremes," including in their absolute opposition to the health law. And she's called for states, including Georgia, to expand Medicaid eligibility under the law. Republican Gov. Nathan Deal, who also faces a primary challenge Tuesday, has refused.
The Associated Press contributed to this report.
Follow us on twitter.com/foxnewslatino
Like us at facebook.com/foxnewslatino