Texas Primaries: Abbott, Davis Headed For Nov. Showdown; George P. Bush Wins First Election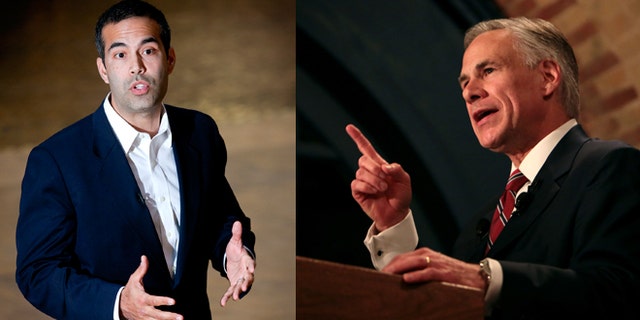 Dallas, Texas (AP) – The first primary in what Republicans hope is a triumphant election year sent a message that U.S. Sen. Ted Cruz and the tea party still wield considerable influence in one of the nation's most conservative states.
But to find out exactly how much, Texans will have to wait.
In a primary where an extraordinary number of statewide positions were up for grabs following Gov. Rick Perry's decision not to seek another term, some incumbent candidates successfully fought to beat back tea party challengers Tuesday. But several candidates who forced runoffs in May were either praised by the outspoken freshman senator, Cruz, or who ran with his no-compromising swagger.
"In Texas, we will show the rest of the country what it means to be conservative," said GOP state Sen. Dan Patrick, who forced longtime Lt. Gov. David Dewhurst into a runoff, less than two years after Cruz beat Dewhurst in the Senate primary.
The primary was the first since Cruz barreled into the U.S. Senate in 2012 and yanked Republicans nationwide further right, and many watched results within Texas to see how strong his influence would be on the state's next generation of Republican leaders. Amid the Republican contests, however, is Wendy Davis, a rising Democratic star who has energized the state's Democratic base and making a run for the governor's seat in November.
Texas Attorney General Greg Abbott clinched the Republican nomination for governor on Tuesday and will face Davis in the November general election.
On Tuesday, Abbott said that the values of the Latino community match perfectly with those of U.S. conservatives. "We have a huge trend of doubling my support in the Hispanic community," he told reporters after casting his ballot.
He voted in the primaries at a church in south Austin accompanied by his Latina wife and the couple's daughter.
Latinos are responding to his message because he emphasizes values such as faith, family and "the freedom of each individual to start a business and have a better education," he said.
Abbott spoke of his "natural connection with Hispanics" in the form of his marriage to a granddaughter of Mexican immigrants.
If Abbott becomes governor in 2015, his wife Cecilia will become the only Latina first lady in Texas history.
"I am multi-cultural by choice," Abbott said, "and this choice is one that is proving to be a genuine connection not only with me as a family but also with the Republican party and Hispanic community in particular in the State of Texas. This will matter with regard to winning this election, but more importantly to winning the next generation."
Davis, who catapulted to national political stardom last summer with a nearly 13-hour filibuster over abortion restrictions, vowed to topple two decades of GOP dominance in Texas. Though an underdog, she is the first female gubernatorial nominee in Texas since Ann Richards in 1994.
"I will be for all freedoms. Not just certain freedoms for certain people," Davis told supporters Tuesday night after formally securing the nomination, needling Republicans.
In other primary races, George P. Bush took the first step toward continuing his family's political dynasty Tuesday, shaking off an under-funded primary challenger and securing the Republican nomination for the little-known but powerful post of Texas land commissioner.
The 37-year-old Fort Worth attorney is the grandson of former President George H.W. Bush, nephew of former President and Texas Gov. George W. Bush, and son of ex-Florida Gov. Jeb Bush, who is frequently mentioned as a possible GOP White House hopeful in 2016.
He's also a Spanish speaker whose mother Columba was born in Mexico and who Republican leaders statewide long have toasted as key to wooing voters among Texas' booming Hispanic population.
"We don't have to change our conservative principles to win, we just need to change our tactics," said Bush, who spoke English and Spanish to the crowd at his victory party at a Fort Worth Mexican restaurant. His mother was among the attendees.
He noted that his campaign traveled to numerous heavily Hispanic areas, including making several trips to the Texas-Mexico border.
"You'll see that we have tea party friends, that we have mainstream conservatives, we have strong Latino support and a lot of younger voters," he said.
There was no incumbent running and Bush used his American political-royalty surname to raise more than $3.5 million while his opponent, East Texas businessman David Watts, could barely afford to travel the state.
Bush immediately becomes the overwhelming favorite in November against Democratic nominee and former El Paso Mayor John Cook.
San Antonio-based oilman Douglas Cain, who attended the Bush victory party, called the latest George Bush "a very humble, straightforward guy."
Not everyone is convinced, though.
Casting his vote Tuesday in Dallas, Richard Lohr, a 76-year-old roofing contractor, said he was a longtime supporter of both President Bushes — but was worried about anointing a "family hierarchy" in office.
The land commissioner administers Texas' vast, state-owned lands and mineral resources, and it's a job that can be a stepping stone to higher office. David Dewhurst was land commissioner before becoming lieutenant governor in 2003.
Bush taught school in inner-city Miami before earning a law degree from the University of Texas and clerking for a federal judge. In 2010, he served an eight-month tour in Afghanistan with U.S. Naval Intelligence under an assumed name.
EFE contributed to this report.
Follow us on twitter.com/foxnewslatino
Like us at facebook.com/foxnewslatino