Sessions fires back at Comey, amid recusal questions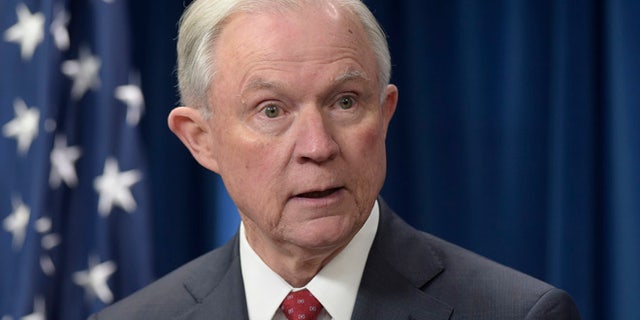 NEWYou can now listen to Fox News articles!
Attorney General Jeff Sessions is firing back at former FBI Director James Comey, after he suggested in Thursday's hearing that there might be more than meets the eye to the AG's recusal from the Russia probe.
Sessions recused himself from "any existing or future investigations" regarding the 2016 presidential race in early March, after facing bipartisan pressure to step aside from the probe due to his involvement with the Trump campaign.
But in his long-awaited testimony before the Senate Intelligence Committee on Thursday, Comey told lawmakers he believed it was "inevitable" that Sessions would recuse himself from Russia probe.
"We also were aware of facts that I can't discuss in an open setting that would make his continued engagement in a Russia-related investigation problematic," Comey said.
The Department of Justice, however, issued a statement standing by the original explanation.
Spokesman Ian Prior said Sessions "began consulting with career Department of Justice ethics officials to determine whether he should recuse himself" shortly after taking office.
The DOJ said Sessions' discussions with ethics officials were focused on a regulation that prohibits DOJ attorneys from participating in investigations that involve "entities or individuals" with whom the person has a "political or personal relationship."
"Given Attorney General Sessions' participation in President Trump's campaign, it was for that reason, and that reason alone" Sessions made the March 2 decision to recuse himself from the Russia investigation, Prior said.
In the wake of Comey's testimony, Sessions already is facing scrutiny from Democrats interested in hearing from him next. And with the AG already scheduled to testify before a Senate Appropriations subcommittee on Tuesday, lawmakers are preparing to head into Russia territory.
Sen. Patrick Leahy, D-Vt., top Democrat on the appropriations committee, specifically cited Comey's recusal comments in a statement Thursday: "Former Director Comey testified today that he expected the Attorney General to recuse himself from the Russia investigation, weeks before the Attorney General made that decision himself, because of matters that could not be discussed publicly. This raises even more questions about the Attorney General's actions."
The DOJ, meanwhile, took issue Thursday with several parts of Comey's testimony.
Comey also had testified that he was "not aware" of any memorandum sent to the FBI on behalf of the DOJ providing information as to why Sessions recused himself.
But on Thursday night, the DOJ released the email sent by Chief of Staff Jody Hunt to then-Acting Deputy Attorney General Dana Boente, Comey and others. The DOJ said the email was sent "specifically informing Mr. Comey and other relevant Department officials of the recusal and its parameters."
Hunt's email said: "You should instruct members of your staff not to brief the Attorney General" on related matters.
Tuesday's hearing, meanwhile, is likely to delve into Sessions' past contacts with Russian officials, something Leahy also mentioned in his statement after Comey testified.
During his January confirmation hearing, Sessions told Sen. Al Franken, D-Minn., that he "did not have communications with the Russians." But as first reported by The Washington Post, Sessions spoke twice last year with Russian Ambassador Sergey Kislyak—once in July at a Heritage Foundation event on the sidelines of the Republican National Convention, and another in then-Sen. Sessions' office.
Justice Department officials said that Sessions met with ambassadors in his capacity as a member of the Senate Armed Services Committee.
According to a schedule provided to Fox News, Sessions met with numerous ambassadors from April 14, 2016 through Nov. 11, 2016. Russia appeared on the schedule only once.