Senate Republican Leader Agrees to Ban Earmarks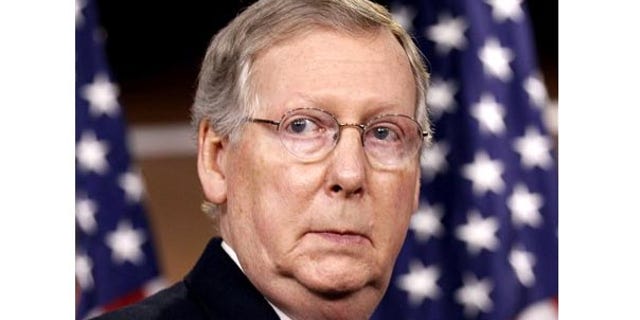 Bowing to the will of a majority of his caucus, Senate Republican Leader Mitch McConnell announced Monday that he would support a ban on earmarks that have come to be known as "a symbol of the waste and the out-of-control spending" in Washington.
McConnell, who had resisted calls for the ban saying that it would leave President Obama in charge of spending money on state projects, said that abuse of the practice had led many Americans to view it as a boondoggle and every Republican in Washington determined to fight it.
"As the leader of my party in the Senate, I have to lead first by example," McConnell, R-Ky., said from the floor of the Senate on the first day of its lame-duck session.
"Nearly every day that the Senate's been in session for the past two years, I have come down to this very spot and said that Democrats are ignoring the wishes of the American people. When it comes to earmarks, I won't be guilty of the same thing," he said.
McConnell's remarks were praised by Obama.
"I welcome Senator McConnell's decision to join me and members of both parties who support cracking down on wasteful earmark spending, which we can't afford during these tough economic times," Obama said in a written statement. "But we can't stop with earmarks as they represent only part of the problem."
McConnell's turnaround comes as the newly elected freshman class -- comprised of 94 members of which 85 are Republican -- toured the Capitol and heard from future colleagues about the ways of Washington.
But in breakout sessions organized by Tea Party favorites Sen. Jim DeMint, R-S.C., Reps. Michele Bachmann, R-Minn., and Mike Pence, R-Ind., new congressmen-elect joined with Tea Party-backed Americans for Prosperity in calling for a two-year moratorium on earmarks.
"Everything has changed" on Capitol Hill, DeMint said, noting that the temporary ban, which would save about $38 billion per year based on recent allocations, is "just the beginning."
"2012 will make this look small," DeMint said.
He later issued a statement saying that McConnell's decision "demonstrates the kind of bold leadership our party needs."
"Earmarks have greased the skids for runaway spending and bad policy for decades. It's time for Congress to stop focusing on parochial pet projects, and instead focus on cutting spending, devolving power and decisions back to states, and working on national priorities like entitlement and tax reform," he said.
Back in the Senate, McConnell said that while he is unapologetic about the money he had brought home to his state as a result of earmarks, he recognized that the symbol would always be bigger than the sum.
"Unless people like me show the American people that we're willing to follow through on small or even symbolic things, we risk losing them on our broader efforts to cut spending and rein in government," he said.
Republican lawmakers are expected to vote Tuesday on their leadership for the next term as well as the moratorium. Rep. Eric Cantor of Virginia, who is expected to be the next House majority leader, said now that Republicans are listening, he hopes Democrats join in the ban.
"Now it's time for President Obama to step up to the plate, and I urge him to encourage Senator (Harry) Reid and Senate Democrats to hold a similar vote on earmarks. Further, the president should pledge to fully review Executive Branch earmarks so that we can begin to rebuild the public trust that has been eroded by wasteful and egregious earmarks," Cantor said.