Senate Dem campaign arm stops running ads in Kentucky race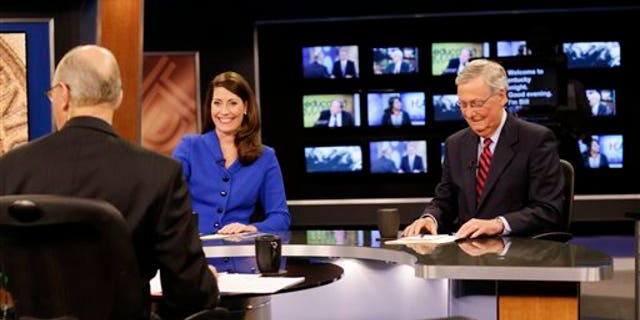 FLORENCE, Ky. – The Democratic Senatorial Campaign Committee has stopped running TV ads in Kentucky's U.S. Senate race, a severe blow to Alison Lundergan Grimes in her challenge to Republican leader Mitch McConnell.
In a statement issued three weeks before the Nov. 4 election and a day after the candidates' sole debate, the committee said Tuesday that it had spent more than $2 million in Kentucky and continued to fund get-out-the-vote operations. However, the committee made no commitment to go back on the air in support of Grimes, who has been pummeled by tens of millions of dollars in attack ads by McConnell and his allies.
The committee's decision in Kentucky was in strong contrast to its activities in other states with pivotal Senate races. Democrats continued to spend freely in Iowa, Georgia, North Carolina and several other states as they tried to blunt a Republican drive to gain a Senate majority in midterm elections.
Grimes' campaign continued to air ads, including one that accuses McConnell of supporting amnesty for 3 million immigrants living in the country illegally.
Grimes was heavily recruited by Democrats to challenge McConnell, but her support eroded in recent polls under the weight of attacks by McConnell and his allies. While McConnell has been plagued by low approval ratings, he has sought to turn the election into a referendum on President Barack Obama, who is even more unpopular in the state.
In recent days, the issue of Obama moved to the top of the daily campaign back-and-forth, with Grimes refusing to say if she voted for Obama in 2008 or 2012, even though she was a delegate for the president at the Democratic National Convention in 2012.
In their televised debate, Grimes repeatedly criticized the five-term Republican senator for running a campaign bankrolled by millionaires and billionaires. She repeated those themes Tuesday after speaking with supporters at an event in Florence.
Campaigning in northern Kentucky during the day, Grimes said of McConnell, "He can buy the airwaves, but he can't buy the hearts and minds of Kentuckians."
Grimes has proven to be a formidable fundraiser herself, besting McConnell by nearly $1 million in the most recent fundraising quarter. But her campaign has been outspent by McConnell and his network of super PACs by tens of millions of dollars.
The Democratic Party ads went off the air as scheduled after Monday, at the end of a two-week period.
Republicans who track the race also said Grimes is no longer benefiting from ads from the Senate Majority PAC, an independent group that is allied with Senate Majority Leader Harry Reid and has spent millions on competitive races. A spokesman for the group did not respond to requests for comment.
At the same time, the Kentucky Opportunity Coalition, the super PAC supporting McConnell, launched yet another $1.2 million TV ad buy on Tuesday that again connects Grimes to Obama.
Grimes brushed off the Kentucky Opportunity Coalition, telling reporters Tuesday that the group is "one letter shy of Koch brothers," a reference to the billionaire Republican donors who Democrats have turned into a symbol for campaign finance reform.
"I think that Kentuckians know my record as secretary of state has been one that has actually put the people first and broken through the gridlock to actually be an independent thinker that's gotten results for them," Grimes said. "That is what we have seen has resonated. They know it in their hearts."