Sen. Tom Carper faces challenge in Del. primary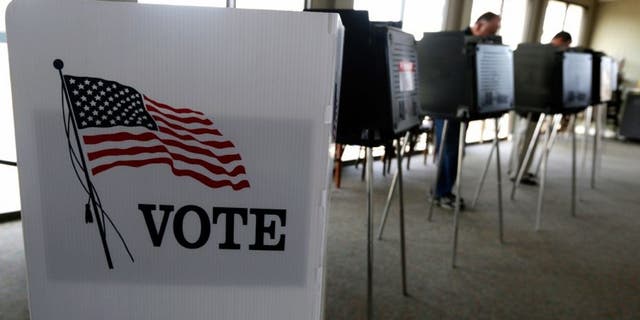 NEWYou can now listen to Fox News articles!
**Want FOX News Halftime Report in your inbox every day? Sign up here.**
On the roster: Sen. Tom Carper faces challenge in Del. primary - 'Confidential' Kavanaugh emails from Booker were cleared - Trump officials deny writing 'resistance' op-ed - The Judge's Ruling: Who's responsible? - Picture the fan memorabilia

SEN. TOM CARPER FACES CHALLENGE IN DEL. PRIMARY
WaPo: "One of Congress's leading centrist Democrats is facing a ballot test in Delaware, with the party's liberal insurgency looking to oust Sen. Thomas R. Carper in a rare Thursday primary. The race between Carper and Kerri Evelyn Harris, a community activist making her first run for office, did not initially attract as much attention as intraparty brawls in states like Michigan and New York. But the same organizers who've powered other upsets and insurgent campaigns this cycle have moved into Democratic-leaning Delaware. Carper, 71, who's seeking a fourth and possibly final term, has held every major statewide office in Delaware — including its sole House seat — and never faced a serious rival in a Democratic primary. He's spent $3.3 million on his primary campaign, an investment that's visible in billboards across the state, ads running on TV and YouTube, and field organizers pulling out voters across the small, three-county state. 'I don't want to just talk about fixing things; I actually have fixed things,' Carper said last week, in his sole debate with Harris."

Donnelly leads Braun in Indiana - Marist Poll: "In the contest for U.S. Senate in Indiana, [Democrat Joe Donnelly] (44%) and [Republican Mike Braun] (41%) are closely matched among likely voters statewide including those who are undecided yet leaning toward a candidate. Libertarian candidate Lucy Brenton receives 8%. Six percent are undecided. But only 49% of likely voters with a candidate preference for U.S. Senate say they strongly support their choice of candidate. 54% of Donnelly's supporters, compared with 48% of Braun's backers, express a firm commitment to their choice of candidate. In a two-way contest, Donnelly (49%) has a six-point lead over Braun (43%) among Indiana likely voters. 'Donnelly scored an upset in 2012 against a flawed Republican opponent,' says Dr. Lee M. Miringoff, Director of The Marist College Institute for Public Opinion. 'This time he faces a competitive contest against businessman Mike Braun. Right now support for both candidates is lukewarm.'"

The list of vulnerable senators continues to grow - Roll Call: "Democrats continue to dominate the latest list of the most vulnerable Senate incumbents two months out from Election Day, with North Dakota Sen. Heidi Heitkamp moving into the top spot. Heitkamp displaces Nevada Sen. Dean Heller, who nevertheless remains the most vulnerable incumbent on the Republican side and the only GOP senator running in a state Hillary Clinton won in 2016. The Democrats battling for re-election in states that backed President Donald Trump remain among the most vulnerable senators. Florida Sen. Bill Nelson moved up a spot ahead of West Virginia's Joe Manchin III, even though Trump won West Virginia by 42 points. Manchin's opponent, state Attorney General Patrick Morrisey, had to contend with a costly primary, while Nelson's opponent, Gov. Rick Scott, has showed he's willing to spend millions on his race. As always, these lists are compiled after consultation with strategists from both sides of the aisle and the race ratings from Inside Elections with Nathan L. Gonzales. We look solely at vulnerable incumbents and do not include open seats that are likely to flip."

THE RULEBOOK: YUUUUUP
"As the spirit of party, in different degrees, must be expected to infect all political bodies, there will be, no doubt, persons in the national legislature willing enough to arraign the measures and criminate the views of the majority." – Alexander Hamilton, Federalist No. 26

TIME OUT: SO 'NIGHT OWL' ISN'T JUST A SAYING…
NatGeo: "A day in the life of a sun bear is what you might expect from the name: sunny. … But when disturbed by human activity, that changes dramatically. … Led by scientists at the University of California, Berkeley, and Boise State University, [a study published in June in the journal Science] found that human activity is driving scores of mammals to shift their activity from the day into the dark hours of the night. With many species already pushed to the geographical margins of their local habitats, the animals are attempting to avoid interaction with humans by 'separating themselves in time rather than in space,' the study authors write. … For the work, the researchers examined the behaviors of 64 mammal species, including deer, tigers, boars, and, of course, sun bears. They observed increased nocturnal behavior in a large majority of them, with species that are naturally active during the day tending to shift their activity to after dark, and those that are naturally nocturnal becoming more so."

Flag on the play? - Email us at
HALFTIMEREPORT@FOXNEWS.COM with your tips, comments or questions.

SCOREBOARD
Trump job performance
Average approval: 39.6 percent
Average disapproval: 55 percent
Net Score: -15.4 points
Change from one week ago: down 4.8 points
[Average includes: Grinnell College/Selzer: 43% approve - 50% disapprove; Gallup: 41% approve - 53% disapprove; IBD: 36% approve - 56% disapprove; ABC News/WaPo: 38% approve - 60% disapprove; USA Today/Suffolk: 40% approve - 56% disapprove.]

Control of House
Republican average: 40.2 percent
Democratic average: 49.4 percent
Advantage: Democrats plus 9.2 points
Change from one week ago: Democratic advantage up 0.4 points
[Average includes: Grinnell College/Selzer: 45% Dems - 43% GOP; IBD: 50% Dems - 39% GOP; ABC/WaPo: 52% Dems - 38% GOP; USA Today/Suffolk: 50% Dems - 39% GOP; NBC/WSJ: 50% Dems - 42% GOP.]

'CONFIDENTIAL' KAVANAUGH EMAILS FROM BOOKER WERE CLEARED
Fox News: "In yet another bizarre turn of events at Brett Kavanaugh's Supreme Court confirmation hearing, Republicans have revealed that documents Democratic Sen. Cory Booker published Thursday morning in supposed defiance of Senate rules had already been cleared for release. 'All of this drama this morning apparently was for nothing and it's unfortunate,' Sen. John Cornyn, R-Texas, told reporters after a chaotic start to the third day of Kavanaugh's hearing. Earlier Thursday, Booker dramatically said he would 'knowingly' violate Senate rules to release emails marked 'committee confidential' that showed Kavanaugh discussing racial profiling as a White House lawyer in 2002. Booker referred to his actions as an act of 'civil disobedience' and said he was prepared to face punishment. 'I am going to release the e-mail about racial profiling and I understand that the penalty comes with potential ousting from the Senate,' said Booker, a possible 2020 Democratic candidate for president. At another point, Booker said, 'This is about the closest I'll probably ever have in my life to an, 'I am Spartacus' moment.'"

Conservative group launches six-figure ad buy for Kavanaugh - Axios: "The Judicial Crisis Network, a top conservative political group, is spending $600,000 national airtime to boost President Trump's Supreme Court nominee Brett Kavanaugh ahead of his confirmation vote. The details: JCN said the 30-second ad will be aired for two weeks on CNN, MSNBC and FOX News Channel starting Thursday — the third day of Kavanaugh's confirmation hearings. JCN is a dominant outside group that helped confirmed Trump's first justice nominee, Neil Gorsuch, and it had recently launched an ad campaign to pressure vulnerable red-state Democrats to support Trump's pick."

TRUMP OFFICIALS DENY WRITING 'RESISTANCE' OP-ED
Politico: "Vice President Mike Pence and other top Trump officials rushed on Thursday to deny that they authored an anonymous New York Times op-ed detailing a 'resistance' movement inside the Trump administration — an extraordinary demonstration of how the editorial has rattled the highest levels of government. The editorial — which was published on Wednesday from 'a senior official in the Trump administration' and accuses the president of acting 'in a manner that is detrimental to the health of our republic' — has kicked off a wild guessing game inside the White House and out about the author's identity. Members of the Trump administration ranging from Federal Communications Commission Chairman Ajit Pai to Defense Secretary Jim Mattis to budget chief Mick Mulvaney have denied either publicly or in response to requests from POLITICO that they were responsible for the op-ed. In the hours after the remarkable rebuke of President Donald Trump by one of his own, parts of the internet, searching for any clues as to who could have written the piece, latched on to the use of one word in particular: lodestar."

POLL SHOWS MIMI WALTERS' OPPONENT WITH THREE POINT LEAD
Roll Call: "A Democratic Congressional Campaign Committee poll showed a close race in California's 45th District, with Democrat Katie Porter slightly ahead of GOP Rep. Mimi Walters. The survey, paid for by the DCCC's independent expenditure arm, found that 49 percent of respondents backed Porter while 46 percent backed Walters. Five percent were undecided, according to a polling memo obtained first by Roll Call. The poll had a 4.38 point margin of error. The survey also found that President Donald Trump remains unpopular in a district Hillary Clinton won by 5 points in 2016. Forty-five percent had a favorable view of Trump, compared to 54 percent who had an unfavorable view. Walters' approval rating was split, with 44 percent having a favorable view of her compared to 45 percent who viewed her unfavorably. And Porter's numbers reflected her lower name recognition, with 35 percent viewing her favorably and 16 percent viewing her unfavorably."

DeSantis picks Miami state legislator as running mate - Tampa Bay Times: "Republican gubernatorial nominee Ron DeSantis has picked Miami Rep. Jeanette Nuñez as his running mate, the Miami Herald has confirmed. Nuñez, a Kendall-area politician who was first elected to the state House in 2010, would be the first Cuban-American woman to serve as the state's second in command if she and DeSantis are elected in November. She recently served as Speaker pro tempore under House Speaker Richard Corcoran. … Nuñez, 46, was hesitant to agree, but was swayed by an 11th hour pitch from U.S. Senator Marco Rubio, according to Politico. Neither the DeSantis campaign nor Nuñez would comment Wednesday evening. Nuñez's selection is expected to be announced at a GOP unity rally in Orlando on Thursday."

O'Rourke campaign says 'imposter' responsible for immigrant text - Roll Call: "Rep. Beto O'Rourke's Senate campaign said an 'impostor' was pretending to be part of the Democrat's texting team asking volunteers to 'transport undocumented immigrants' to vote. The messages were sent by someone who identified herself as a member of O'Rourke's team named Patty who said the campaign was 'in search of volunteers to help transport undocumented immigrants to polling booths,' the Austin American-Statesman reported. O'Rourke's campaign spokesman Chris Evans told the newspaper the messages were sent by 'an impostor.' 'We're very sorry about this and have taken the necessary steps to make sure that they do not continue sending text messages with our campaign,' he said."

DOJ demands N.C. voting records - NYT: "Federal prosecutors have issued sweeping subpoenas demanding that millions of North Carolina voter records be turned over to immigration authorities by Sept. 25. With just two months to go before the midterms, the subpoenas threatened to sow chaos in the state's election machinery, while renewing the Trump administration's repeatedly discredited claims of widespread voting by illegal immigrants. The unsealed grand jury subpoenas were sent to the state elections board and to 44 county elections boards in eastern North Carolina. Their existence became widely known after Marc E. Elias, a voting rights lawyer aligned with the Democratic Party, mentioned them on Twitter."

THE JUDGE'S RULING: WHO'S RESPONSIBLE?
This week, Fox News Senior Judicial Analyst Judge Andrew Napolitano discusses the metaphor in a government-founded church: "Has any of this enhanced your life, liberty or property? As much as I appreciated the kind words about my late friend [Sen. John McCain] and the polite reception those words received, it made me think about how dangerous to life, liberty and property the government has become, how unfaithful to the Constitution have been those in whose hands we have reposed it for safekeeping and how unashamed of their misdeeds are those who have caused all this. Nearly all of the present assaults to liberty can be laid at the feet of the Republicans and Democrats who were sitting in that government-founded church in the nation's capital and listening to the praise of John McCain." More here.

PLAY-BY-PLAY
Trump heads to Montana for MAGA rally - WashTimes

Trump threatens government shutdown… again - WaPo

House and Senate interns will be paid beginning in 2019 - The Hill

AUDIBLE: SAVE THE DRAMA FOR YOUR MAMA
"You don't run the country as a soap opera." – Sen. Ben Sasse, R-Neb., in an interview with radio talk show host Hugh Hewitt.

Share your color commentary: Email us at
HALFTIMEREPORT@FOXNEWS.COM and please make sure to include your name and hometown.

PICTURE THE FAN MEMORABILIA
WHNT19: "After three months of ideas, voting and speculation, it has been decided: Madison [Alabama's] Minor League Baseball team will be known as the Rocket City Trash Pandas. BallCorps Inc., the owner of the Southern League franchise that will be located in Madison, made the announcement Wednesday night at a reveal party at Rocket Republic Brewing. Matthew Higley of Lacey's Spring made the team name suggestion and gets two box seats for the first five years of play. He also will get to throw out the first pitch at a home game in 2020. 'I don't want to compare it to rocket science, but there's a lot that goes into naming a baseball team,' he said after the reveal. 'You've got to get something that has a good mascot, right? Raccoons-- probably the best mascot.' … Higley plans on taking his wife or his 5-month-old son, Duke, to the games."

AND NOW, A WORD FROM CHARLES…
"What's left of your credibility when you make such a casual about-face?" – Charles Krauthammer (1950-2018) writing in the Washington Post on July 13, 2017.
Chris Stirewalt is the politics editor for Fox News. Brianna McClelland contributed to this report. Want FOX News Halftime Report in your inbox every day? Sign up here.