Sen. Kennedy OK After Suffering Seizure at Inaugural Lunch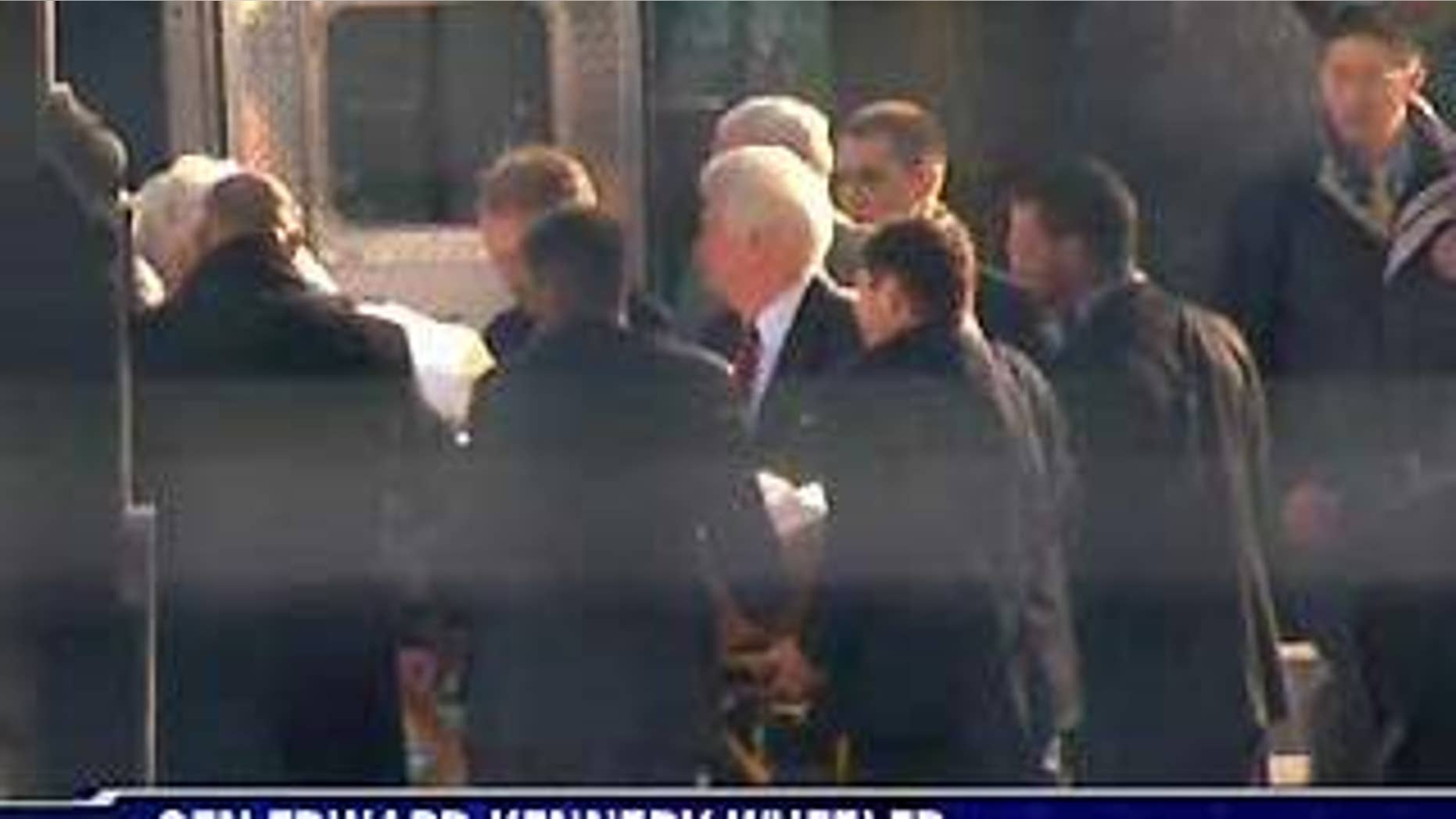 Sen. Edward M. Kennedy, ill with a brain tumor, was hospitalized Tuesday but quickly reported feeling well after suffering a seizure at a post-inauguration luncheon for President Barack Obama. "After testing, we believe the incident was brought on by simple fatigue," Dr. Edward Aulisi, chairman of neurosurgery at Washington Hospital Center said in a statement released by the senator's office.
"He will remain ... overnight for observation, and will be released in the morning."
The statement said the 76-year-old senator "is awake, talking with family and friends, and feeling well."
The statement did not disclose the tests that were performed on Kennedy, whose seizure was witnessed by several fellow senators seated with him at lunch.
Sen. John Kerry, D-Mass., told reporters he and Kennedy's wife, Vicki, grabbed the senator as he became ill.
Added Sen. Chris Dodd, D-Conn., "It took a lot out of him. Seizures are exhausting."
Even so, Dodd quoted Kennedy as saying, "I'll be OK, I'll see you later" as he was put into an ambulance.
"The good news is he's gonna be fine," Dodd added.
Hospital spokeswoman Michelle Allen said Kennedy was awake and answering questions during an assessment. His wife Vicki and son, Rep. Patrick Kennedy, were with him, Allen said.
Last summer, the Massachusetts Democrat was diagnosed with a life-threatening brain tumor. Kennedy was one of Obama's earliest supporters and is credited with leading the pack of lawmakers who pushed Obama's popularity.
Sen. John Kerry and wife, Teresa Heinz Kerry, and Vicki Kennedy helped Kennedy get into the reclining chair in which he was wheeled out. Connecticut Sen. Chris Dodd also accompanied Kennedy to the ambulance.
Dodd told FOX News that Kennedy "bellowed something like 'I'm fine! I'm fine!'"
Dodd's wife said, "He looked better. You know the Irish."
Republican Sen. Orrin Hatch said Kennedy signaled to him that he was going to be OK.
"It was serious," said Hatch. "But he gave me that old Irish smile that said 'Things are going to be alright.' I've seen that smile before."
Kerry later told FOX News that Kennedy was "grateful for the telephone calls" and "anxious to get back to work with Barack Obama."
"He's laughing, he's going to spend the night in there," Kerry said. "I'm confident he's going to be back in the Senate."

Byrd, 91, and in failing health, reportedly was "emotional" at the time of the collapse and security detail decided to remove him from the room as a precautionary measure. But Byrd spokesman Mark Ferrell said the West Virginia Democrat's departure was not linked to a medical issue.
"Sen. Byrd made the decision to leave the luncheon once Sen. Kennedy was being taken from the room by medical personnel. Sen. Byrd is currently in his own office in the Senate Hart Building and is doing fine, though remains very concerned about his close friend Ted Kennedy," Ferrell said.
Byrd and Kennedy were at the same table -- along with Vice President Biden and second lady Jill Biden. The dual incidents occurred during the lunch portion of the program and did not interrupt the speeches.
Former Vice President Walter Mondale was also sitting at the table with Kennedy and Byrd.
"Everyone was shaken," said Mondale. "We were all having a good time. Telling war stories."
Sen. Dianne Feinstein, head of the Joint Congressional Committee on Inaugural Ceremonies, asked for a group prayer for Kennedy.
Texas Republican Sen. John Cornyn said he is a great admirer of Kennedy even though they disagree philosophically.
"He's been a courageous fighter as he has been for his entire career. ... Our thoughts and prayers go with him," Cornyn said.