Sen. Harry Reid Accused Of 'Strong-Arming' Group To Benefit Democrat In Nevada Lt. Gov. Race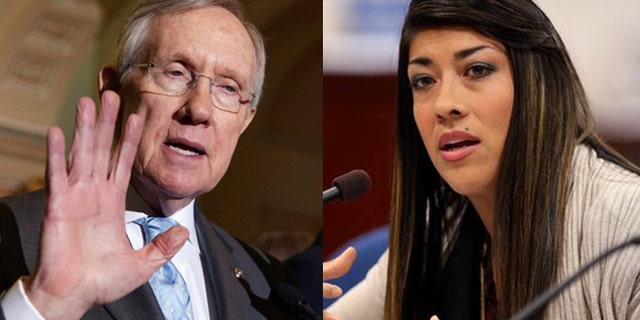 NEWYou can now listen to Fox News articles!
Sen. Majority Leader Harry Reid is under fire for "strong-arming" local politics in Nevada. The race for the lieutenant governor's seat is heating up between Democratic Assemblywoman Lucy Flores and Republican State Senator Mark Hutchison.
A GOP victory could give Nevada Gov. Brian Sandoval enough momentum and political capital to challenge Reid for his Senate seat. Sandoval has repeatedly brushed off rumors of a 2016 run, but with a Republican as lieutenant governor, opting out of his term early for a Senate run would keep the state under the GOP column.
There's no question that the race has high stakes, and both Flores and Hutchison have been courting the support of Latinos, who represent 18 percent of Nevada voters.
An endorsement from the Latino BizPAC, the political action committee affiliated with the Latin Chamber of Commerce in Las Vegas, is seen as a significant boost with the demographic. The influential group was reportedly set to endorse both candidates, who they felt advocated business-friendly policies.
State Sen. Hutchison says he felt good about the dual endorsement. "In fact, the president of the Chamber of Commerce came out and said he was endorsing me," he told Fox News Latino. "Then the report came out that there was going to be a dual endorsement by the Latin Chamber of Commerce, and of course I was flattered by that."
However, votes shifted over the next couple of hours as Sen. Reid reportedly made personal calls to members of the committee strongly suggesting that they reconsider Hutchison's endorsement. The PAC announced late Friday that it was endorsing Assemblywoman Flores exclusively, leaving Hutchison high and dry.
Locals say Reid's display of influence is no surprise.
Republican strategist Ryan Erwin says the majority leader's reach extends beyond elected officials. "Senator Reid maintains an inordinate amount of control over Nevada politics," he told FNL. "The truth is a lot of Nevada insiders, whether political or not, do as Senator Reid asks regularly."
Erwin added, "I have no doubt that there was an enormous amount of pressure put on the Latin Chamber to change their endorsement process… It's always troubling to see any elected official having more sway on the endorsement of another race for office than the members of an actual endorsement committee."
Hutchison told FNL, "There's no question that my chief opponent in this race is Harry Reid. He recruited Lucy Flores. He has helped substantially to finance her campaign. And as we have just recently seen, he is strong-arming people to get behind her."
Not everyone in the leadership at BizPAC sees eye to eye with the decision to endorse Flores exclusively. Otto Merida, a Republican and the president of the Latin Chamber of Commerce, has openly stated he remains personally supportive of State Sen. Hutchison.
Even those on the committee admit the quick change in endorsement could have been handled better. Brian Ayala, chairman of the Latino BizPAC, told Fox News Latino, "The roll-out didn't go as smoothly as we would have liked, but at the end of the day we stand by our endorsement."
Governor Sandoval, who has won endorsement from the same Latino BizPAC in the past, told FNL in a statement, "Mark Hutchison has my full support for lt. governor and he has the support of many in the Latino community throughout the state of Nevada."
While Hutchison looks for other ways to win over Latino voters, Assemblywoman Flores said she is "thankful to the Latin Chamber of Commerce for their endorsement" and for supporting her campaign for lt. governor.
With a little more than 90 days until the general election, Hutchison is rolling up his sleeves. "I am going to continue to engage with the Latino community as I have in the past," he said. "I see nothing but opportunities to continue to meet with Latin Chamber of Commerce members."
Sen. Reid did not respond to multiple requests for comment.