Secret Service head apologizes for agents snooping on rep's files; dozens disciplined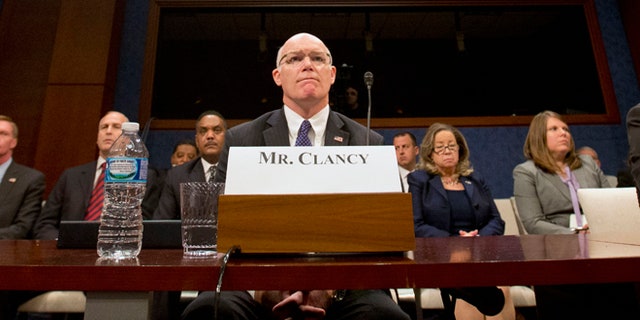 NEWYou can now listen to Fox News articles!
The Secret Service director, appearing deeply embarrassed, apologized again Tuesday for actions of agents working under him and told Congress that dozens were being disciplined for their efforts to discredit a congressman investigating misconduct inside the agency.
Director Joseph P. Clancy appeared contrite and described the problems identified by the Homeland Security Department's inspector general as "inexcusable and unacceptable." Clancy testified during an unusual joint oversight hearing for both House and Senate Homeland Security committees. The hearing focused on agents who looked into the background of Rep. Jason Chaffetz, R-Utah, chairman of the House Oversight and Government Reform Committee, who was investigating Secret Service misconduct.
"I would like to publicly renew my apology for this breach of trust and affirm my commitment to restoring it," Clancy told lawmakers, who complained about what they said was a "deeply rooted cultural problem."
The inspector general, John Roth, said at least 40 agents, including supervisors, had reviewed private information about Chaffetz, including his unsuccessful job application to the agency in 2003, and circulated it among news organizations. One agent had pulled the material just minutes after Chaffetz had convened a hearing in March about an alleged drunken incident near the White House involving two senior agents.
Chaffetz has largely recused himself from investigating the incident involving the agents reviewing his own file. Roth said the agents may have violated the U.S. Privacy Act.
Clancy said Secret Service rules protect against disclosing the type of material that agents reviewed about Chaffetz.
"I was angered by the willful disregard of these policies," Clancy said. "And I'm determined to ensure all employees are held to the highest standard of professional conduct."
Clancy said most agents were receiving between three and 12 days of suspension. Supervisors have not yet been disciplined, which Clancy said could range from a letter of reprimand to being fired.
Rep. Scott Perry, R-Pa., chairman of the subcommittee on oversight and management efficiency, expressed disbelief that agents weren't facing more serious consequences.
"The most we can hope for the most disciplinary, the toughest disciplinary action right now is not a loss or revocation of your security clearance, is not a loss of your employment -- it's 12 days suspension. I just want to be clear, is that correct?"
Clancy said the agency has new managers and a new system to protect data. He acknowledged that a string of alcohol-fueled incidents had tarnished the image of the agency and said, "I don't know of any retirement parties taking place, people have got that message," Clancy said.
"Reprehensible, disturbing, embarrassing. I agree with everything that's been said here today, and my workforce does as well."
Clancy testified one day after a Secret Service uniformed officer made an initial appearance in federal court in Delaware on charges that he sent nude photos of himself to a person he thought was a 14-year-old girl. Lee Robert Moore, 37, faces up to 10 years in prison. Moore told investigators that he often engaged in online chats while on duty guarding the White House. The girl was actually an undercover agent.