Sanford Admits Affair After Secret Argentina Trip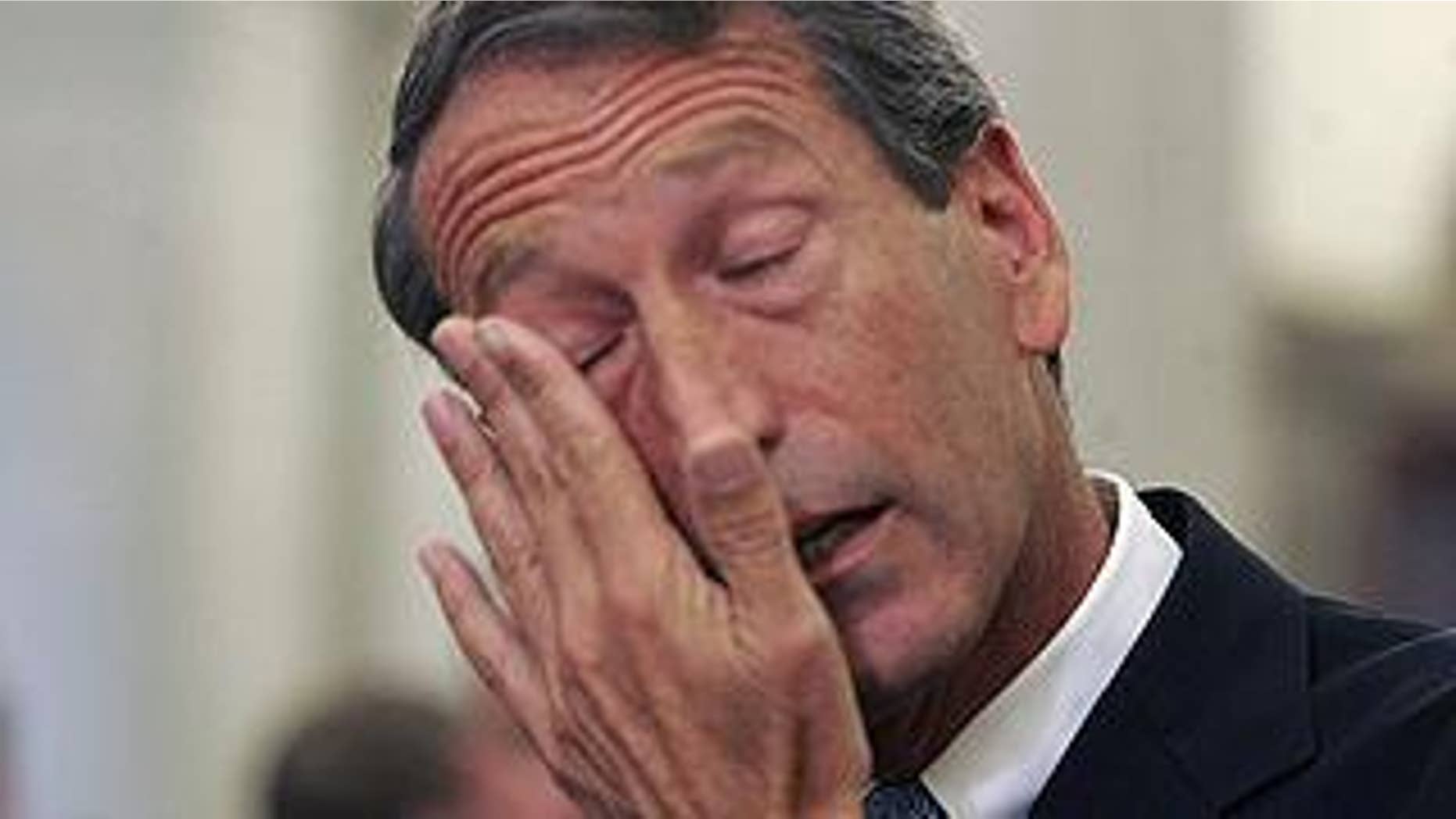 South Carolina Gov. Mark Sanford, after pulling off an increasingly bizarre vanishing act this week, reappeared Wednesday to admit he was having an affair that involved secret visits with his mistress in Argentina.
Sanford's staff initially told reporters he had left town Thursday to go hiking on the Appalachian Trail, but the governor returned Wednesday morning on a flight from Argentina.
"I've let down a lot of people. That's the bottom line," Sanford said. "I've been unfaithful to my wife."
E-mails obtained by The State, a South Carolina newspaper, capture deeply personal exchanges between the governor and the woman, whom the newspaper called only by her first name, Maria.
"My heart cries out for you, your voice, your body, the touch of your lips, the touch of your finger tips and an even deeper connection to your soul," Sanford wrote in one of the e-mails, dated last summer.
In another, dated July 10 at 12:24 a.m., he wrote, "You have a particular grace and calm that I adore. You have a level of sophistication that so fitting with your beauty. I could digress and say that you have the ability to give magnificent gentle kisses, or that I love your tan lines or that I love the curve of your hips, the erotic beauty of you holding yourself (or two magnificent parts of yourself) in the faded glow of the night's light - but hey, that would be going into sexual details ... "
Click here to read more excerpts from the e-mails.
The newspaper said a McClatchy correspondent reached Sanford's mistress, but she declined to be interviewed.
Sanford's wife, Jenny, who apparently had known about the affair for several months, had asked him to leave home two weeks ago and to stop talking to her and their children. In a written statement, she said the couple needed a trial separation, but that her husband had since "earned a chance to resurrect our marriage."
"This is a very painful time for us and I would humbly request now that members of the media respect the privacy of my boys and me as we struggle together to continue on with our lives and as I seek the wisdom of Solomon, the strength and patience of Job and the grace of God in helping to heal my family," she said.
Click here to watch the video of Sanford's press conference. 
Politico reported Wednesday that Sanford had traveled to China and Brazil through the state's Commerce Department, which logged a bill of $21,488 in travel expenses for Sanford. An Associated Press report from December quoted a Sanford spokesman as saying the travel was in the state's interest, noting that a Brazilian fabrics maker was planning to invest in South Carolina and create 80 jobs.
Sanford said Wednesday that he had "developed a relationship with what started as a dear, dear friend" from Argentina. He said they first met eight years ago but the romantic relationship began more recently.
"It began very innocently as I suspect many of these things do ... Over this last year it developed into something much more than that," he said.
The governor apologized profusely to his family, his staff and the people of South Carolina. He said he's let down his four sons in a "profound way," though he said his wife had known about the affair for five months and they were trying to work through it.
He said he is resigning as chairman of the Republican Governors Association. The RGA announced shortly afterward that Mississippi Gov. Haley Barbour would assume Sanford's duties.
Sanford did not say whether he'll stay on as governor.
The first-hand account Wednesday was meant to settle mounting questions over the governor's week-long disappearance.
His staff first claimed the governor was hiking on the Appalachian Trail a few hours away from the state capital. But confusion intensified Wednesday morning after The State newspaper reported that Sanford had just returned from Argentina. Reporter Gina Smith had caught Sanford returning to the Atlanta airport, where the governor admitted part of the story -- that he had been visiting Buenos Aires.
"I wanted to do something exotic," Sanford told The State. "It's a great city."
But it became clear early in his press conference that Sanford would reveal something much more personal surrounding his trip, as he repeatedly made reference to his family and apologized for his behavior. Several minutes into his remarks, he acknowledged the affair. He said it was the first and only time he's been unfaithful to his wife.
Though she acknowledged knowing more Wednesday, Sanford's wife earlier could not account for his absence when asked by The Associated Press. She said initially that her husband wanted to write and needed time away from the kids.
Gov. Sanford said his staff does not bear blame, saying it is "my fault in shrouding this larger trip." He released a written statement afterward asking for forgiveness and repeating that his staff did not "intentionally relay false information."
"What they've said over the past two days they believed to be true, and I'm sorry to them for putting them in this position," the statement said.
Sanford's admission comes one week after Republican Sen. John Ensign, of Nevada, admitted an affair with a former campaign aide. He resigned his GOP leadership post after admitting the infidelity.
The South Carolina governor was considered a potential contender in the 2012 presidential election. Asked about the confession Wednesday, former South Carolina GOP Chairman Katon Dawson said it was a "gamechanger."
He told FOX News he was "saddened, disappointed and shocked" by the admission.
Sanford had already generated stern criticism from Democrats and Republicans in the state for leaving without telling key people, like Lt. Gov. Andre Bauer, where he was going.
Some said they believed Sanford was merely trying to unwind after a difficult legislative session during which he was unsuccessful in blocking his state from taking federal stimulus dollars.
Sanford said Wednesday that the session was emotionally exhausting and that sometimes he needs to get out of the so-called "bubble." But he said that's not the whole story.
Before launching into his rambling and detailed explanation, he said, "We'll let the chips fall where they may."