Rubio puts away Trump jokes for final stop before Super Tuesday voting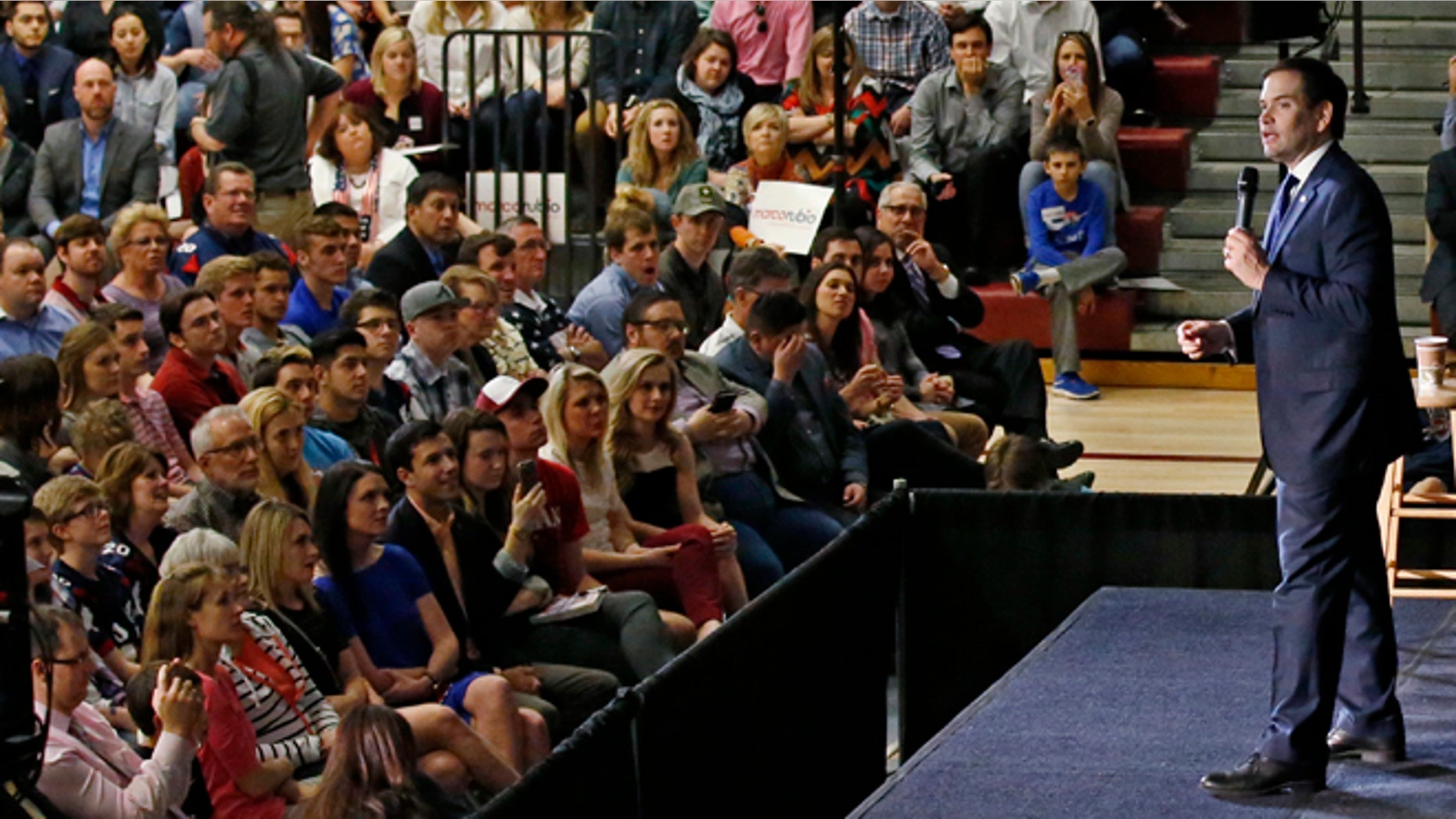 Marco Rubio spent much of his weekend giving Donald Trump a taste of his own medicine – mocking the GOP front-runner for everything from the size of his hands to that of his bladder – but only hours before voters headed to the polls of Super Tuesday, the Florida senator struck a more serious note.
At a rally in Oklahoma on Monday night, Rubio dropped the attacks on Trump and instead warned that the 2016 presidential election "is a referendum on our identity as a nation and as a people."
Rubio's quick shift in tone comes amid worries from many party leaders and supporters that that the Florida lawmaker's swipes at Trump could hurt him more than help him. A recent national poll has Trump winning 49 percent of the vote compared to Rubio's 16 percent – and the data indicates that Rubio is not projected to win any of the state contests on Tuesday.
During his final campaign appearance before Super Tuesday, Rubio still called Trump a "con artist," but shied away from the personal attacks that have earned him air time since last Thursday's debate. Instead, the junior senator from Florida positioned himself as the best choice for Republican voters with conservative values.
"I stood up for the conservative movement," he said, according to the Washington Post. "I stood up for the party of Lincoln and of Reagan."
"A vote for Donald Trump tomorrow is literally a vote for Hillary Clinton in November," Rubio said.
The candidate also waded into the issue of Trump University, the real estate mogul's failed educational venture that cost students tens of thousands of dollars. Rubio said he has been contacted by several unhappy people who had enrolled in the university.
While Rubio's campaign has painted the candidate as the only GOP hopeful concerned about the issues facing the United States, Rubio aides said his shift late last week to more personal attacks was aimed at trying to knock Trump off of his message and break through a cable and network television news barrier that Trump has unwaveringly dominated.
Despite the concern from some in the Republican establishment, many of the Florida lawmaker's followers seem to enjoy and approve of his jests at Trump.
"He has to play that game," Ryan Littlefield, a Rubio supporter told the Associated Press. "I think it's good that he can take it to [Trump]."
Rubio's more serious message on Monday night, however, seemed to appeal to voters upset by Trump's bombastic style.
Cecilia Manriquez, a 57-year old Venezuelan immigrant, said that she thought Trump is "extremely self-centered and when [candidates] are that way, they don't listen to others. Trump wants the presidency to satisfy his own pride."