Rubio focusing on national strategy as he lowers expectations for February contests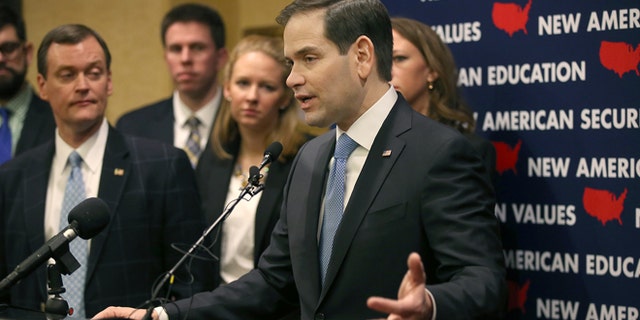 BETTENDORF, Iowa (AP) – Under pressure to emerge as the Republican mainstream's presidential contender, Florida Sen. Marco Rubio is increasingly relying on a national strategy as he lowers expectations for February's primary contests.
He's betting big that Republican voters across the political spectrum will ultimately coalesce behind his candidacy in the state-by-state slog for delegates his team envisions for the months ahead.
It's a strategy fraught with risk for Rubio, who's still fighting to break out among the pack of candidates looking up at New York billionaire Donald Trump and Texas Sen. Ted Cruz. The outsider favorites are dominating in Iowa less than two weeks before the state's leadoff caucuses.
For now at least, Rubio, a first-term senator, is embracing a patient approach that goes well beyond the four states with contests in February: Iowa, New Hampshire, South Carolina and Nevada.
Rubio in recent days has cast himself as a passionate evangelical conservative, a national security hawk, an empathizer of immigrants in the country illegally, and someone who can bring new voters to the Republican Party. This, as he jabs at Trump, Cruz and New Jersey Gov. Chris Christie, yet works to capture the anger and frustration that fuel their candidacies.
"I won't be able to appeal to everybody on everything," Rubio told The Associated Press on Monday. "I want to get enough delegates to be the nominee."
But that's exactly the theme he projected as he campaigned through Iowa this week before a trip to New Hampshire, where he hopes to rise from a cluster of so-called establishment alternatives to Trump and Cruz.
"Too often, I think, as Republicans we have a bad choice," said Iowa state Sen. Jack Whitver, Rubio's state campaign chairman, introducing him at one of his many Iowa stops this week. The choice, he said, is often between "the establishment, moderate person that everyone says can win the election, or we have a true consistent conservative that everyone says can't win the election."
"This year we don't have to make that choice," he said. "This year, we can have it all."
Given Jeb Bush's continued struggles, some major Republican donors and elected officials see Rubio as their party's best candidate to defeat the leading Democrat, Hillary Clinton, in this fall's general election. But in a year when voters appear to be rejecting insiders, Rubio has struggled to tap the anti-establishment anger, putting him behind Cruz and Trump with time running out before the Feb. 1 Iowa caucuses.
Facing that reality, Rubio's team has conceded he's unlikely to win any of the first three contests: Iowa, New Hampshire and South Carolina.
No Republican in the modern political era has won the presidential nomination without winning one of the first three states. Rubio's team sees a path around that history: finishing in the top three in those states and surviving until March. That's when party insiders expect the race to become a long haul because of new rules that award delegates proportionally.
The strategy also assumes some of Rubio's mainstream challengers will drop out out, leaving Rubio's mix of messages — his tea party rise, national security background and abiding conservative social positions — to allow him to unify the GOP.
"Any preconceived notions you have from previous cycles are out the window," said California-based donor John Jordan, who is running a pro-Rubio super PAC. "Given that, I don't think it's necessary to win one of the early states." He calls this "a rolling national election."
Rubio's team describes his message not as scattered, but as based on Ronald Reagan's "three-legged stool" with conservative approaches to economic, social and national security policy.
Rubio emphasized his religious faith in Iowa, where he's running an ad highlighting his opposition to abortion rights and where he told voters in the more socially conservative northern part of the state that his Christianity is "the single greatest influence in my life."
In more moderate eastern Iowa, Rubio asserted his credentials on military and foreign policy as unmatched in the field. "It's not even close," he said.
And the 44-year-old son of Cuban immigrants pressed the point in Ottumwa that he can bring people into the party who normally don't vote for it.
"We have some differences," Rubio said of the candidates in the field. "But it's a big tent."
Yet when asked why he was more electable than Trump, he nodded to the raucous throngs that have flocked to Trump's rallies.
"What he's tapped into is a real frustration that needs to be addressed," Rubio said.
Ottumwa physician Michael Shaeffer, who asked Rubio what set him apart, wanted more, but still plans to support him.
"We're not going to vote necessarily for the best person," Shaeffer said. "We're going to vote for the one with the best chance of winning."
Like us on Facebook
Follow us on Twitter & Instagram