Rubio buys gun to protect family against ISIS, calls it 'last line of defense'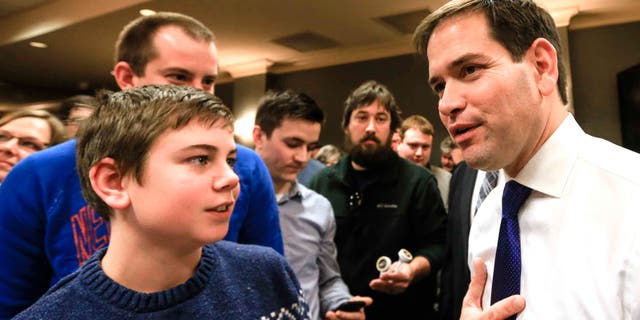 Republican presidential hopeful Sen. Marco Rubio is taking his avid defense of the Second Amendment to the campaign trail this weekend — not only did he bring up the issue repeatedly while stumping in New Hampshire and Iowa, he also revealed he recently bought a gun to protect his family against ISIS.
"I have a right to protect my family if someone were to come after us," he said on CBS's "Face the Nation" on Sunday.
"If ISIS were to visit us or our communities at any moment, the last line of defense between ISIS and my family is the ability that I have to protect my family from them or from a criminal or anyone else who seeks to do us harm," he said.
"Millions of Americans feel that way," he added.
In New Hampshire on Friday, the Cuban-American lawmaker made a campaign stop at a gun store and then held a rally at Sturm, Ruger & Co., a firearms manufacturing company, ABC News reported.
Rubio, who said he and his wife are proud gun owners, was given a rifle as a present during the rally.
"This our first rifle in our home. It will be a nice addition," he told the company's employees.
Rubio was once again critical of Pres. Barack Obama's recent executive order calling for extended background checks on gun buyers.
"I am convinced if this president could confiscate every gun, he would," Rubio said. "The Second Amendment is not an option. It is not a suggestion. It is a right."
Like us on Facebook
Follow us on Twitter & Instagram