Roy Moore and Jimmy Kimmel spar after film crew crashes campaign speech at church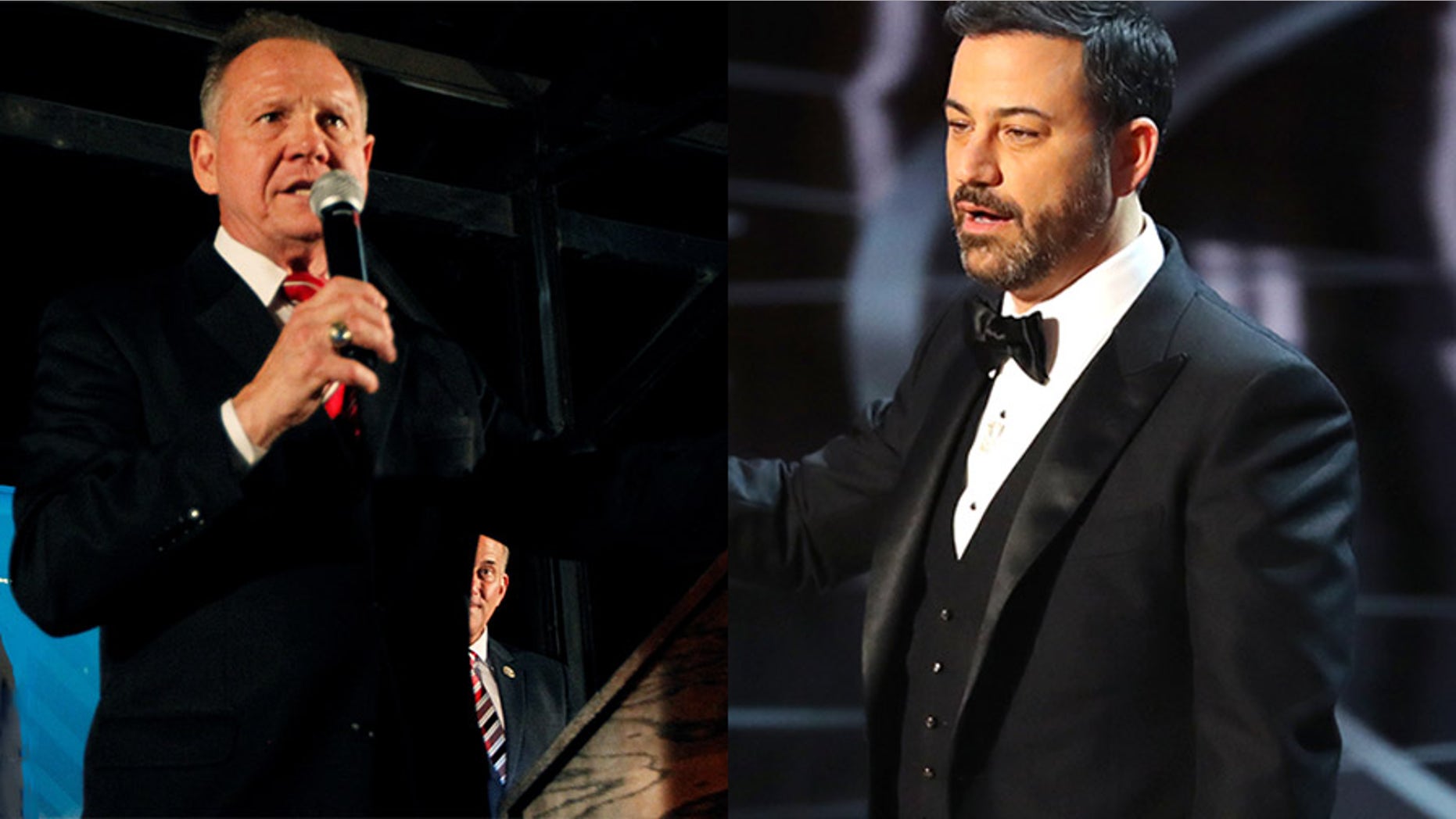 Republican Senate nominee Roy Moore and late night television host Jimmy Kimmel are sparring after a comedian for Kimmel's show interrupted Moore's speech at a Baptist church in South Alabama on Wednesday night.
"If you want to mock our Christian values, come down here to Alabama and do it man to man," Moore tweeted at Kimmel on Thursday afternoon.
Kimmel responded: "Sounds great Roy - let me know when you get some Christian values and I'll be there!"
Moore was giving a speech on Wednesday at Magnolia Springs Baptist Church in Theodore, Alabama, when, according to local news reports, a comedian for Kimmel's show, Tony Barbieri, interrupted Moore's speech and yelled out: "That's a man's man. Does that look like the face of a molester?"
Barbieri plays the fictional character Jake Byrd on Kimmel's show.
According to AL.com, Barbieri shouted "I'm his biggest supporter. I'm his number one fan" as he was led away by law enforcement.
Earlier on Thursday, Kimmel tweeted a news story that said the heckling was for his show.
Moore, who is running against Democratic nominee Doug Jones, has been battling accusations for several weeks that he pursued romantic relationships with teenage females while in his thirties.
The back and forth continued Thursday afternoon with Moore saying to Kimmel: "Despite D.C. and Hollywood Elites' bigotry towards southerners, Jimmy, we'll save you a seat on the front pew."
Kimmel then shot back: "OK Roy, but I'm leaving my daughters at home! P.S. - wear that cute little leather vest."
During his speech in Theodore on Wednesday, Moore made news for seemingly blaming gays and socialists for being responsible for the allegations, which he has denied.
"They're liberals," Moore said. "They don't want conservative values," Moore said of the people he says are trying to ruin his campaign. "They are the lesbian, gay, bisexual, transgender who want to change our culture. They are socialists who want to change our way of life and put man above God and the government is our God."