Roy Moore accuser shares graduation card she claims he signed
One of the women who accused U.S. Senate candidate Roy Moore of having a relationship with her when she was 17 revealed what she called new evidence of her connection to the embattled Republican, according to a report Monday.
Debbie Wesson Gibson, who claimed she had a relationship with Moore when he was 34 years old, told The Washington Post she discovered a card in her attic that Moore gave her for her high school graduation.
"Happy graduation Debbie," the card read. "I wanted to give you this card myself. I know that you'll be a success in anything you do. Roy."
The card's handwriting looked similar to the writing found in the yearbook of another Moore accuser, Beverly Young Nelson.
Nelson claimed in a news conference last month that Moore groped her and tried to push her head toward his crotch when she was 16. The yearbook signature, which she claimed Moore wrote, said: "To a sweeter more beautiful girl I could not say 'Merry Christmas' Christmas 1977 Love, Roy Moore D.A."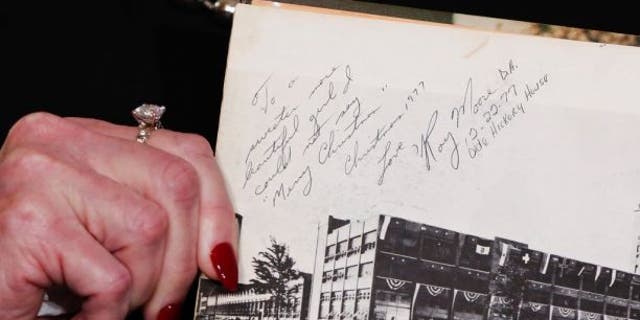 Gibson was one of the first accusers to speak out when she talked to The Washington Post in November.
Gibson said that in 1981, Moore, then an assistant district attorney, had spoken to her high school civics class and "asked her out on the first of several dates that did not progress beyond kissing."
The woman reportedly said she and Moore dated for two to three months. She added in The Post's latest report that she campaigned for Moore when he was running for circuit court judge in 1982 "and exchanged Christmas cards with him over the years."
Moore has repeatedly denied allegations that he initiated sexual contact with teenage women decades ago.
When asked on Fox News host Sean Hannity's radio show for more details on the allegations from Gibson, Moore said: "I know her but I don't remember going out on dates. I knew her as a friend."
Alabama's special election to fill the Senate seat of Attorney General Jeff Sessions is on Dec. 12. President Trump on Monday endorsed Moore for the position.
When previously asked about his stance on Moore following the allegations against him, Trump said: "Roy Moore says he didn't do it."