Romney Edges Out Santorum to Win Iowa Caucuses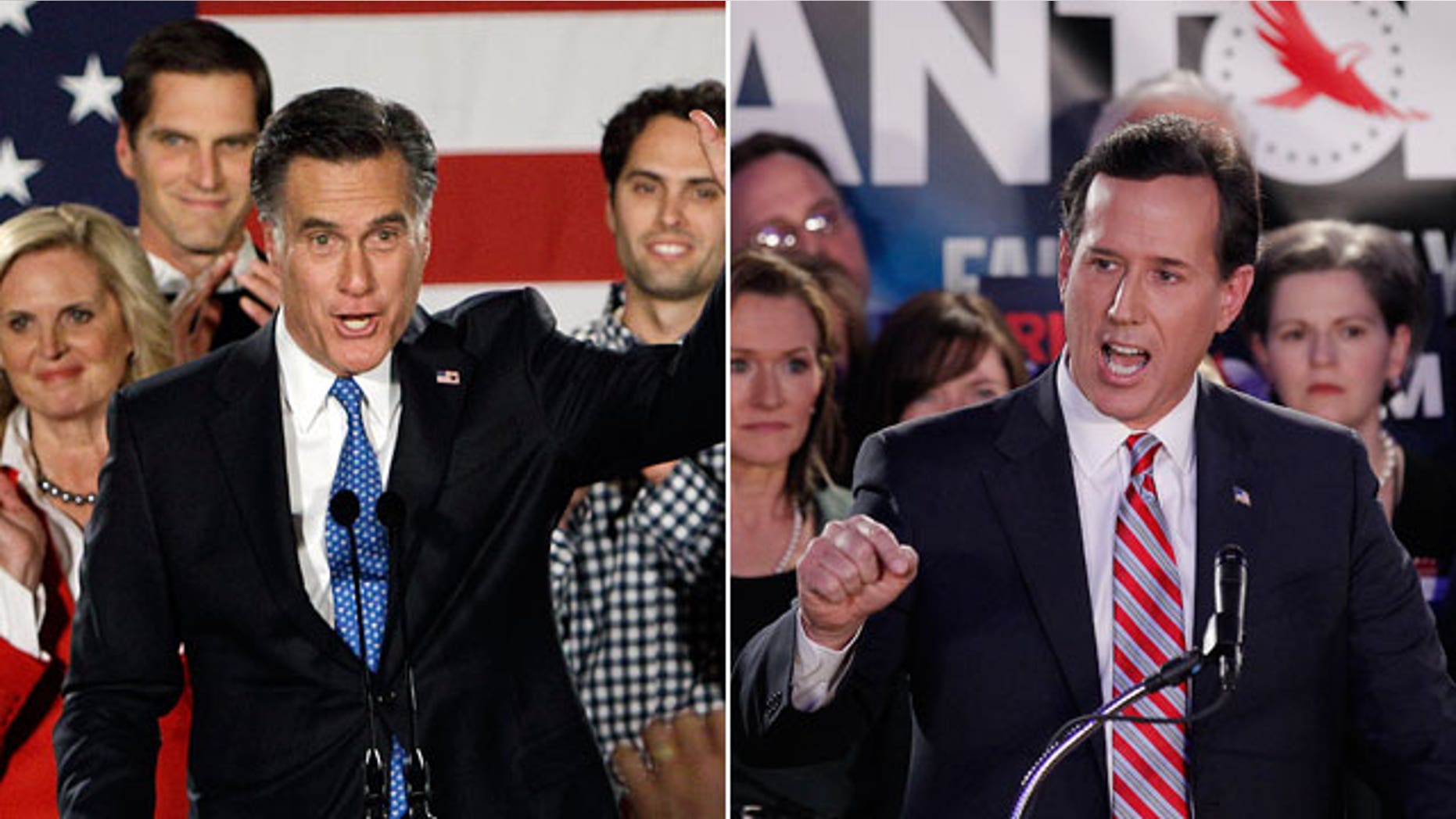 The Republican presidential candidates propelled out of the Iowa caucuses Wednesday with the race looking dramatically different than it did just one week ago.
Mitt Romney won the night, but only by one of the slimmest margins in Iowa election history.
Rick Santorum landed a second-place finish just eight votes behind Romney, turning a stunning performance out of his long-shot bid for the nomination and ending up toe-to-toe with the presumed frontrunner of the national campaign.
Iowa GOP Chairman Matt Strawn reported the official vote count at 30,015 for Romney and 30,007 for Santorum. Each candidate pulled in about 25 percent.
• See the results of the 2012 GOP caucuses in Iowa >>
The results allow each candidate to reasonably claim momentum going into the next race.
Romney was able to eke out a victory despite having largely ignored the contest earlier in his campaign.
Santorum's finish was also significant, as Iowa caucus-goers settled on him as the alternative to Romney after cycling through a slew of non-Romney candidates over the past six months.
The caucuses, as they typically do, also were poised to winnow down the field.
Rick Perry said after a fifth-place finish that he was returning to Texas to reassess his campaign.
Michele Bachmann, who finished last among candidates who were competing in Iowa, did not drop out during a speech to supporters Tuesday night, though questions swirled about her campaign's fate.
His campaign looking far more potent, Santorum vowed early Wednesday to take the fight into New Hampshire, where Romney leads in the polls.
"Game on," Santorum said as he addressed a crowd of supporters shortly after midnight.
The former Pennsylvania senator just one week ago was at single digits in the Iowa polls. He vaulted to the front of the field at just the right time, after assiduously courting Iowa caucus-goers by visiting all 99 counties in the state and holding hundreds of campaign events there.
Several analysts said that Santorum emerges the de facto winner considering where he started.
Santorum tried to twin his social conservative message with an economic populist appeal to job-seeking voters, stressing the importance of manufacturing in America. "It is a message that will resonate across this land," he said.
Romney, who spoke before final results were announced, kept his remarks focused on President Obama.
He called Obama's term a "failed presidency" and urged voters to select a candidate like himself "who's had a job in the private sector." Romney congratulated Santorum and Ron Paul on their performances.
"We're going to change the White House and get America back on track," Romney said.
Paul landed in third place with 22 percent of the vote. Newt Gingrich finished fourth.
Paul, speaking late Tuesday night to a revved-up crowd in Ankeny, Iowa, described his third-place position as "one of three tickets out" of Iowa and, in an apparent shot at Santorum, his operation as "one of two that can actually run a national campaign and raise the money."
"We will go on, we will raise the money. I have no doubt about the volunteers," Paul said.
Paul cycled through his trademark issues, lambasting the Federal Reserve and U.S. monetary policy, while claiming the American people are at his back on issues like his opposition to the Afghanistan war.
Perry said after his fifth-place finish that he would be reassessing his campaign.
"I've decided to return to Texas, assess the results of tonight's caucus, determine whether there is a path forward for myself in this race," Perry told a crowd of supporters in West Des Moines.
Bachmann, despite her poor showing, did not drop out. She said she wants to let the people decide and that "there are many more chapters to be written on the path to our party's nomination."
Gingrich vowed to press ahead as he forecasted a "great debate" in the Republican Party.
Gingrich described himself as the "Reagan conservative" in the race, and said voters would have to choose between him and a "Massachusetts moderate."
Gingrich praised Santorum, whose advisers claim the race is now a two-man contest between Romney and their candidate, for running a "positive campaign."
"I wish I could say that for all the candidates," Gingrich added. The former House speaker was pummeled by negative ads in Iowa.
Going forward, Gingrich said he would not air "nasty ads," but would "reserve the right to tell the truth." Gingrich also took a shot at Paul, describing his foreign policy views as "stunningly dangerous."
The results came in following a day of sharp-elbowed politicking.The exchanges were characteristic of the bitter tone that pervaded the tense closing moments of one of history's most volatile GOP elections. With more than 40 percent of Iowans supposedly uncommitted to a candidate as of this past weekend, the campaigns came into Tuesday night's caucuses with little certainty of the outcome.
The three candidates at the top took nothing for granted, holding rallies on caucus day in a final bid to get out the vote.
While Romney won, the results once again showed him seemingly unable to break the 25 percent threshold, which roughly has been his cap all along in terms of support in national polls. Romney's showing in Tuesday's caucuses was similar to his showing in 2008, when his 25 percent haul landed him in second place behind former Arkansas Gov. Mike Huckabee.
The results in Tuesday's caucuses easily could portend a more drawn-out and competitive process.
Former Utah Gov. Jon Huntsman finished last in Iowa Tuesday, though he was not competing in the state and is instead focusing on New Hampshire.