Romney Attacks Obama on Immigration Ahead of Wisconsin Primary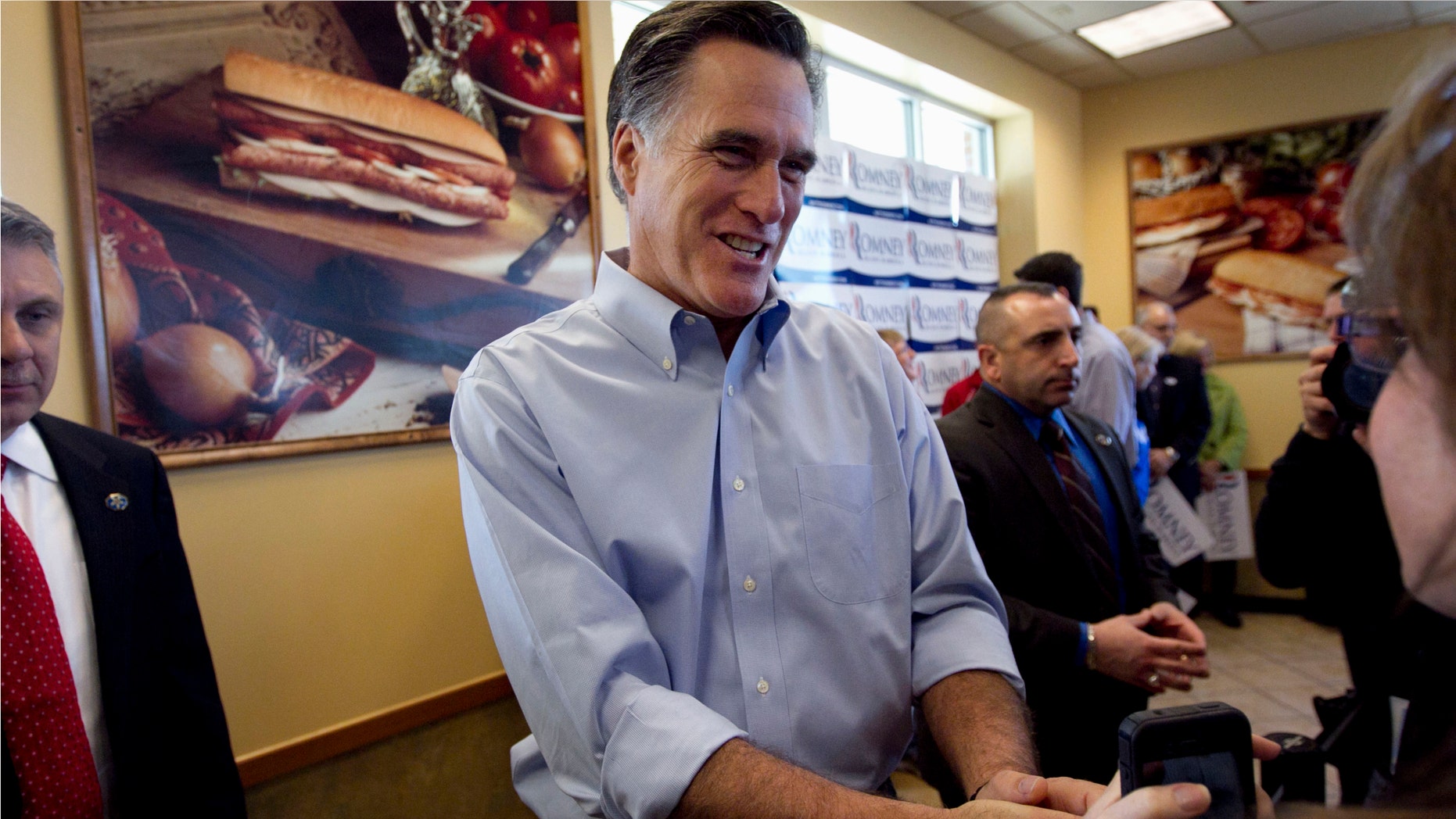 The former Massachusetts governor attacked Obama's record on immigration on Monday, blasting the president for failing to pass comprehensive immigration reform or the DREAM Act -which would legalize the status of people brought to the country without proper documents as minors, who enroll in college or enlist in the military- when his party held majorities in both houses of Congress.
"He campaigned saying he was going to reform immigration laws and simplify and protect the border and so forth, and then he had two years with a Democrat House and Democrat Senate and a super majority in each House, and he did nothing," Romney said Monday at a Wisconsin town hall meeting, according to CBS News. "So let the immigrant community not forget that while he uses this as a political weapon, he does not take responsibility for fixing the problems we have."
Romney's jab at Obama ahead of Tuesday's Wisconsin primary came as the increasingly confident GOP frontrunner has begun to look past the Republican nomination and toward the November general election.
The Obama campaign shot back at Romney, characterizing him as an immigration hardliner and countering that the Democrats failed to pass reform because of Republican opposition.
"(Obama) is committed to passing comprehensive immigration reform and the DREAM Act—proposals that would be the law of the land today if Republicans, who once supported these sensible solutions, were less concerned about pandering to the far right wing of their base," the Obama campaign said in a statement.
Democrats attempted pass to the DREAM Act in 2010. The bill narrowly passed the House in December by a vote of 216 to 198, with eight Republicans supporting the measure and died in the Senate, where it failed to break a filibuster by five votes. Three Republican senators voted in favor, while five Democrats voted against it.
More ambitious comprehensive immigration reform legislation stalled, largely due to lack of support from Republicans.
But as Romney prepares to take on Obama, some think he will have to boost his standing among Latino voters, many of whom feel passionately about immigration. Advisers to Romney say it will be difficult for him to beat Obama without winning at least 35 percent of the Latino vote, the Wall Street Journal reports.
A Fox News Latino poll of likely Hispanic voters conducted in February found that Romney mustered only 14 percent of support from respondents in a head-to-head matchup with Obama. The same poll found 90 percent of Latino voters support the DREAM Act, while 85 percent of Latinos favor establishing a path to citizenship for undocumented immigrants.
Romney opposes the DREAM Act as currently written and providing a large portion of the country's estimated 11 million undocumented immigrants with a path to citizenship, but he has sought to emphasize that he supports measures to encourage legal immigration, such as raising visa quotas and allowing some foreign students to remain in the United States.
During his Wisconsin speech on Tuesday, Romney voiced enthusiastic support for the United States to recruit more students with advanced degrees.
"Staple a green card to their diploma - welcome to the United States of America!" Romney said. "We want those people in our country."
Where Mitt Romney Stands on Issues of Import to Latino Voters
The GOP frontrunner's comment did not apply to undocumented immigrants who earn advanced degrees in the United States, however. Romney was referring to his previously stated policy goal of awarding green cards to student visa holders who earn advanced degrees in engineering, math or sciences, his campaign said.
Earlier on the campaign trail, Romney said immigrants who fall out of status should return to their home country before applying for a green card.
"For those who have come here illegally, they might have a transition time to allow them to set their affairs in order. And then go back home and get in line with everybody else," Romney said in December. "And if they get in line and they apply to become a citizen and get a green card, they will be treated like everybody else," Romney added. "They start in the back of the line, not at the front of the line."
The State Department issued a total of 394,402 student visas for the 2010 fiscal year, the most recent data available. The agency does not break down the visas by category of study, so it was not possible to know how many of those visas were issued to advanced degree seekers.
Roque Planas can be reached at roque.planas@foxnewslatino.com or on Twitter at @RoqPlanas.
Follow us on twitter.com/foxnewslatino
Like us at facebook.com/foxnewslatino