Rivals try to curb Marco Rubio's rise following debate performance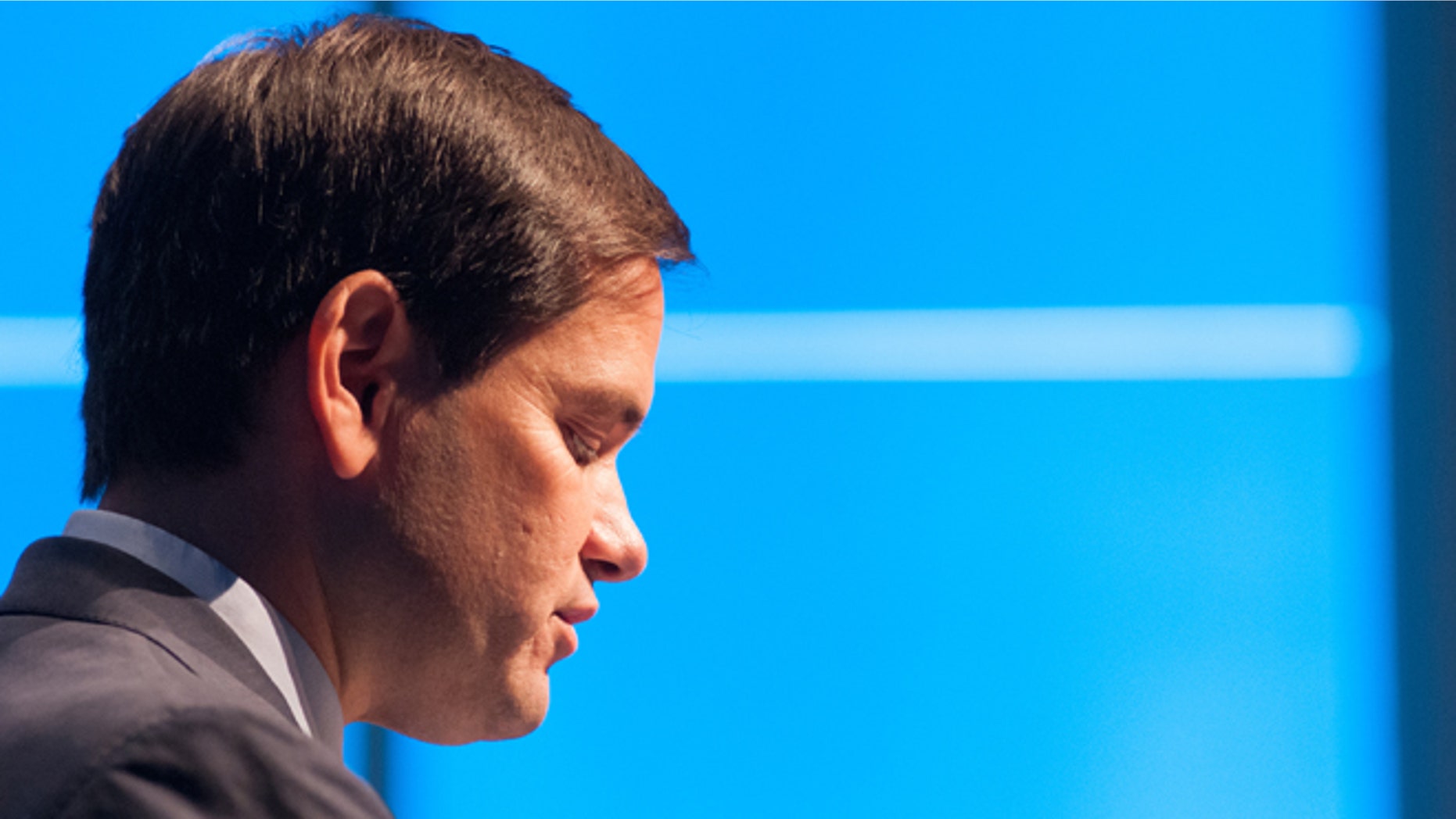 The Marco Rubio and Jeb Bush battle didn't end on the stage on Colorado Wednesday night, and with the ascension of the Florida senator as serious presidential contender following the debate, his rivals – particularly Bush – are looking to shoot the rising Rubio out of the sky.
A leaked 112-page PowerPoint presentation from a meeting with Jeb Bush donors earlier this week in Houston revealed a plan by the former Florida governor's campaign to discredit the candidates that Bush sees as the biggest challenge to winning over the Republican establishment, and eventually the presidential nomination.
The PowerPoint, which was presented by Bush's campaign manager Danny Diaz and top advisor Sally Bradshaw, hit Rubio on a number of issues: the senator's lack of experience, his close ties to certain businessmen and lawmakers, and questions about his past.
"Those who have looked into Marco's background in the past have been concerned with what they have found," the PowerPoint said.
This line has drawn particular attention as it fueled speculation that it refers to 2012 Republican presidential candidate Mitt Romney's campaign vetting process of Rubio for the vice presidential slot, especially after a Bush aide made reference to Romney's vetting process to U.S. News.
A longtime Romney aide, however, denied the Bush campaign claims.
"As the senior Romney advisor who handled VP vetting and had access to all the vetting documents, I can say that Senator Rubio 'passed' our vetting and we found nothing that disqualified him from serving as VP," Beth Myers, the Romney aide who counts herself as a Bush supporter, wrote in a note to Politico. "The Bush aide referred to in this article is simply wrong."
Bush's camp continued its assault on Rubio when Mike Murphy, the head of Bush's Right to Rise Super-PAC, called Rubio out for his fundraising and the "Obama treatment" he is receiving from the media.
"I think Rubio's been in this position of promising 'I'm going to be great eventually' and not held to anything," Murphy told Bloomberg. "Rubio can be up or down, nothing matters. None of the yardstick being applied to us is being applied to Rubio."
Murphy added: "I think the media should take a more adversarial position there, like they do with everybody else … It's another Obama parallel to me: he's getting the Obama 2008 treatment."
Bush isn't the only person zeroing in on Rubio now that he's in the limelight.
Following a heated opinion piece in the Sun-Sentinel newspaper calling on Rubio to resign from his Senate seat for missing so many votes – and the attack on the same issue by Bush during the most recent debate – Senate Minority Leader Harry Reid, a Nevada Democrat, also said Rubio should step away from the Senate.
"Why shouldn't he (resign)? He hates the Senate," Reid reportedly said, according to Talking Point Memo. "Why should the taxpayers of this country and people of Florida put up with having only one senator? Doesn't seem fair to me."
"For Marco Rubio here to dump on the Senate, this institution established by our founding fathers, he should be ashamed of himself," Reid said, according to Politico. "And the people of Florida, why they put up with it, I don't know. They damn sure aren't getting their money's worth."
Rubio – both during the debate and his media tour on Thursday morning – choose not to go on the attack against Bush.
"My campaign is going to be about the future of America; it's not going to be about attacking anyone else on this stage," Rubio said.
He repeated the higher-road theme on Thursday, telling ABC's "Good Morning America" that he has "admiration" for Bush and wants only to underscore policy differences between the two.
Though Rubio brushed off Bush, his Senate attendance may soon get more scrutiny, especially when fellow candidate Ted Cruz on Thursday canceled campaign appearances in Nevada. His spokeswoman said the Texas senator had to return to Washington for scheduled votes.
The Associated Press contributed to this report.