Rick Perry opens door to convention in comeback in GOP presidential race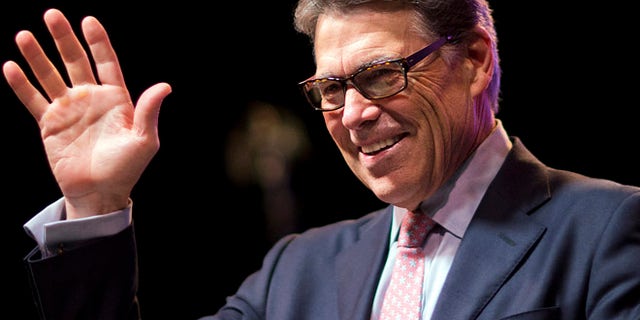 NEWYou can now listen to Fox News articles!
Rick Perry, who has twice dropped out of races for the Republican presidential nomination, isn't ruling out another shot at the White House.
The former Texas governor told CNN that he wouldn't be surprised if there's a brokered convention for the Republican nomination this year – and hinted if that happened he might be ready to give it another go.
CNN anchor Erin Burnett asked Perry Thursday about a recent tweet from conservative blogger and radio host Erick Erickson, who said he would support a third party run by Perry. He then retweeted calls for Perry to consider jumping back in the race.
On Wednesday, the Texas Court of Criminal Appeals cleared Perry of all criminal charges against him related to allegations he misused his power while in office. Burnett asked Perry if the news would lead him back into the race.
Perry said if there's a "brokered" convention then it would be "a whole new ballgame for everyone."
Without a clear consolidation of the field, many have floated the possibility of Republicans going to Cleveland this summer without a presumptive nominee, meaning no candidate received the needed number of pledged delegates. In that case, any person may be nominated, and voted for, on the nomination ballot.
The former Texas governor was a candidate for the Republican nomination in 2012, suspending his campaign after finishing New Hampshire with 1 percent of the vote. His campaign was plagued with missteps, often misspeaking in interviews and question and answer sessions, culminating in his infamous "oops" moment when he forgot the government agencies he proposed to cut.
Perry's 2016 presidential campaign was supposed to be his self-described "second chance." However, Perry never broke through as a top-tier candidate and was never invited to participate on the main debate stage. After minimal fundraising and being forced to stop paying campaign staff in late August, Perry suspended his campaign for the Republican nomination.
In August 2014, Perry was indicted by a grand jury for abuse of power. He threatened to defund a statewide Public Integrity Unit as a way to force the resignation ofTravis County District Attorney Rosemary Lehmberg, a Democrat who had pleaded guilty to driving while intoxicated. The indictment added to the multitude of distractions for Perry's presidential campaign.
As the race draws closer to the Texas primary, Perry is set to be more of a visible figure in the race. He endorsed Cruz in late January and continues to offer commentary on the race.
The next contest for the Republican nomination is the coveted Super Tuesday on March 1 with 595 delegates up for grabs from 12 states. Super Tuesday delegates account for roughly one quarter of the total number of delegates needed to clinch the Republican nomination.