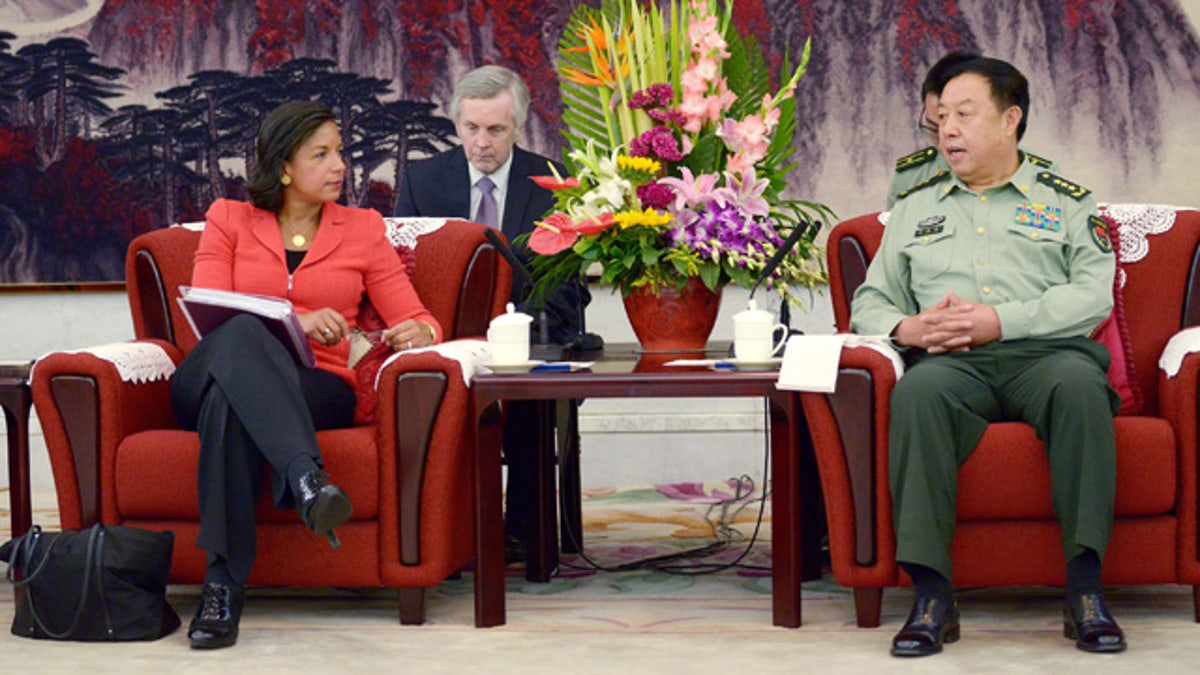 BEIJING – China and the U.S. need to avoid incidents that complicate relations between their militaries, the U.S. National Security Adviser Susan Rice said Tuesday in Beijing following a recent close call between air force planes from the two sides.
Rice made the comments in a meeting with China's Vice Chairman of the Central Military Commission Fang Changlong on the second day of a two-day visit to pave the way for a visit by President Barack Obama to Beijing in November.
"Military-to-military ties between the United States and China have grown and strengthened. And it is an area of cooperation that the United States values," Rice said, adding that "we face challenges and we certainly need to avoid any incidents that could complicate the relationship."
Washington has alleged that a Chinese pilot acted recklessly Aug. 19 during close passes of a US plane about 135 miles (220 kilometers) south of Hainan island, which is home to Chinese naval airfields and a highly sensitive submarine base. China denied any reckless flying and said it would continue responding to U.S. surveillance flights off its coast.
Despite tensions between their militaries, China and the U.S. have increased engagement in recent years. China's navy took part this year for the first time in multinational naval drills hosted by the U.S. off the coast of Hawaii.
Rice was scheduled to meet defense and foreign ministers Tuesday. She met with the country's top diplomat, State Councilor Yang Jiechi, on Monday.
The countries' relationship has been tested by U.S. allegations of Chinese military cyberspying and Obama's stated pivot to Asia, which China sees as an effort to contain its rising power.
Rice said Monday that among all the other issues facing the United States, Obama still considered China to be a priority and that her primary reason for coming to Beijing was to hammer out the agenda for the November meeting between Obama and Chinese President Xi Jinping.
At the sprawling Diaoyutai State Guesthouse in western Beijing, Yang told her that the countries needed to "truly respect each other's core interests and major concerns and constructively manage our differences and sensitive issues."
He said they would discuss military relations, counter terrorism, the Middle East, North Korea, South Sudan, Iran and other topics of mutual concern.