Republican rep opens door to tax hike talk, while Senate Dems make new demands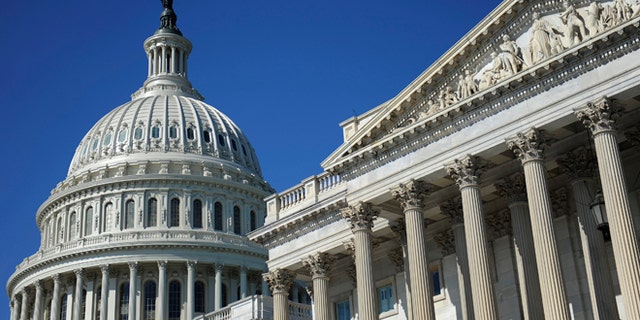 NEWYou can now listen to Fox News articles!
A House Republican appeared to open the door Thursday to the GOP caucus considering tax rate hikes, stepping away from the long-held party line on the eve of high-stakes talks over the so-called "fiscal cliff."
At the same time, a group of Senate Democrats pressed a new set of fiscal cliff demands that would include significantly more taxes to pay for more stimulus as part of any budget deal.
The developments underscored how the terms of the debate continue to shift, as pressure on lawmakers to make a deal only increases. They are facing an end-of-year deadline to strike a deficit-reduction deal -- or set the stage for one next year -- and in doing so, avert a potentially crippling combo of spending cuts and tax increases come January. The tax hikes alone would cost a family of four making roughly $75,000 another $3,200 next year, according to the Tax Foundation.
Pressed on whether lawmakers can make a deal, Rep. Shelley Moore Capito, R-W.Va., strayed from the party line in an interview on FoxNews.com's "Power Play." She predicted a short-term deal to avoid the fiscal cliff and suggested tax rate hikes could be on the table next year.
"What I think you will see is a retention of the tax rates as they are for a year, with the promise that we will get into looking at all revenues -- and that could include tax rates," she said. "We will look at all -- the tax code in itself, and we will also look at spending cuts and entitlements."
Republican leaders -- those who will attend talks with President Obama and congressional Democrats on Friday -- have insisted that tax rates should not rise for anybody, though they're open to closing loopholes and deductions. Capito is among those who have voted against such tax increases in the past. Obama, meanwhile, has demanded that taxes go up for the top 2 percent of earners.
But while Capito showed some wiggle room Thursday, a group of Senate Democrats began to simply add to their wish list.
The senators, in a draft letter obtained by Fox News, urge Obama to do more than end the lower Bush-era tax rates for the top 2 percent of earners. They argued that for every dollar cut from the government's bloated budget, lawmakers should impose an additional dollar in tax hikes.
"Any deal must include a one-to-one ratio of revenues to spending cuts," the senators write.
But that's a heavy hit for taxpayers. For a deficit-reduction deal worth $4 trillion -- which is a number commonly cited by economists -- that would mean $2 trillion in new taxes over the next 10 years.
Democrats would push for those increases to be directed toward the wealthy. But the proposal only served to underscore the massive, and perhaps growing, divide between the liberal and conservative wings on Capitol Hill ahead of talks.
Obama is meeting with congressional leaders from both parties Friday morning. At a news conference Wednesday, he claimed he is open to compromise.
"With respect to the tax rates, I just want to emphasize I am open to new ideas," he said. "If Republican counterparts or some Democrats have a great idea for us to raise revenue, maintain progressivity, make sure the middle class isn't getting hit, reduces our deficit, encourages growth, I'm not going to just slam the door in their face. I want to hear ideas from everybody."
But the Senate Democrats' letter showed the kind of pressure Obama could face from the left not to budge in negotiations - and further, to extract concessions out of Republicans. The letter was signed by Sen. Jay Rockefeller, D-W.Va., and Sen. Tom Harkin, D-Iowa, and the authors were looking to attract a dozen signatures by the end of the day.
Not only did they call for tax hikes to equal spending cuts, but they also called for a "jobs component" -- stimulus-style spending on infrastructure and jobless benefits. The senators also effectively called for Medicare, Medicaid and Social Security to be walled off from any "harmful cuts."
"We urge you to reject changes to Medicaid, Medicare and Social Security that would cut benefits, shift costs to states, alter the structure of these critical programs, or force vulnerable populations to bear the burden of deficit reduction efforts," they wrote.
Fox News' James Rosen and John Brandt contributed to this report.