Republican challenger pulls even with anti-Trump Democrat in solid-blue Oregon's governor's race: poll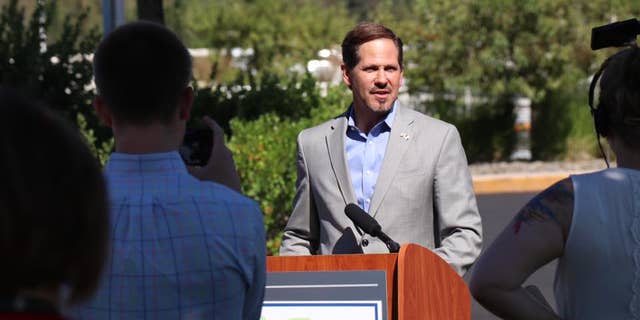 If there's a "blue wave" coming in 2018, someone may have forgotten to tell Oregon's voters. A Republican challenger has pulled even with blue state Oregon's Democratic incumbent governor, according to a new poll.
The news comes as a surprise in a state that hasn't seen a Republican governor since late 1980s, sparking fears of the end of Democratic Party's total domination of the state.
The poll indicates that Republican state Rep. Knute Buehler is waging a serious challenge to Gov. Kate Brown, a vocal critic of President Trump, with both candidates getting support from 45 percent of likely voters, the Oregonian reported.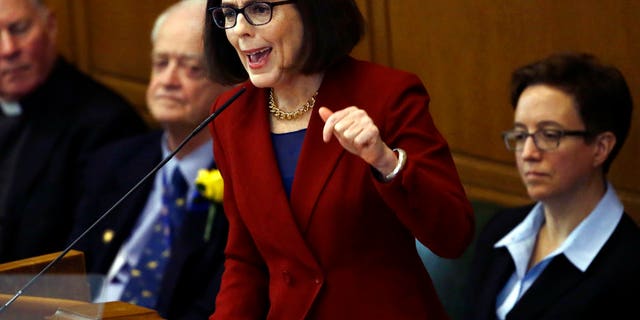 Oregon is considered a solid blue state, with Democrats controlling both the state House and Senate, while Brown has been the governor since 2015.
The poll, conducted by Florida-based Gravis Marketing, invigorated the race overnight, though Democrats began questioning its validity.
"It's hard to understand how this is a reputable piece of public opinion research," Brown's campaign spokesman, Christian Gaston, told the Oregonian.
"It's a bit surprising to see a Democratic statewide candidate in Oregon have such weak numbers, but (Brown) does."
But other pollsters in the state aren't dismissing the poll showing the two candidates deadlocked in the race, saying Brown doesn't have strong voter support.
"We've seen it pretty close, head-to-head, between Brown and Buehler," John Horvick, vice president and political director of DHM Research in Portland, told the newspaper. "It's a bit surprising to see a Democratic statewide candidate in Oregon have such weak numbers, but (Brown) does."
DHM Research's previous poll in January indicated Brown was leading Buehler 46 percent to 29 percent.
The latest poll, showing Brown struggling against a Republican in a solid blue state, strikes at the core of Democrats' messaging about the looming so-called "blue wave" in the upcoming midterm elections.
Buehler is running a campaign based strictly on statewide issues, avoiding any national politics distractions. His platform is moderate Republican, promising to "restore fiscal sanity" and not to impose new taxes, all while improving the state's education system.
Brown, meanwhile, appears to stick to the Democratic Party's efforts to gather support by pointing fingers at the White House in a bid to energize voters in a state where the overwhelming majority of voters supported Hillary Clinton for president in 2016.
Brown has since become a loud voice in national politics. She has repeatedly called out the Trump administration over issues of immigration and, more recently, criticized the selection of Judge Brett Kavanaugh as President Trump's pick for the Supreme Court.
But attacks on Trump may not work against Buehler as he himself once condemned Trump. In 2015, before Trump became the Republican Party's nominee for the president, Buehler called Trump "angry" and "self-absorbed" while urging voters to reject him in the state's GOP primary.
"For Republicans to win nationally and here in Oregon, we need a presidential nominee and GOP that is positive, inclusive and hopeful," he said at the time.