Report says anti-smoking programs underfunded despite tobacco settlement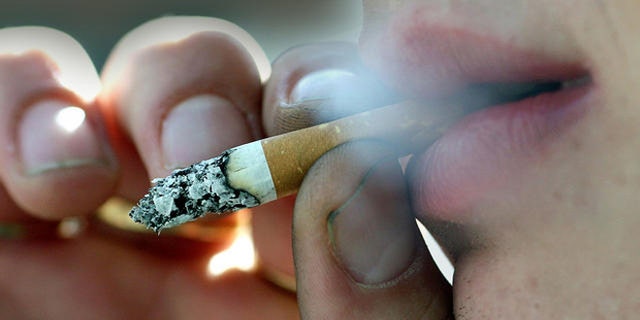 NEWYou can now listen to Fox News articles!
ATLANTA – Despite a multi-billion dollar legal settlement with tobacco companies, most state governments are not spending the recommended amounts for programs combating tobacco use, according to a report released by a coalition of public health organizations.
"Our states are failing miserably," said Danny McGoldrick, vice president for research at the Campaign for Tobacco-Free Kids, one of the organizations sponsoring the report. "At a time when they're getting more revenue than ever from the settlement and tobacco taxes, and at a time when the evidence is greater than ever that these programs work, they're spending less than ever."
According to the report, titled "Broken Promises to Our Children," U.S. states will collect more than $25 billion in tobacco taxes and settlement payments in 2013, but invest less than 2 percent of the money on programs to prevent children from smoking and help current smokers quit -- far below funding levels recommended by the Centers for Disease Control and Prevention.
McGoldrick said an allocation closer to 15 percent of settlement funds and cigarette taxes would be enough to fund anti-tobacco programs in every state.
State governments have instead cut roughly a quarter of a billion dollars in annual expenditures on anti-smoking programs over the past four years, according to McGoldrick. During tough economic times, many states have opted to use tobacco funds to shore up their general operating budgets.
"North Dakota and Alaska are the only two states that are funding at the level recommended by the CDC -- and North Dakota, only because the voters went to a ballot initiative and demanded that their state spend this money responsibly," McGoldrick said.
Only three other states -- Delaware, Hawaii and Wyoming -- fund more than 50 percent of what the CDC recommends. Nearly half the states in the nation, though, fund less than 10 percent.
New Hampshire, New Jersey, North Carolina and Ohio tie for last place in the report, with no state funding going toward tobacco-prevention programs.
At the time the report was published, 2012 and 2013 data were not available for Alabama. However, that state ranked toward the bottom of the list in 2011, funding anti-tobacco programs at 1.5 percent of CDC-recommended levels.
The Master Settlement Agreement (MSA), signed in 1998 by 46 states, the District of Columbia and major U.S. tobacco companies, calls for those companies to issue payments of approximately $206 billion over 25 years. The four states not included in the MSA (Florida, Minnesota, Mississippi and Texas) had reached earlier settlements to receive approximately $40 billion over that same period.
Although public health advocates insist the original intent of the MSA was to reimburse states for smoking-related health costs and smoking-prevention efforts, the agreement does not restrict how states spend the money.
As a nurse who's seen the effects of smoking firsthand, Republican Georgia state Rep. Sharon Cooper said she's sympathetic. However, investing in long-term health benefits is a tough sell given current economic and political realities.
"When you do smoking cessation programs and you get people to stop, especially young people not to start, a state does not really see that benefit for 10, 15, 20, 30 years," Cooper said. "The people who are doing the budget are elected for two years. And so they are thinking about what they have to face and balance that budget for two years. They are not thinking about the legislature 20 years down the road."
The Peach State has reduced allocations for tobacco-prevention programs from $2 million in 2012 to $750,000 in 2013 -- about 0.2 percent of the estimated $365 million it receives each year from settlement payments and tobacco taxes, according to the "Broken Promises" report.
But federal health officials say the short-term savings of reduced tobacco prevention spending pales in comparison to the huge long-term costs states incur by treating uninsured patients with heart disease, cancer and other smoking-related illnesses that could have been prevented. According to CDC estimates, annual medical expenses for the average smoker are $2,000 higher than for the average non-smoker.
"Tobacco control works," CDC Director Thomas Frieden said. "And it's very concerning to see the decrease in funding. Because that decrease -- even though it's a dollar (figure), it's a number on a piece of paper -- that's someone's life tomorrow."