Reid on bipartisanship: Republicans, drop the Tea Party 'extremism'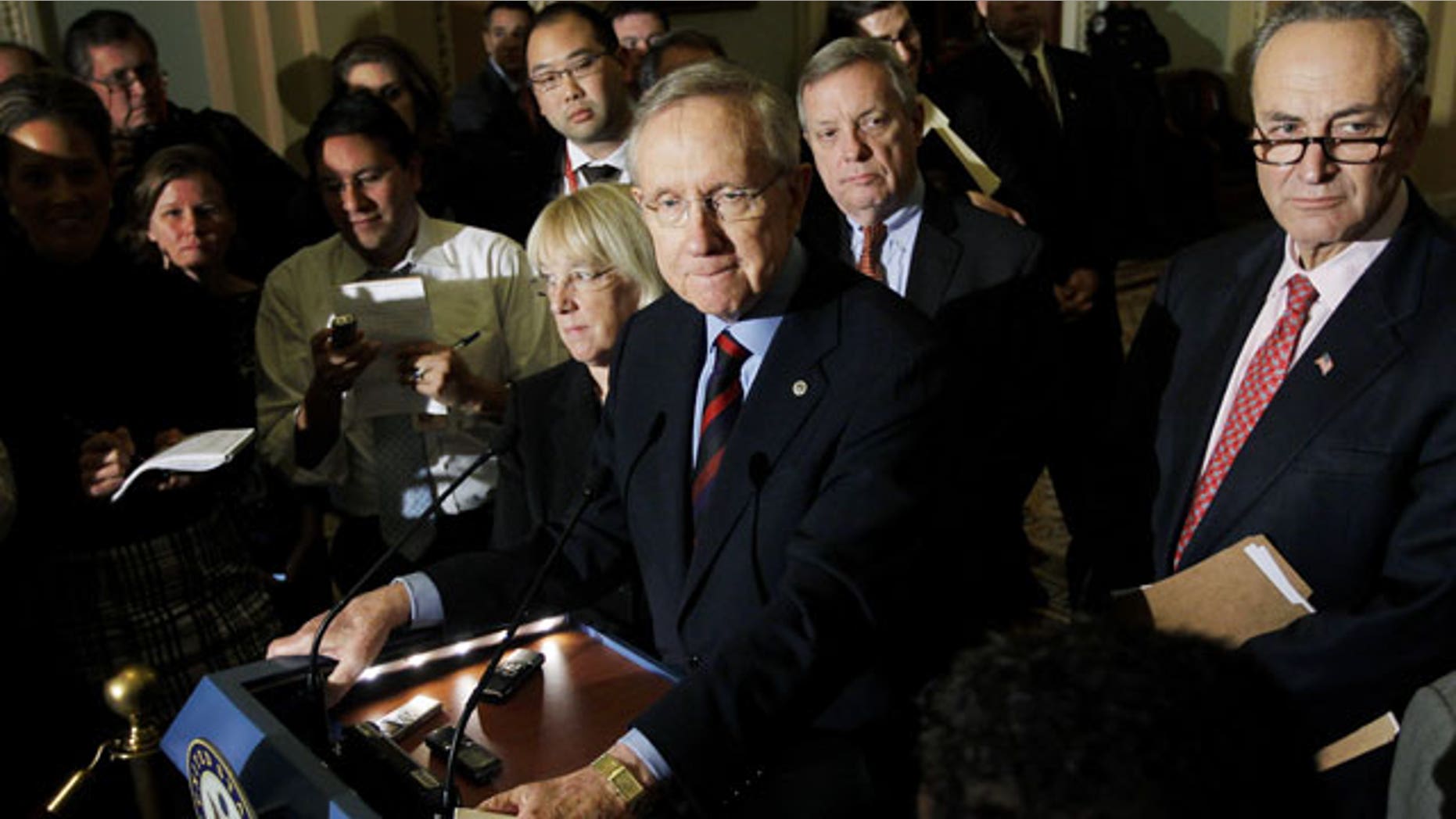 Saying it's time to rebuild America by working together to create jobs, Senate Majority Leader Harry Reid on Sunday prepared for Congress' return to Washington this week with a warning to Republicans to leave Tea Party "extremism" behind and "learn what legislation is all about."
"I would hope that they understand that everything doesn't have to be a fight. Legislation is an art of working together, building consensus, compromise. And I hope that the Tea Party doesn't have the influence in this next year that they had in the previous year," Reid said.
Repeating three times his claim that Republicans are engaged in "obstructionism on steroids," the Nevada Democrat said President Obama for two and a half years "bent over backwards" to reach out to Republicans, only to find a fist rather than a hand to shake. Reid said he'd prefer that Democrats not have to go it alone in the Senate this year, but since last September they have succeeded on moving several items without minority cooperation.
"I don't think ... anyone can question or they should question our having reached out to Republicans," Reid said. "We've done everything we could to work with them. We're going to continue to do that. In spite of the obstructionism, we have been able to accomplish a lot of good things in the last Congress. ...
"I think we can build upon that. This Congress isn't over. All I ask is for the Republicans to understand what legislation is all about."
Reid said since last September Democrats in Congress have forged ahead alone pushing the president's jobs bill and demanding tax hikes on millionaires.
The president also managed to upstage Republicans at the end of last year by forcing their hand on a two-month payroll tax cut extension rather than the year-long legislation the House GOP passed.
"I hope that the Republicans will understand, as they learned in the last week in the last year, that they can't be led over the cliff by this extremism," he said.
Democrats have since abandoned the millionaire surtax even though about $160 billion is needed to continue the payroll tax cut and federal jobless benefits beyond the Feb. 29 expiration date. Proposals left on the table after the last battle include the GOP plan to cut federal employee benefits and the president's suggestion to raise fees on airline passengers.
Republicans are also still smarting from Obama's appointment of Richard Cordray to head the Consumer Protection Financial Bureau. The administration claimed Obama was entitled to make that appointment, as well as three others to the National Labor Relations Board because the pro-forma sessions convened by Congress are no substitute for a congressional recess.
On Saturday, Republican presidential candidate Mitt Romney called the action "extraconstitutional" and said it shows Obama "doesn't want to have to work with both parties, he wants to jam through whatever he'd like to do."
But Reid, who came up with the plan to use the pro-forma sessions to block former President George W. Bush's nominees, said Obama's move is not only "popular" but constitutional.
"We have consumers that need protecting. That's why it was such a good move by the president," Reid said, adding that he's "confident" the appointments will be upheld by the courts.
Challenged that he hasn't said anything that suggested a change of tone in Washington, the Democratic leader responded that his party is about taking care of the middle class and rebuilding America.
"We don't believe you should be stripping good things off senior citizens in the country in order to do good things for the richest of the rich," he said.
Among the items Democrats want to pass this year is a widely despised Internet piracy law that supporters say is aimed at protecting intellectual privacy but opponents say will shut down social media. Reid said he expected it will pass the Senate.
However, on Saturday, House Oversight and Government Reform Committee Chairman Darrell Issa, R-Calif., said he secured an agreement with Republican leaders that the legislation will not be brought to the House floor until a consensus is reached to address concerns of the Internet community.
Whatever is or isn't achieved could be undone next year. With 10 Republican seats up for a vote and 23 Democratic seats to be defended, Democrats have a difficult task trying to keep the Senate in Republican hands.
But Reid, who was being interviewed on NBC's "Meet the Press," expressed confidence they would.
Democrats are "looking pretty good," he said, pointing to races in Arizona, Massachusetts, Nebraska, North Dakota and Nevada where Democrats have strong prospects to try to keep or win the seats.