Recording suggests N.M. Gov. Susana Martinez was 'inebriated' during hotel incident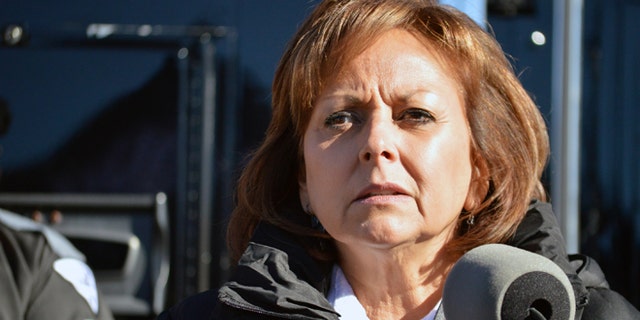 A newly released recording from a police sergeant's belt tape suggests New Mexico Gov. Susana Martinez was inebriated the night police responded to a noise and bottle-tossing complaint at a hotel where she was hosting a holiday party.
Santa Fe police released the recording Tuesday on the Dec. 13 incident and several media outlets have posted it online.
According to the Albuquerque Journal, the audio was captured by Santa Fe police Sgt. Anthony Tapia's at around 1:30 a.m. on Sunday, Dec. 13. In it, the governor can be heard talking to Tapia and a security guard from the four-star Eldorado Hotel in Santa Fe.
"Obviously we're not going to be able to move her," Tapia is heard telling the security guard, apparently referring to the governor.
Sgt. Tapia then describes the governor as "inebriated," despite her office having said in a statement last week that she had only had one cocktail and was "absolutely not" intoxicated.
A clerk called dispatchers to report noise and that someone was throwing bottles from a hotel balcony.
Governor Martinez tells the pair that the room she had been in, which was the subject of a noise complaint, had been quiet for two hours.
The security guard tells both the governor and the police sergeant that he had been to the room 15 minutes earlier and "I personally heard how loud it was."
The governor disagrees: "Five hours ago, there was somebody that we said, 'Get out of the room. Do not be doing what you're doing.' There were bottles being thrown over. We said, 'Get the hell out and stop.'"
The governor's speech is halted and lilting in the audio. A hotel security employee and the sergeant agree that the governor is inebriated and discuss how to handle the situation.
Martinez previously apologized after telling police dispatchers to call off officers and seeking out the identity of those who complained about the loud behavior.
Her office reiterated Tuesday that the governor has previously said she had a drink and a half.
Based on reporting by the Associated Press.