Rank and file revolt? NEA's expected backing of Clinton has members fuming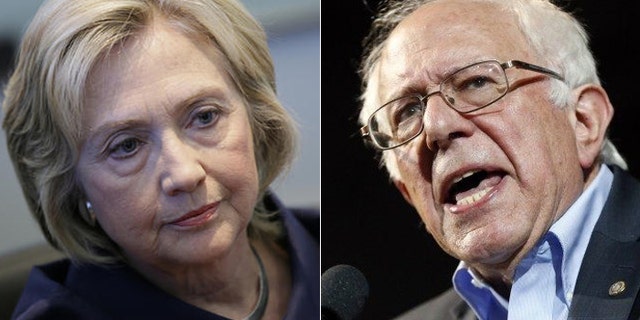 NEWYou can now listen to Fox News articles!
The National Education Association is poised to endorse Hillary Clinton's embattled presidential campaign, despite widespread pushback from rank-and-file members who want the nation's largest union to back Bernie Sanders - or stay out of the Democratic primary altogether.
Leadership of the 3 million-member teachers union, like the smaller American Federation of Teachers earlier this summer, has heard from angry members who believe the upstart Sanders, a Vermont senator and avowed democratic socialist, best represents them.
Many state leaders and rank-and-file members are planning to protest the NEA's early endorsement, which is expected this week -- with many claiming the public backing is meant to bolster Clinton's troubled campaign and does not represent the sentiment of the union's majority.
"I, as many colleagues, am upset that this is a possibility."
"As some of you know, NEA President Lily Eskelsen García is pushing for the NEA to recommend Hillary Clinton in the Democratic Primary," Barbara Madeloni, president of the union's Massachusetts chapter, said in a message to members on Monday.
"...I have expressed my concern that an early endorsement does not allow members to be active participants in the kinds of discussion and debate that are central to a democratic union," Madeloni said.
California teacher Heather Poland called the NEA -- the nation's largest union -- a "sellout" over its imminent endorsement of Clinton.
Poland, who is behind the Facebook group, "A Teacher's Perspective," arguing against an early endorsement, also questioned the polling cited by the union's California chapter in its decision to back Clinton.
"I was excited to learn that as a California State Delegate I would be able to participate in the conference call with CTA and Lily Eskelsen Garcia about the imminent primary endorsement of Hillary Clinton," Poland wrote in a Sept. 26 posting on her blog.
"I, as many colleagues, am upset that this is a possibility. I emailed my NEA board reps, many of whom agreed with me," she said. "Does Lily really think that endorsing during the primary will make the candidate listen and follow through with our recommendations?"
"Why aren't we making the candidates work for us instead of being scared that we won't have a "seat at the table"?" Poland continued. "Don't endorse anyone until they prove that they are 100% against corporate ed reform ... The NEA is alienating its members."
Poland went on to cite remarks by Eric Heins, president of the California Teachers Association, in which Heins talked about a random poll conducted among members between Sept. 16 and 21 that showed Clinton with 41 percent of support and Sanders with 24 percent, without Vice President Joe Biden in the race.
"Personally, I would like to know more about this poll. I don't know any members who were polled, and I would love to know if anyone was actually polled," wrote Poland.
The NEA's expected endorsement of Clinton comes some three months after the American Federation of Teachers backed the former Secretary of State. An AFT official told FoxNews.com that Clinton has "overwhelming" support among rank-and-file members and said the union conducted extensive polling on the matter. While the AFT claims Clinton shares the values of its members, the official acknowledged the endorsement was decided in part because Clinton "is best positioned to win."
"Hillary Clinton is a tested leader who shares our values, is supported by our members and is prepared for a tough fight on behalf of students, families and communities," AFT President Randi Weingarten said in a July press release.
"That fight defines her career," Weingarten stated.
The AFT said it conducted a survey by telephone of 1,150 members who are registered to vote. The poll, conducted from June 22 to 27, found that 67 percent of Democratic primary voters pick Clinton, giving her a 48-point lead over Bernie Sanders, who measured at 19 percent.
"Clinton is the clear first choice among every division within AFT," the poll concluded.
The NEA's support for Clinton -- and its timing -- was also scrutinized by those associated with Sanders' campaign.
"The attitude among a number of folks is, 'Why endorse now?'" a source close to the Sanders campaign told FoxNews.com Wednesday.
"Her campaign seems to be struggling to gain a foothold," the source said. "I would not be surprised if the Clinton campaign thinks these early endorsements will help them turn the tide."