Rand Paul skipping Republican National Convention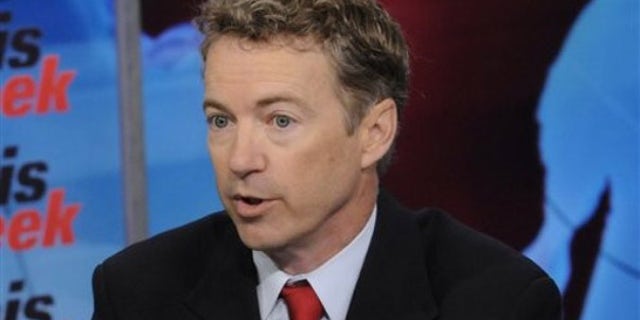 NEWYou can now listen to Fox News articles!
U.S. Sen. Rand Paul will skip the Republican National Convention next week, saying he chooses to hold town hall events and perform pro bono eye surgeries in Kentucky rather than attend the expected nomination of one-time rival Donald Trump.
The ophthalmologist and former presidential candidate is running for re-election in Kentucky. The freshman senator is scheduled to perform eye surgeries in Paducah on Tuesday and has scheduled a number of town hall events in western Kentucky on Wednesday.
"His number one priority is doing the job Kentuckians elected him to do, and he is looking forward to discussing the issues most important to them and sharing what he's doing in the Senate on their behalf," Paul campaign spokeswoman Kelsey Cooper said in a statement Friday.
Paul had been selected as a delegate to next week's GOP convention in Cleveland.
Several other Republican senators are skipping the convention, including Arizona Sen. John McCain, the GOP's presidential nominee in 2008.
A majority of GOP senators plan to attend, but it's not unusual for lawmakers to skip their party's convention, especially if they're up for re-election.
Paul, a Tea Party favorite, was one of Trump's harshest critics during the GOP presidential primary season, once referring to him on a comedy show as an "orange-faced windbag." Trump once belittled Paul as a "spoiled brat without a properly functioning brain" on Twitter.
Since ending his presidential campaign early this year, Paul has repeatedly said he will support Trump's candidacy for president. The two men both spoke to the National Rifle Association annual meeting in Louisville in May.
Paul faces Democrat Jim Gray in the Senate election in November. Gray is the mayor of Lexington, Kentucky's second-largest city.
Gray has accused Paul of shortchanging Kentucky with his unsuccessful run for president.
"It's interesting that Paul's not attending since he's obsessed with the presidential campaign," said Gray's campaign spokeswoman, Cathy Lindsey. "He must realize he has a lot of explaining to do to the people of Kentucky."
Paul's colleague from Kentucky, Senate Majority Leader Mitch McConnell, is scheduled to speak at next week's convention. State Sen. Ralph Alvarado, a Republican from Winchester, has also been invited to speak at the convention.
Paul has returned to Kentucky to perform pro bono eye surgeries every year since his election to the Senate in 2010. He will perform the procedures next Tuesday at an ambulatory surgery center in Paducah.
The next day, Paul will attend a series of town hall events in Ballard, Carlisle, Graves, Marshall and Caldwell counties in western Kentucky, a conservative region that has become a GOP stronghold. It's a continuation of dozens of meetings Paul has had with constituents this year.
"Kentuckians know that Rand Paul has a proven record of always standing for Kentucky," Cooper said.