Rahm Emanuel Announces Chicago Mayoral Bid, Launches Campaign Website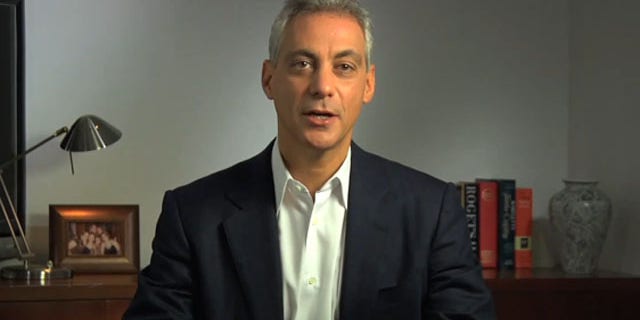 Ex-White House Chief of Staff Rahm Emanuel declared Sunday that he's preparing to run for Chicago mayor, making official one of Washington's worst-kept secrets.
Emanuel made the announcement via video message on his newly launched campaign website. In the YouTube message, Emanuel said he would set out on a listening tour across Chicago as he builds his campaign.
"To keep Chicago moving forward, every community must participate. This city belongs to all of us, and every person has a role to play in building its future," he said. "So as I prepare to run for mayor, I'm going to spend the next few weeks visiting our neighborhoods -- at grocery stores, L stops, bowling alleys, and hot dog stands."
Emanuel quickly rolled out the early stages of his pre-campaign -- a website, a Facebook page and a "Tell It Like It Is" blog and neighborhood tour -- after announcing in an East Room ceremony Friday that he would be stepping down as President Obama's chief of staff. Obama all but endorsed Emanuel for Chicago's top job, a position that opened up after longtime Mayor Richard Daley announced he would not seek re-election.
Emanuel has described Chicago mayor as his dream job and was widely expected to leave the White House to run for it. He praised Daley's tenure in his video message Sunday, but said the city faces "tremendous challenges" -- challenges he wants to tackle.
"To be the city we want to be, we can't have gangbangers taking the lives of our schoolchildren. And to be the city we want to be, we can no longer accept business-as-usual. In attacking our budget deficit, there must be no sacred cows. We should be guided only by the need to protect our neighbors and ensure taxpayer dollars aren't wasted," Emanuel said. "We need leadership that's tough enough to say no when it needs to be said, and smart enough to know what government should do -- and also what it can't do."
Emanuel's website design bears similarities to Obama's "Organizing for America" site and his old presidential campaign site. As he sets out for the Chicago race, Emanuel will no doubt try to leverage his presidential connections to his advantage -- but he is sure to be confronted with the outsider label opponents will try to stick on him.
Bruce Newman, professor of marketing at DePaul University, called the online announcement "a clever move."
"(Emanuel's) ability to communicate via the social media will be critical to his success," Newman said. "The voter in today's world is tuning in to a whole different level of communication."
But other political analysts said the online approach won't work for all voters.
"This is going to be a Generation X campaign with Facebook, Twitter and all that ... but you should never forget the power of friend talking to friend, neighbor talking to neighbor," said Tom Manion, a longtime political operative who directed Chicago Mayor Richard M. Daley's first re-election campaign in 1991.
Though Emanuel is well-funded, he may not be the most popular Chicago candidate out of the gate. A Chicago Sun-Times poll released last month showed Emanuel in fifth place behind Cook County Sheriff Tom Dart, state Sen. James Meeks, Rep. Luis Gutierrez and Rep. Jesse Jackson Jr.
Senior White House adviser Pete Rouse has replaced Emanuel as Obama's chief of staff.
The Associated Press contributed to this report.