Push for billions in Sandy relief spending throws wrench into fiscal crisis talks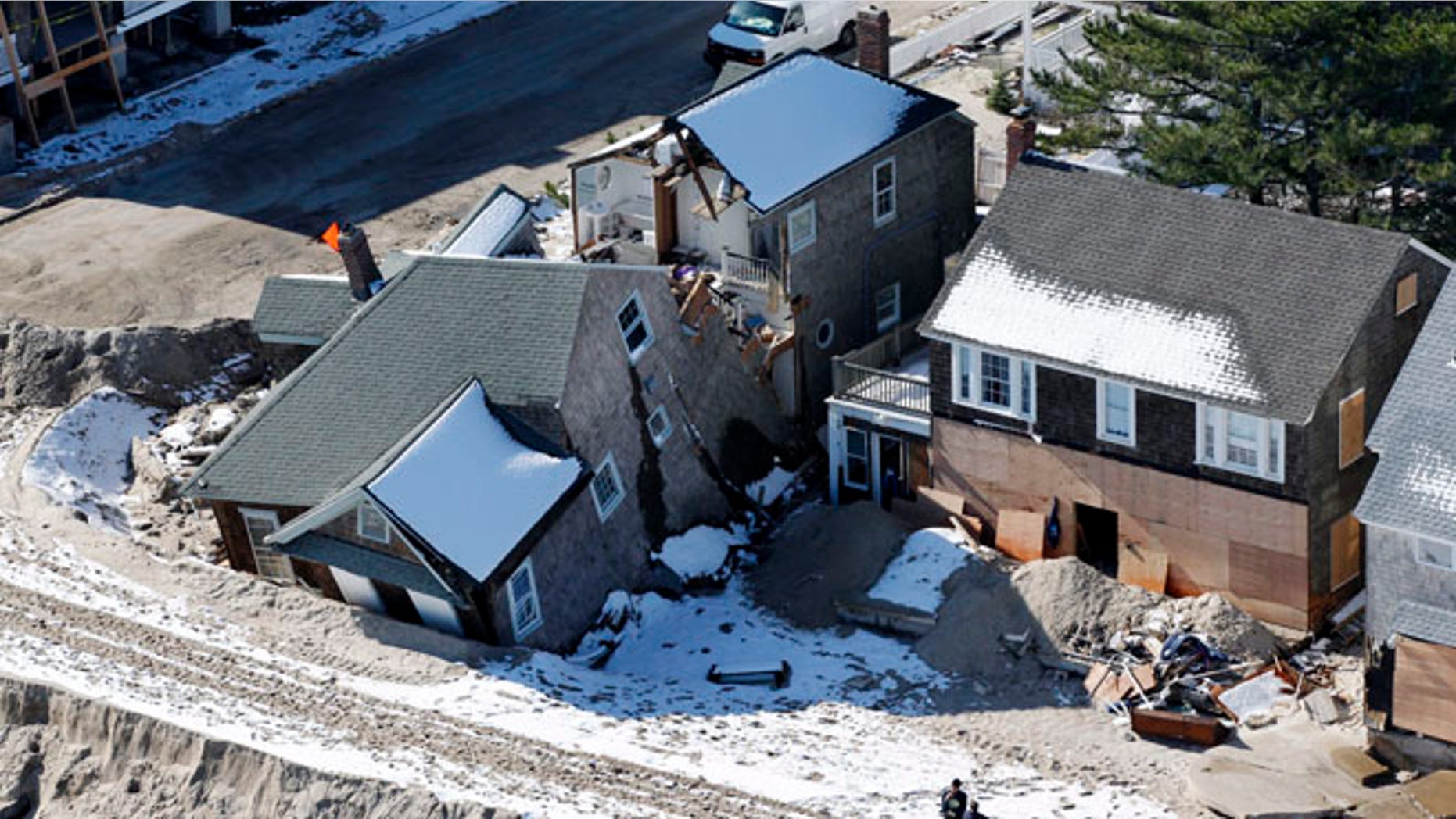 House Republicans' tightrope walk over fiscal discipline is getting even trickier, with demands for monstrous federal funding in response to Hurricane Sandy forcing them to consider more spending.
The call for Sandy relief funding coincides with an epic and protracted battle on the Hill over the looming fiscal crisis -- with Republican leaders caught between a conservative base that wants big spending cuts and zero tax hikes, and Democrats that want modest spending cuts and big tax hikes.
The push from bipartisan governors for Sandy relief, though, could be difficult to rebuff.
New York Gov. Andrew Cuomo, a Democrat, came to Capitol Hill on Monday to give legislators the bad news about the storm's cost.
"We don't yet know, but this was a 40-to-50-billion-dollar event," he said.
New Jersey Gov. Chris Christie, a Republican, is expected to deliver an equally grim message to Capitol Hill about the storm's cost in his state later this week.
The total cost of the storm is likely to top out at well over $80 billion -- a sum that throws a wrench into the works of the GOP's counter-proposal offered Monday in the fiscal crisis negotiations.
Further complicating supplemental funding for Sandy recovery is that the House GOP leadership has asked that any expenditures on Sandy recovery be offset with cuts elsewhere. That's a non-starter for Democrats but also for some Republicans whose districts were badly hit by Sandy.
"Offsets make no sense," Rep. Jerrold Nadler, D-N.Y., told a House Infrastructure and Transportation Committee meeting Tuesday. He suggested they are antithetical to the very purpose of disaster funding.
Yet Sandy recovery funding may hinge on the politically charged negotiations over the looming fiscal crisis, a fact not lost on Cuomo. He fired a warning shot in anticipation of any hold-up to recovery money.
"I've never seen a delegation as united or focused. If you've walked the street you know how desperate the situation is. This is no time for politics. When we work together no one can beat us," he said.
FEMA Administrator Craig Fugate told the hearing that FEMA does not anticipate any immediate need for extra funding until early spring. He added that FEMA's short-term expertise will eventually be supplanted by long-term programs for housing run by the Department of Housing and Urban Development.
Two Gulf state emergency preparedness officials offered additional warnings to lawmakers. They cautioned that once appropriated, federal money can get lost in the red tape of bureaucracy.
"It must be driven at the local level," Robert Latham from Mississippi's Emergency Management Agency told the hearing. Mark Riley of Louisiana's Office of Homeland Security said, "The current process is too cumbersome, too bureaucratic and does not lend itself to rapid recovery."
In testimony sure to demoralize Sandy victims who've lost their homes, Fugate described how five years after Katrina, some Gulf Coast residents were still living in temporary shelters.
Meanwhile, Senate Majority Leader Harry Reid said Tuesday that officials are working on presenting a Sandy relief spending bill within the next two days. On the House side, Appropriations Committee Chairman Hal Rogers, R-Ky., said he would prefer to approach the spending in two phases -- first, with a small-scale bill addressing FEMA's immediate needs.