Primary Voting Gets Under Way in Wisconsin Recall Campaigns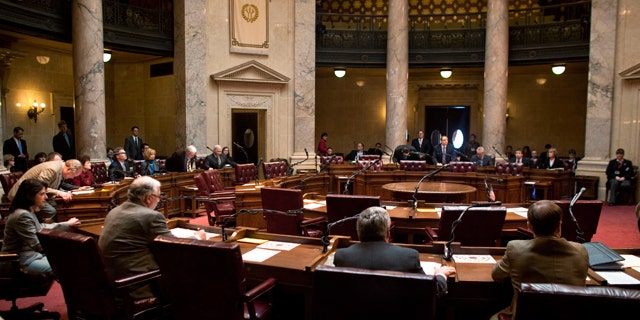 NEWYou can now listen to Fox News articles!
Wisconsin recall efforts that started in the winter cold amid the noise of raucous protests are finally reaching the ballot box, with elections scheduled Tuesday in the aftermath of a bitter partisan battle over balancing the budget and state workers' collective bargaining rights.
Recall organizers gathered enough signatures to get six Republican and three Democratic state senators on the ballot before their regularly scheduled election. The recalls have little to do with the candidates themselves, everything to do with the bitter partisan divide in Wisconsin.
The three Democrats facing recall votes are among the 14 who made a run for the border to avoid a vote on Gov. Scott Walker's controversial budget that limits the collective bargaining power of state employee unions.
Republicans are subject to recall because they supported Walker.
"I am being recalled because I did what I said I would do, which is get control of spending and taxes," said Republican state Sen. Alberta Darling.
Tuesday is the start of the recall season. Darling is joined by Sens. Robert Cowles, Sheila Harsdorf, Luther Olsen, Randy Hopper and Dan Kapenke among Republicans on Tuesday's ballot.
Democrats facing recall are Sens. Jim Halperin, Robert Wirch and David Hansen. Halperin and Wirch have a primary next Tuesday. Hansen has only one challenger on the Republican side, therefore, the vote next week is a general election.
The rest of the candidates will wait until August to learn if they will keep their jobs.
Republicans are employing a controversial technique to push back the votes -- unabashedly running Republicans as Democrats to ensure that all the Democrats running for Republican-held seats are challenged within the party. The tactic creates the need for a primary election, even though the "fake" or "protest" candidates are very well-known.
Democrats criticize the tactic as a waste of time and resources in a tough economy.
"By forcing this fraudulent primary tomorrow, we are spending an additional six figures of taxpayer's money that would not have otherwise been spent," said Mike Tate, chairman of the Wisconsin Democratic Party.
"I don't know if the Republican Party thought about this, but it made a lot of people angry, people who would otherwise vote Republican are now fed up with what's going on," said Democratic State Rep. Sandy Pasch, who is challenging Darling for her Senate seat.
Republicans admit that the tactic is a delay, one that is needed because the recalls come so soon after the contentious legislative session.
"If there weren't primaries in these races, our Republican senators would have had to face elections just days after voting on the state budget, essentially giving them no time to campaign," said Stephan Thompson, executive director of the Wisconsin Republican Party.
Throughout the recall election season, voters will be bombarded by bitter partisan television ads and subjected to a mid-summer campaign. If Democrats flip three or more seats, the balance of power will shift in the Wisconsin Senate.