Polls show Gomez, Markey close in special election race for Mass. Senate seat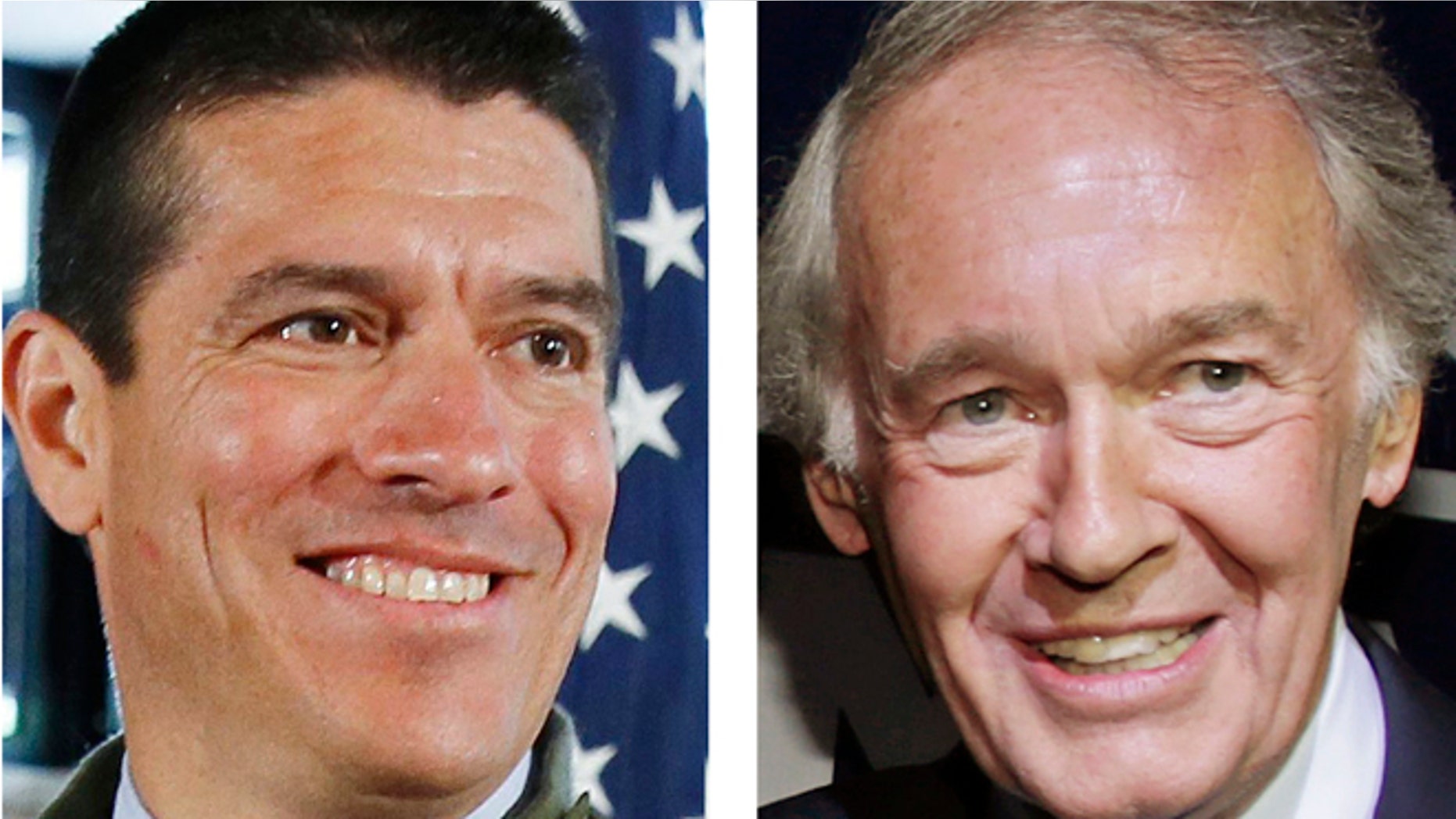 The Senate race in Massachusetts is deadlocked heading into the final weeks – again challenging the assumption that a little-known Republican cannot win national office in such a heavily Democratic state.
Yet most polls show first-time Republican candidate and former Navy SEAL Gabriel Gomez within several percentage points of Democratic Rep. Edward Markey -- in the special election that sends voters to the polls on June 25.
Political strategists gave Republicans little chance of winning when former GOP Sen. Scott Brown decided not to run -- considering he had just lost his own reelection bid for the state's other Senate seat. And the state GOP party was left with a field of lesser-known candidates.
However, Gomez, the former Navy SEAL, emerged successful from the primary and has continued to build name recognition beyond Boston where he works as a private equity investor.
Gomez press secretary Will Ritter said Wednesday that his candidate gained popularity and strengthened his poll numbers by relentless campaigning -- including 50 events since the April 30 primary.
"I know it sounds cliché, but the more Gabriel Gomez talks, the more people like him," Ritter said. "He wakes up at 5 a.m. and wants to campaign."
State Democrats privately acknowledged that this spring's Boston Marathon, in which two terrorist bombs killed three and injured hundreds of others, was a tragic yet expected twist of political fate for Gomez.
Having crossed the finish line within minutes of the explosions, he emerged as a frequent TV eyewitness while the other candidates in both party primaries shut down their campaigns.
"What kind of evil people would do such a cowardly thing," Gomez said on Fox TV. "We need to hold these people accountable."
Gomez and Markey are vying for the seat left open by Democratic Sen. John Kerry who in January was appointed Secretary of State.
Markey, who entered the race as the presumptive frontrunner, has relied on campaign experience gleaned from 20 terms in Congress to try to win the race, while his campaign doesn't over-react to poll numbers.
"Ed Markey has distinguished himself. And we're in the driver's seat," said Markey spokesman Andrew Zucker. "Gabrielle Gomez is not for the middle class."
In March, the 66-year-old Markey began blasting a Transportation Safety Administration plan to allow small knives in airplane cabins, a plan that the agency has since cancelled.
And he has called upon President Obama for some outside help, bringing the president this week to Massachusetts, where Obama defeated Republican presidential nominee Mitt Romney by 23 percentage points in his successful 2012 reelection effort.
"If you are making sure that people know Ed Markey's remarkable record in Congress, then I guarantee you he will be the next United States senator from Massachusetts," Obama told a crowd Wednesday in Roxbury, Mass.
The candidates laced into each other Tuesday in their second debate -- with Markey portraying Gomez as somebody ready to give tax breaks to the wealthy, and as unsupportive of women's rights, while Gomez tried to convince the crowd that Markey is responsible of much of America's financial problems.
"You are Washington, D.C.," the 47-year-old Gomez said. "And you own the national debt, sir."
A Gomez victory would not be unprecedented.
In 2010, Brown was a little known state senator who won a special election race for the long-held Democratic senate seat of Sen. Ted Kennedy.
An averaging of polls by the website RealClearPolitics now has Markey leading by 9 percentage points.
Democratic strategist Ben Tulchin argues that Markey leads in almost every poll, including one by 11 points, and the poll in which Gomez trails by just 1 percentage point was done by a Republican-leaning firm.
Still, he recognizes the challenges, including the likelihood of a low voter turnout in a special election, particularly this time when people are otherwise occupied in the summer.
"When you have a lower turnout special, Democrats lose their edge quite a bit," said Tulchin, founder of San Francisco-based Tulchin Research. "And while Massachusetts might be considered a heavily Democratic state, it has a lot of older, white, blue-color workers. It's never as easy as it looks."