Political tremors: Kansas officials link earthquakes to fracking-related process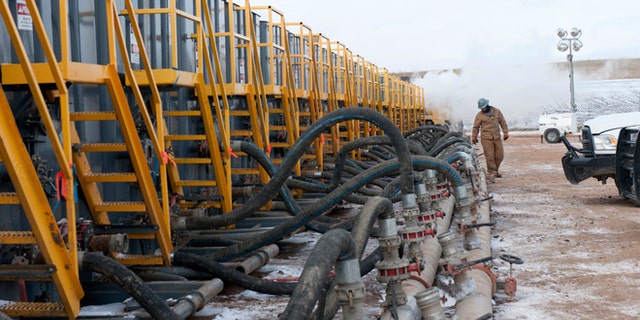 NEWYou can now listen to Fox News articles!
Kansas officials for the first time have said a sharp increase in earthquakes may be tied to a process connected to fracking -- stoking debate in the state over the controversial drilling practice.
Reports of earthquakes in Kansas have shot up recently, particularly in the state's south-central region. Now, scientists are connecting them to the disposal of wastewater that is a byproduct of the oil-and-gas extraction process.
Rick Miller, geophysicist and senior scientist for the Kansas Geological Survey, told the Lawrence Journal-World, "we can say there is a strong correlation between the disposal of saltwater and the earthquakes."
During hydraulic fracturing, or "fracking," operators use a mixture of saltwater and chemicals to break underground rock formations in order to release oil and gas. Then, to get rid of the water, operators inject it deep into disposal wells.
The comments linking that to the Kansas quakes quickly fueled opposition to the drilling practice from its loyal foes, including the Sierra Club, whose local chapter is using the recent finding to call for a moratorium.
According to the Lawrence Journal-World, Joe Spease, chairman of the Kansas Sierra Club's fracking committee and owner of a renewable energy company, said the state's chapter supports a bill, not yet introduced, to impose the moratorium to give the industry time to develop a solution to the saltwater disposal issue.
Fracking has become a highly charged issue at the state government level. New York recently joined Vermont in banning the process, though the state has faced criticism for citing a study written and peer-reviewed by active fracking opponents.
However, unlike other states that banned fracking, Kansas officials consider the disposal of wastewater as a separate process from fracking.
Rex Buchanan, director of the Kansas Geological Survey, told the Journal-World the confusion over the cause of Kansas earthquakes may be "a matter of semantics."
Spease called that argument "ridiculous," telling the newspaper, "There are millions of dollars in property damages happening, and we have our scientists playing word games."
Fracking is not a new practice, but the recent spike in seismic activity is. According to the Kansas Geological Survey, the state recorded more than 120 quakes in 2014, up from none in 2012.
Gov. Sam Brownback, appointed a task force a year ago to study the problem. Its report, released in September, said there is not enough evidence to link Kansas earthquakes to the hydraulic fracturing process.
The Kansas Geological Survey and scientists around the country are working to figure out, though, how to address the wastewater disposal process.